I must've died and gone to heaven
'Cause it was a quarter past eleven
On a Saturday in 1999
Right across from where I'm standing
On the dance floor she was landing
It was clear that she was from another time
Like some baby Barbarella
With the stars as her umbrella
She asked me if I'd like to magnetize
Do I have to go star-trekking
'Cause it's you I should be checking
So she laser beamed me with her cosmic eyes
She's just a cosmic girl
From another galaxy
My heart's at zero gravity
She's from a cosmic world
Putting me in ecstasy
Transmitting on my frequency
She's cosmic
I'm scanning all my radars
We'll she said she's from a quasar
Forty thousand million light years away
It's a distant solar system
I tried to phone but they don't list 'em
So I asked her for a number all the same
She said, step in my transporter
So I can teleport ya
All around my heavenly body
This could be a close encounter
I should take care not to flounder
Sends me into hyperspace, when I see her pretty face
She's just a cosmic girl
From another galaxy
My heart's at zero gravity
She's from a cosmic world
Putting me in ecstasy
Transmitting on my frequency
She's cosmic
Sends me into hyperspace when I see her pretty face
Sends me into hyperspace when I see her pretty face
Sends me into hyperspace when I see her pretty face
Sends me into hyperspace when I see her pretty face
She's just a cosmic girl
From another galaxy
Transmitting on my frequency yeah cosmic, oh
Can't you be my cosmic woman?
I need you, I want you to be my cosmic girl
For the rest of time
Lyrics © Sony/ATV Music Publishing LLC
Written by: Wallis Buchanan, Simon Katz, Jason Kay, Derrick McKenzie, Toby Smith, Stuart Zender

Lyrics Licensed & Provided by LyricFind
To comment on specific lyrics,
highlight them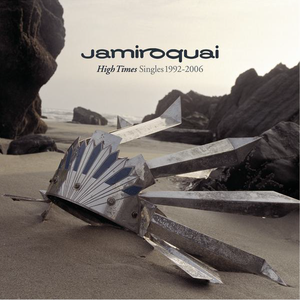 Cosmic Girl - Remastered for 2006
Jamiroquai is a funk/acid jazz band which formed in London, England, United Kingdom in 1992. The band currently consists of Jason Luis 'Jay Kay' Cheetham (vocals), Matt Johnson (keyboards), Rob Harris (guitar), Paul Turner (bass), Derrick McKenzie (drums) , Sola Akingbola (percussion), Lorraine McIntosh (backing vocals) and Hazel Fernandez (backing vocals). The name "Jamiroquai" is derived from the Native American Iroquois tribe, with which Kay has said he identifies philosophically, combined with 'Jam', as in musical jamming.
Read Full Bio
Jamiroquai is a funk/acid jazz band which formed in London, England, United Kingdom in 1992. The band currently consists of Jason Luis 'Jay Kay' Cheetham (vocals), Matt Johnson (keyboards), Rob Harris (guitar), Paul Turner (bass), Derrick McKenzie (drums) , Sola Akingbola (percussion), Lorraine McIntosh (backing vocals) and Hazel Fernandez (backing vocals). The name "Jamiroquai" is derived from the Native American Iroquois tribe, with which Kay has said he identifies philosophically, combined with 'Jam', as in musical jamming.

After Jay Kay auditioned unsuccessfully to be the singer of the Brand New Heavies, he decided to put together his own band. Jamiroquai's first single, "When You Gonna Learn?", was released in 1992 on the Acid Jazz label. Following its success, Kay signed a £1,000,000 eight-album record deal with Sony BMG Music Entertainment. The band enjoys worldwide popularity and is the best-known member of the early-1990s London-based acid jazz movement, alongside groups such as Incognito, Galliano, and Corduroy. Jamiroquai has since, however, moved in other musical directions.

Band Members:
Jason "Jay" Kay - Vocals
Rob Harris - Guitar
Derrick McKenzie - Drums
Paul Turner - Bass
Sola Akingbola - Percussion
Matt Johnson - Keyboards
Lorraine McIntosh - Backing vocals
Hazel Fernandez - Backing vocals

Former Members:
Toby Smith - Keyboards (1992-2002)
Wallis Buchanan - Didgeridoo (1992-2001)
Gavin Dodds - Guitar (1993-1994)
Simon Katz - Guitar (1995-2000)
Stuart Zender - Bass (1992-1998)
Nick Fyffe - Bass (1998-2003)
Nick Van Gelder - Drummer (1993)
Darren Galea aka DJ D-Zire - Turntables (1993-2001)
Adrian Revell - Flute, saxophone
Winston Rollins - Trombone
Simon Carter - Keyboards (1999-2001)
Sia - Backing Vocals
Sam Smith - Backing vocals (2001-2007)
Genre not found
Artist not found
Album not found
Search results not found
Song not found