Twenty Zero One
Jamiroquai Lyrics
2001 Where do I belong I got
My mind but I don´t know
Where my head has gone
2001 Baby where you been
It´s pornographic, internet,
Traffic on the screen
2001 She's such a maniac
It´s not for me
But my baby's really a crack
2001 Don´t want the sex
To stop I took a pill now it´s
Killing me to keep it up
2001 I know what´s goin´ on
You want to take my soul and
Change it for another one
2001 Those liquid crystal
Eyes, they really suit you
Honey, Let me get them in
Your size
2001 By 2032 you can be me
And with a little luck I can
Be you Let me bless you
Son Help you believe with my
Semi-automatic gun
Lyrics © Sony/ATV Music Publishing LLC
Written by: JASON KAY

Lyrics Licensed & Provided by LyricFind
To comment on specific lyrics,
highlight them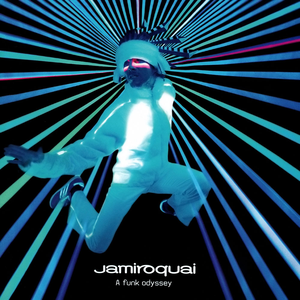 Jamiroquai is an English funk and acid jazz band from London. Formed in 1992, they are fronted by vocalist Jay Kay, and were prominent in the London-based funk and acid jazz movement of the 1990s. They built on their acid jazz sound in their early releases and later drew from rock, disco, electronic and Latin music genres. Lyrically, the group has addressed social and environmental justice. Kay has remained as the only original member through several line-up changes.
Read Full Bio
Jamiroquai is an English funk and acid jazz band from London. Formed in 1992, they are fronted by vocalist Jay Kay, and were prominent in the London-based funk and acid jazz movement of the 1990s. They built on their acid jazz sound in their early releases and later drew from rock, disco, electronic and Latin music genres. Lyrically, the group has addressed social and environmental justice. Kay has remained as the only original member through several line-up changes.

The band made their debut under Acid Jazz Records but subsequently found mainstream success under Sony. While under this label, three of their albums have charted at number one in the UK, including Emergency on Planet Earth (1993), Synkronized (1999) and A Funk Odyssey (2001). The band's 1998 single, "Deeper Underground", was also number one in their native country.

As of 2017, Jamiroquai had sold more than 26 million albums worldwide. Their third album, Travelling Without Moving (1996), received a Guinness World Record as the best-selling funk album in history. The music video for its lead single, "Virtual Insanity", also contributed to the band's success. The song was named Video of the Year at the 1997 MTV Video Music Awards and earned the band a Grammy Award in 1998.

Full Wikipedia article: https://en.wikipedia.org/wiki/Jamiroquai

Studio albums
Emergency on Planet Earth (1993)
The Return of the Space Cowboy (1994)
Travelling Without Moving (1996)
Synkronized (1999)
A Funk Odyssey (2001)
Dynamite (2005)
Rock Dust Light Star (2010)
Automaton (2017)
Genre not found
Artist not found
Album not found
Search results not found
Song not found