gentiles Entregame tu amor
quiero q me entreges tu dulce amor
quiero q me dejes tu corazon
por ti estoy tomando hay q dolor
por ti estoy llorando en un rincon
yo no puedo olvidarme de tu amor
hay me esta matando este dolor
gentiles te vi con el
te vi con el y me rei pero al voltear trite llore,(bis)
a donde ire q es lo q are
con esta pena en el corazon
te vas con el me quedo aqui llorando triste y sin tu amor.
estoy ta enamorado de una chiquilla
ella es tan preciosa y bien bonita
quisiera tenerla siemrpe a mi lado pero no me hace caso y me ha negado
quiero toma quiero llorar si me embriago es por ella
traigan licor quiero olvidar calmar mis penas por ella
ya no quiero mas sufrir ya no quiero mas llorrar
ya no piedo soportar las mentiras de tu amor
desde q me enga
Contributed by Sadie R. Suggest a correction in the comments below.
To comment on specific lyrics,
highlight them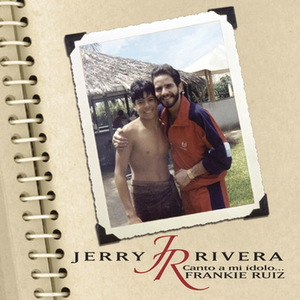 Geraldo Rivera Rodriguez was born on July 31, 1973. Jerry is originally from Humacao, Puerto Rico, but he grew up in Levittown, near Toa Baja on the central northern coast of the beautiful island of Puerto Rico.

Siblings include Saned, Edwin, Ito, and José, who all have careers in salsa (one of his brothers was with Puerto Rican Power). In an interview with Maria Conchita Alonso (for "Al día con Maria Conchita"), Jerry talks about how sure his father was that he would succeed.
Read Full Bio
Geraldo Rivera Rodriguez was born on July 31, 1973. Jerry is originally from Humacao, Puerto Rico, but he grew up in Levittown, near Toa Baja on the central northern coast of the beautiful island of Puerto Rico.

Siblings include Saned, Edwin, Ito, and José, who all have careers in salsa (one of his brothers was with Puerto Rican Power). In an interview with Maria Conchita Alonso (for "Al día con Maria Conchita"), Jerry talks about how sure his father was that he would succeed.

His parents, also musicians, inspired him to become a musician and as a child he would often accompany his mother Dominga, a singer, and father Edwin, a guitarist and director of Los Barones Trio, during their shows.

His favorite singers are Eddie Santiago, Lalo Rodriguez and, in particular, Frankie Ruiz. In 1986, when he was 13 years old, he accompanied his father who was performing at a hotel in Isla Verde, San Juan. Ruiz, who was a guest at the hotel, appeared and sang a couple of songs with them and had his picture taken alongside Rivera. In 2003 this picture was used by Rivera to make the album cover for his tribute Canto a mi Idolo... Frankie Ruiz ('I sing to my Idol... Frankie Ruiz'), who had died in 1998.

In 1988, Tommy Olivencia heard Rivera sing alongside his father and recommended that he sing solo. When Jerry was 14, his father made a demo and presented it to the CBS music department. They signed Rivera.

With his first album, Empezando A Vivir, Jerry Rivera earned the title "El Bebé de la Salsa" (the salsa baby). This project generated the hit, De La Cabeza A Los Pies (loosely translates to "From Head To Toes").

His second album, Abriendo Puertas ('Opening Doors'), produced the hit songs Esa Niña ('That Girl'), Dime ('Tell Me') and Como un Milagro ('Like a Miracle') became number one hits first in Puerto Rico, then among the Hispanic populations in the United States and finally across Latin America.

His third album, Cuenta Conmigo ('Count on Me'), won three Platinum Record awards in the United States, Puerto Rico, Venezuela and Colombia. It became the most-sold salsa album in history, a record previously held by Willie Colon,[1] and held the number-one spot in the Latin American Billboards for three consecutive months. Its hit songs included the Cuenta Conmigo, Me Estoy Enamorado ('I am in Love') and Casi Un Hechizo. The number one hit for the album was Amores Como El Nuestro (Loves Like Ours) which is considered to be the best song by Rivera. Rivera was awarded two Premio Lo Nuestro Awards for "Singer of the Year" and "Album of the Year" and Sony Records presented him with three Crystal Awards.

The introduction of Amores Como El Nuestro was sampled by Haitian-rapper Wyclef Jean in his 2004 song "Dance Like This" from the soundtrack of Dirty Dancing: Havana Nights which would later become the worldwide number-one 2006 hit "Hips Don't Lie" by Colombian-singer Shakira and Wyclef, too.

In 1993, he released Cara de Niño ('Baby Face') with Que Hay De Malo ('That There of Bad') and Cara de Niño as hits.

In 1994, as his popularity was rising, he released his first compilation album, Lo Nuevo y lo Mejor (The New and the Best), and contained the single hit Me Estoy Enloqueciendo Por Ti.

In 1996, Rivera released "Fresco" and Una y Mil Veces (One Thousand and One Tries) became another hit for Rivera.

In 1999, Rivera recorded De Otra Manera ('Another Way'), which featured the bolero Ese. Jerry sang the song with his father at the Roberto Clemente Coliseum in San Juan.

In 2000, Rivera recorded Para Siempre ('Forever'), and the hits were Amor de Novela, Navegándote, and Puerta Abierta. This was his album on Sony Latin records.

He has performed in Venezuela, Colombia, Honduras, Panama, the United States, Spain and Japan.

In 2001, he released his self-titled album Jerry Rivera, which would include ballad songs for the first time in his salsa career, and Quiero (I Want) would be the only hit. The year after, he recorded Vuela Muy Alto (She Flies High) which brought him a new fanbase all over Latin-America and the U.S., with the title track hit the top spot and the top 10 in many charts. The following year he released Cantando A Mi Idolo... Frankie Ruiz ('Singing To My Idol... Frankie Ruiz'), a tribute album to one of his idol Frankie Ruiz. The album ganer him a Latin Grammy nominatation and his hit was Ruiz's Mi Libertad featuring Voltio.

Rivera played a small role in the movie I Like It Like That and will appear as himself in a Latin American soap opera titled Mi destino eres tu ('You are my destiny') slated to air on Univision in the US during on November 2005. Rivera has also appeared in various Banco Popular de Puerto Rico productions, including Al Compas de un Sentimiento (dedicated to the late Puerto Rican composer Pedro Flores) and Con la musica por Dentro. Amores Como El Nuestro and Magia is another of his hit songs.

Discography
Empezando a Vivir (Beginning to Live) (1989)
Abriendo Puertas (Opening Doors) (1991)
Cuenta Conmigo (Count On Me) (1992)
Cara de Niño (Baby Face) (1993)
Jerry Rivera: Lo Nuevo Y Lo Mejor (Jerry Rivera: The New and the Best)
Magia (Magic) (1995)
Fresco (album) (Fresh) (1996)
Ya No Soy El Niño Aquel(I'm Not That Child Anymore) (1997)
De Otra Manera (In Other Words) (1998)
Oro Salsero (Salsa Gold) (2000)
Historia 1 (History 1) (2000)
Para Siempre (Forever) (2000)
Jerry Rivera (Rivera) (2001)
No Me Olvidaras (You Won't Forget Me) (2001)
Vuela Muy Alto (Fly Very High) (2002)
Cantando A Mi Idolo... Frankie Ruiz (Singing To My Idol... Frankie Ruiz) (2003)
Ay Mi Vida (Oh My Life) (2005)
20 Exitos Originales (20 originals) (2007)

Official Website
http://www.jerryrivera.com/
Genre not found
Artist not found
Album not found
Search results not found
Song not found