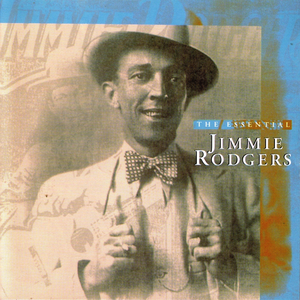 Let Me Be Your Side Track (Alternate Take)
There is more than one artist by the name 'Jimmie Rodgers'.

1) Jimmie Rod…
Read Full Bio ↴
There is more than one artist by the name 'Jimmie Rodgers'.

1) Jimmie Rodgers (James Charles Rodgers, September 8, 1897 – May 26, 1933) was an American country singer in the early 20th century, known most widely for his rhythmic yodeling. Among the first country music superstars and pioneers, Rodgers was also known as "The Singing Brakeman", "The Blue Yodeler", and "The Father of Country Music". The Bristol sessions are considered the "Big Bang" of modern country music. They were held in 1927 in Bristol, Tennessee by Victor Talking Machine Company company producer Ralph Peer. They marked the commercial debut of Jimmie Rodgers.

Rodgers' traditional birthplace is usually given as Meridian, Mississippi; however, in documents signed by Rodgers later in life, his birthplace was listed as Geiger, Alabama, the home of his paternal grandparents. Historians who have researched the circumstances of that document, however, including Nolan Porterfield and Barry Mazor, continue to identify Pine Springs, Mississippi, just north of Meridian, as his genuine birthplace. Rodgers' mother died when he was about six or seven years old, and Rodgers, the youngest of three sons, spent the next few years living with various relatives in southeast Mississippi and southwest Alabama, near Geiger. In the 1900 Census for Daleville, Lauderdale County, Mississippi, Jimmie's mother, Eliza [Bozeman] Rodgers, was listed as already having had seven children, with four of them still living at that date. Jimmie ["James" in the Census] was next to the youngest at that time, and was probably born sixth of the total of seven children. He eventually returned home to live with his father, Aaron Rodgers, a Maintenance-of-Way foreman on the Mobile and Ohio Railroad, who had settled with a new wife in Meridian.

Rodgers' affinity for entertaining came at an early age, and the lure of the road was irresistible to him. By age 13, he had twice organized and begun traveling shows, only to be brought home by his father. His father found Rodgers his first job working on the railroad as a water boy. Here he was further taught to pick and strum by rail workers and hobos. As a water boy, he would have been exposed to the work chants of the African American railroad workers known as gandy dancers. A few years later, he became a brakeman on the New Orleans and Northeastern Railroad, a position formerly secured by his oldest brother, Walter, a conductor on the line running between Meridian and New Orleans.
In 1924 at age 27, Rodgers contracted tuberculosis. The disease temporarily ended his railroad career, but at the same time gave him the chance to get back to the entertainment industry. He organized a traveling road show and performed across the Southeastern United States until, once again, he was forced home after a cyclone destroyed his tent. He returned to railroad work as a brakeman in Miami, Florida, but eventually his illness cost him his job. He relocated to Tucson, Arizona and was employed as a switchman by the Southern Pacific Railroad. He kept the job for less than a year, and the Rodgers family (which by then included wife Carrie and daughter Anita) settled back in Meridian in early 1927.

Rodgers decided to travel to Asheville, North Carolina, later that same year. On April 18, at 9:30 p.m., Jimmie, and Otis Kuykendall performed for the first time on WWNC, Asheville's first radio station. A few months later Rodgers recruited a group from Bristol, Tennessee called the Tenneva Ramblers and secured a weekly slot on the station listed as "The Jimmie Rodgers Entertainers."
In late July 1927, Rodgers' bandmates learned that Ralph Peer, a representative of the Victor Talking Machine Company, was coming to Bristol to hold an audition for local musicians. Rodgers and the group arrived in Bristol on August 3, 1927, and auditioned for Peer in an empty warehouse. Peer agreed to record them the next day. That night, as the band discussed how they would be billed on the record, an argument ensued, the band broke up, and Rodgers arrived at the recording session the next morning alone. However, in a videotaped interview, Claude Grant of the Tenneva Ramblers gave a totally different reason for the band's breakup. Rodgers had taken some guitars on consignment. He sold them but did not pay back the music stores which supplied the guitars. Grant said that the band broke up because they did not agree with that. On Wednesday, August 4, 1927 Jimmie Rodgers completed his first session for Victor. It lasted from 2:00 p.m. to 4:20 p.m. and yielded two songs: "The Soldier's Sweetheart" and "Sleep, Baby, Sleep". For the test recordings, Rodgers received $100.
The recordings were released on October 7 earning modest success. In November, Rodgers, determined more than ever to make it in entertainment, headed to New York City in an effort to arrange another session with Peer. Peer agreed to record him again, and the two met in Philadelphia before traveling to Camden, New Jersey, to the Victor studios. Four songs made it out of this session, including "Blue Yodel", better known as "T for Texas". In the next two years, this recording sold nearly half a million copies, rocketing Rodgers into stardom. After this, he got to determine when Peer and Victor would record him, and he sold out shows whenever and wherever he played.
Over the next few years, Rodgers was very busy. He did a movie short for Columbia Pictures, The Singing Brakeman (this is available on the DVD and VHS compilation "Times Ain't Like They Used To Be: Early Rural & Popular Music From Rare Original Film Masters 1928-35" and on YouTube), and made various recordings across the country. He toured with humorist Will Rogers as part of a Red Cross tour across the Midwest. On July 16, 1930, he recorded "Blue Yodel No. 9" with Louis Armstrong on trumpet and his wife Lil Hardin Armstrong on piano.
A song written by Clayton McMichen and recorded as "Prohibition Has Done Me Wrong" was not issued, possibly because of copyright conflicts with Columbia. According to Juanita McMichen Lynch, Peer thought it was "too controversial for the times." The master was put aside and then accidentally lost.

Rodgers' next-to-last recordings were made in August 1932 in Camden, and it was clear that the tuberculosis was getting the better of him. He had given up touring by that time, but did have a weekly radio show in San Antonio, Texas, where he had relocated when "T for Texas" became a hit. Earnings from his recordings enabled Rodgers to build a large house for his family in Kerrville, Texas, a location chosen partly for health reasons. But it was not in Rodgers' make-up to stay still, and his constant touring and recording schedule only hurt his chances of recovering from TB.
With the country in the grip of the Depression, the practice of making field recordings was quickly fading, so in May 1933, Rodgers traveled again to New York City for a group of sessions beginning May 17, 1933. He started these sessions recording alone and completed four songs on the first day. When he returned to the studio after a day's rest, he had to record sitting down and soon retired to his hotel in hopes of regaining enough energy to finish the songs he had been rehearsing. The recording engineer hired two session musicians to help Rodgers when he came back to the studio a few days later. Together they recorded a few songs, including "Mississippi Delta Blues". For his last song of the session, however, Jimmie chose to perform alone, and as a matching bookend to his career, recorded "Years Ago" by himself.
During his last recording session in New York City on May 24, 1933, after years of fighting the tuberculosis, Rodgers was so weakened that he needed to rest on a cot between songs. Jimmie Rodgers died two days later on May 26, 1933 from a pulmonary hemorrhage while staying at the Taft Hotel; he was only 35 years old.

When the Country Music Hall of Fame and Museum was established in 1961, Rodgers was one of the first three (the others were music publisher and songwriter Fred Rose and singer-songwriter Hank Williams) to be inducted. Rodgers was elected to the Songwriters Hall of Fame in 1970 and, as an early influence, to the Rock & Roll Hall of Fame in 1986. "Blue Yodel No. 9" was selected as one of The Rock and Roll Hall of Fame's 500 Songs that Shaped Rock and Roll. Rodgers was ranked No. 33 on CMT's 40 Greatest Men of Country Music in 2003.
Since 1953, Meridian's Jimmie Rodgers Memorial Festival has been held annually during May to honor the anniversary of Rodgers' death. The first festival was on May 26, 1953.
Both Gene Autry and future Louisiana governor Jimmie Davis (author of "You Are My Sunshine") began their careers as Jimmie Rodgers copyists, and Merle Haggard, Hank Snow, and Lefty Frizzell later did tribute albums. In 1997 Bob Dylan put together a tribute compilation of major artists covering Rodgers' songs, "The Songs of Jimmie Rodgers, A Tribute" (Sony – ASIN: B000002BLD). The artists included Bono, Alison Krauss & Union Station, Jerry Garcia, Dickey Betts, Dwight Yoakam, Aaron Neville, John Mellencamp, Willie Nelson and others. Dylan had earlier once remarked, "The songs were different than the norm. They had more of an individual nature and an elevated conscience... I was drawn to their power."
In 1969, country singer Merle Haggard released Same Train, A Different Time: Merle Haggard Sings The Great Songs Of Jimmie Rodgers. Haggard also covered "No Hard Times" and "T.B. Blues" on his best-selling live albums "Okie From Muskogee" (1969) and "Fightin' Side of Me" (1970). "Blue Yodel No. 1 (T for Texas)" was covered by Lynyrd Skynyrd (sometimes announced as "(Gimme A) T For Texas (T For Tennessee)" later on) on their live album One More from the Road. Ronnie has also been quoted from a July 13, 1977 concert intermission in Asbury Park, New Jersey as saying that they've "always been interested in old country music" like Jimmie Rodgers and Merle Haggard before launching into playing "T For Texas".[10] Lynyrd Skynyrd has also named both Haggard and Rodgers in their song "Railroad Song" ("I'm going to ride this train, Lord, until I find out, what Jimmie Rodgers and The Hag was all about") Tompall Glaser has also covered a version that was included on country music's first million-selling album, Wanted! The Outlaws.
On May 24, 1978, the United States Postal Service issued a 13-cent commemorative stamp honoring Rodgers, the first in its long-running Performing Arts Series. The stamp was designed by Jim Sharpe (who did several others in this series), who depicted him with brakeman's outfit and guitar, giving his "two thumbs up", along with a locomotive in silhouette in the background.
Rodgers' legacy and influence is not limited to country music. The 2009 book "Meeting Jimmie Rodgers: How America's Original Roots Music Hero Changed the Pop Sounds of a Century" tracks Rodgers influence through a broad range of musical genres, internationally. He was influential to Ozark poet Frank Stanford, who composed a series of "blue yodel" poems, and a number of later blues artists. Rodgers was one of the biggest stars of American music between 1927 and 1933, arguably doing more to popularize blues than any other performer of his time.[8] Rodgers influenced many later blues artists, among them Muddy Waters, Big Bill Broonzy, and Chester Arthur Burnett, better known as Howlin' Wolf. Jimmie Rodgers was Wolf's childhood idol. Wolf tried to emulate Rodgers's yodel, but found that his efforts sounded more like a growl or a howl. "I couldn't do no yodelin'," Barry Gifford quoted him as saying in Rolling Stone, "so I turned to howlin'. And it's done me just fine."
Rodgers' influence can also be heard in artists including Tommy Johnson, the Mississippi Sheiks, and Mississippi John Hurt, whose "Let the Mermaids Flirt With Me" is based on Rodgers' hit "Waiting On A Train". Elvis Presley has also been quoted as mentioning Jimmie Rodgers as an important influence and stating that he was a big fan. Jerry Lee Lewis listed Rodgers as a major stylist and covered many of his songs. Moon Mullican, Tommy Duncan and many other western swing singers also were influenced by him. Gene Autry's earlier material largely copied Rodgers' blues records.
The 1982 film, Honkytonk Man, directed by and starring Clint Eastwood was loosely based on Rodgers' life.
In "Cleaning Windows," Van Morrison sings about listening to Rodgers, but this is more likely to refer to Jimmy Rogers, the blues singer as Morrison is singing about other blues singers in the same song, and does not mention any other Country and Western singers.
In the book, Faking It: The Quest for Authenticity in Popular Music, the song "T.B. Blues" is presented as one the first truly autobiographical songs.
On May 28, 2010, Slim Bryant, the last surviving singer to have made a recording with Rodgers, died at the age of 101. They recorded Bryant's song "Mother, the Queen of My Heart" in 1932. The Union, a collaborative album between Elton John and Leon Russell, featured a song entitled "Jimmie Rodgers' Dream", which was a tribute to Rodgers.
In May 2010, a second marker, on the Mississippi Country Music Trail, was erected near Rodgers' gravesite, marking his role as The Father of Country Music.
In 2013, Rodgers was posthumously inducted to the Blues Hall of Fame.

2) James Frederick "Jimmie" Rodgers is also an American pop/rock & roll singer, incidentally born September 18, 1933 (year of death of the country musician above) in Camas, Washington, United States. He had number of hits in the 1950's, including versions of "Kisses Sweeter Than Wine", "Honeycomb","Oh Oh I'm Fallin' In Love Again", Woman from Liberia" and, particularly in the UK "English Country Garden".

Rodgers was taught music by his mother, learned to play the piano and guitar, and joined a band called "The Melodies" started by violinist Phil Clark, while he served in the United States Air Force in Korea.
Let Me Be Your Side Track
Jimmie Rodgers Lyrics
Jump to: Overall Meaning ↴ Interesting Facts ↴ Line by Line Meaning ↴
I saw two little monkeys playing up in a tree
I saw two little monkeys playing up
And down in a tree
One said to the other come
On lets make whoopee
Listen here pretty mama I know
When you're hanging round
I know pretty mama when you are hanging round
I don't see no fire but I'm burning down
There's something about you women
Always makes me sore
There's something about you women that
Always makes me sore
'Cause I can't look for you
You're always wanting more
Let me be side track
'til your mainline comes, i will
Let me be side track 'til your mainline comes
'Cause I can do more switching
Than your mainline's ever done
When you see a spider climbing up a wall
When you see a spider climbing
Up a lonesome wall
You can tell the world he's
Gonna get his ashes hauled
Overall Meaning
The lyrics of "Let Me Be Your Side Track" by Jimmie Rodgers depict a playful and flirtatious conversation between two individuals. The first stanza sets the scene with the imagery of two monkeys playing in a tree. One monkey suggests to the other that they should engage in some mischief, using the phrase "let's make whoopee." This line serves as a metaphor for the playful and adventurous nature of their interaction.
In the next stanza, the singer addresses a woman, referring to her as "pretty mama." The singer acknowledges that when she is around, he feels a strong attraction towards her, even though there may not be an obvious spark or fire between them. The use of the phrase "burning down" suggests a passionate longing or desire despite the absence of a clear signal.
The third stanza reflects a sense of frustration that the singer feels towards women in general. He laments that there is always something about women that tends to bother or irritate him. The line "I can't look for you, you're always wanting more" highlights a certain dissatisfaction or inability to meet their expectations. This verse portrays a complex dynamic of attraction mixed with a hint of resentment.
The final stanza makes use of the metaphor of a spider climbing up a wall. Similar to the monkey metaphor in the first stanza, the spider climbing represents a pursuit of desire or seeking a romantic encounter. The phrase "get his ashes hauled" is an old-fashioned expression meaning to engage in sexual activity. This line suggests that the spider will ultimately achieve its goal or satisfy its desire.
Overall, "Let Me Be Your Side Track" captures the playful, flirtatious, and slightly frustrated nature of a romantic interaction. It explores the complexities of attraction, desire, and the challenges faced in meeting one another's expectations.
Interesting Facts
Note: This section uses generative AI, which can be inaccurate.


Line by Line Meaning
I saw two little monkeys playing up in a tree
I witnessed two mischievous monkeys frolicking in the branches of a majestic tree.
And down in a tree
With their playful antics extending even to the lower parts of the tree.
One said to the other come, on let's make whoopee
One monkey excitedly urged its companion to engage in joyous and spirited revelry.
Listen here pretty mama I know, when you're hanging round
Listen closely, dear lady, for I possess an understanding of your actions when you are in my presence.
I know pretty mama when you are hanging round
Indeed, I am keenly aware of your prominent presence and influence in my life.
I don't see no fire but I'm burning down
Although there may not be a visible flame, my heart and soul are engulfed in passionate longing for you.
There's something about you women that always makes me sore
There is an inexplicable quality possessed by women, which invariably causes me distress and discomfort.
'Cause I can't look for you, you're always wanting more
For it is a challenge to seek after your affection when you continually crave additional desires and demands.
Let me be a side track 'til your mainline comes
Allow me to serve as a transient diversion in your life until the arrival of someone more central and significant.
I can do more switching than your mainline's ever done
In fact, my ability to navigate diverse situations and relationships surpasses that of any previous significant other in your life.
When you see a spider climbing up a lonesome wall
Just as when one beholds a solitary spider making its ascent upon an isolated wall,
You can tell the world he's gonna get his ashes hauled
It becomes evident to all observers that the spider's inevitable destination is to engage in passionate intimacy.
Lyrics © BMG Rights Management
Written by: Grandpa Jones

Lyrics Licensed & Provided by LyricFind
To comment on or correct specific content,
highlight it
Genre not found
Artist not found
Album not found
Search results not found
Song not found