Well, I left out of Georgia 1934
My baby begged me: Daddy, please don't go
But I left that town, you know I left that town
When I left out of Georgia, you know I was Memphis bound
Well, I stayed in Memphis in 1939
The woman I loved didn't pay me no mind
So I left that town, you know I left that town
When I left out of Memphis, you know I was St. Louis bound
I didn't need no steam heat by my bed
The little girl I had kept it cherry red
Well, I left that town, you know I left that town
When I left St. Louis, you know I was Chicago bound
I'm gonna tell you something that you all should know
Chicago's the best place I ever knowed
I'm-a stay in this town, I'm-a live in this town
I'm gonna live in Chicago, it's the baddest place around
Contributed by Aubrey A. Suggest a correction in the comments below.
To comment on specific lyrics,
highlight them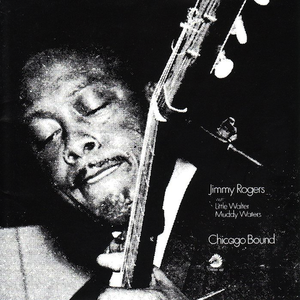 Jimmy Rogers (June 3, 1924–December 19, 1997) was a blues guitarist best known for his work as a member of Muddy Waters' band of the 1950s.

Jimmy Rogers was born James A. Lane in Ruleville, Mississippi, and was raised in Memphis. Rogers learned the harmonica alongside his childhood friend Snooky Pryor, and as a teenager took up the guitar and played professionally in East St. Louis, Illinois (where he played with Junior Lockwood), before moving to Chicago in the mid-1940s after serving in the military.
Read Full Bio
Jimmy Rogers (June 3, 1924–December 19, 1997) was a blues guitarist best known for his work as a member of Muddy Waters' band of the 1950s.

Jimmy Rogers was born James A. Lane in Ruleville, Mississippi, and was raised in Memphis. Rogers learned the harmonica alongside his childhood friend Snooky Pryor, and as a teenager took up the guitar and played professionally in East St. Louis, Illinois (where he played with Junior Lockwood), before moving to Chicago in the mid-1940s after serving in the military. By 1946 he'd made his first record as a harmonica player and singer for the local Harlem label, although his name was not included on the label — the record was issued under the names "Memphis Slim and his Houserockers".

Rogers joined Waters the next year, with whom he helped shape the sound of the nascent Chicago Blues style. Although he had several successful releases of his own on Chess Records beginning in 1950 with "That's Alright", he stayed in Waters' band until leaving the band for a solo career in 1954. In the mid 1950s he enjoyed several successful record releases, most notably "Walking By Myself", but as the '50s drew to a close and interest in the blues waned, he gradually withdrew from the music business.
By the 1960s he was working mainly outside of music, until 1971 when fashions made him a reasonable draw in Europe, and he was able to record again, including a 1977 session with Waters. By 1982, Rogers was again a solo artist.

He continued touring and recording albums until his death in 1997, in Chicago.
Jimmy Rogers (1984) - (Compilation album of some pre-1960 songs)
Ludella (1990)
Jimmy Rogers with Ronnie Earl and the Broadcasters (1991) - Live
Feelin' Good with special guest Rod Piazza (1994) Blind Pig
Sloppy Drunk (1998) - (Compact disc re-issue of original album released in December 1973)
Blue Bird (1994) - Analogue Productions Originals
Blues Blues Blues (1999)
The Complete Chess Recordings(1997)
Genre not found
Artist not found
Album not found
Search results not found
Song not found