Penélope
Con su bolso de piel marrón
Y sus zapatos de tacón
Y su vestido de domingo
Penélope
Se sienta en un banco en el andén
Y espera que llegue el primer tren
Meneando el abanico
Dicen en el pueblo
Que un caminante paró
Su reloj
Una tarde de primavera
"Adiós amor mío
No me llores, volveré
Antes que
De los sauces caigan las hojas
Piensa en mí
Volveré a por ti"
Pobre infeliz
Se paró tu reloj infantil
Una tarde plomiza de abril
Cuando se fue tu amante
Se marchitó
En tu huerto hasta la última flor
No hay un sauce en la calle Mayor
Para Penélope
Penélope
Tristes a fuerza de esperar
Sus ojos, parecen brillar
Si un tren silba a lo lejos
Penélope
Uno tras otro los ve pasar
Mira sus caras, les oye hablar
Para ella son muñecos
Dicen en el pueblo
Que el caminante volvió
La encontró
En su banco de pino verde
La llamó: "Penélope
Mi amante fiel, mi paz
Deja ya
De tejer sueños en tu mente
Mírame
Soy tu amor, regresé"
Le sonrió
Con los ojos llenitos de ayer
No era así su cara ni su piel
"Tú no eres quien yo espero"
Y se quedó
Con el bolso de piel marrón
Y sus zapatitos de tacón
Sentada en la estación
Penélope
Lyrics © Universal Music Publishing Group, Warner Chappell Music, Inc.
Written by: Augusto Alguero Dasca, Juan Manuel Serrat Teresa

Lyrics Licensed & Provided by LyricFind
To comment on specific lyrics,
highlight them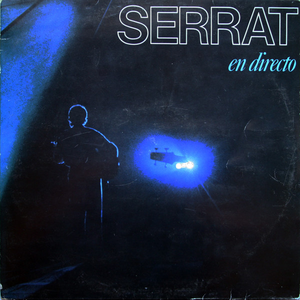 Joan Manuel Serrat i Teresa (born December 27, 1943 in Barcelona) is a Catalan singer-songwriter.

Catalan singer-songwriter Joan Manuel Serrat got involved in music at the age of 17, when he got his first guitar, to which he dedicates one of his earliest songs, "Una guitarra."

In early 60's the young artist participated in a pop band playing along with classmates at Barcelona's Agronomy School, doing mainly Beatles stuff and Italian 'pop-of-the-era' songs translated to Spanish.
Read Full Bio
Joan Manuel Serrat i Teresa (born December 27, 1943 in Barcelona) is a Catalan singer-songwriter.

Catalan singer-songwriter Joan Manuel Serrat got involved in music at the age of 17, when he got his first guitar, to which he dedicates one of his earliest songs, "Una guitarra."

In early 60's the young artist participated in a pop band playing along with classmates at Barcelona's Agronomy School, doing mainly Beatles stuff and Italian 'pop-of-the-era' songs translated to Spanish.

In 1965, while singing in a radio show called Radioscope, host Salvador Escanilla helped him to get a record deal with local label Edigsa where he recorded his first EP, as well as became part of Els Setze Jutges, a group of Catalan artists aiming to promote a renaissance of Catalan culture after Spanish Franco's dictatorship and make it spread into popular classes.

Joan Manuel Serrat's first live stage performance in 1967 at the Catalan Music Palace, established definitely his name as one of the most important artists inside the 'Nova cançó' ('New Song') movement in Catalonia.

Next year, Spain originally entered Serrat in the Eurovision Song Contest 1968 to sing "La, la, la", but he asked to sing it in Catalan, to which the Spanish authorities would not agree. This would be the first time he came into conflict with the language politics of Francoist Spain, because of his decision to sing in his native Catalan language, repressed by Franco. After the incident, Serrat was hurriedly substituted by Massiel, who won the contest with her Spanish-language version. By that time Serrat's songs were banned and his records burned in the streets. He then traveled to South America and participated in the Rio de Janeiro's World Music Festival, where he took first place with the song "Penélope."

In 1969 Serrat released an album containing songs with texts of Antonio Machado, a well known Spanish poet of late 19th-early 20th century. This album gave him immediate fame in all Spain and Latin America though, in spite of this, his decission to sing in Spanish was still criticized in some nationalistic Catalan circles.

The release of 1971's Mediterráneo LP consolidated the artist worldwide. In 1976, Joan Manuel Serrat was acclaimed for the first time in the U.S.A. while performing in Los Angeles, San Francisco, and New York.

In late 1974, Serrat was exiled in Mexico due to his condemnation of arbitrary executions under Franco's regime. It wasn't until Franco's death (November 20, 1975) that Serrat was able to return to his homeland.

In January of 1995, the Spanish government gave him a medal for his contribution to the Hispanic culture. That same year, a tribute album called Serrat, Eres único was made to honor his career, featuring artists such as Diego Torres, Ketama, Rosario (Flores), Joaquín Sabina, and Antonio Flores. In the year 2000, the Spanish Association of Authors and Editors (SGAE) awarded him with one of ten Medals of the Century.

In October 2004 he revealed that he had been undergoing treatment for cancer of the bladder and in November that year he cancelled a tour of Latin America and the USA in order to undergo surgery in Barcelona, where he still lives. By that time, his wonderful song "Mediterráneo" was selected as the most important song of the 20th century in Spain.

His recovery was satisfactory, and in 2005 he went on a tour again ("Serrat 100×100") around Spain and Latin America with his lifelong producer and arranger, Ricard Miralles.

A second volume of Serrat, eres único was also released this year, featuring Alejandro Sanz, Estopa, and Pasión+Vega. Around the same time, Cuban artists such as Silvio Rodríguez, Pablo Milanés, Chucho Valdez, and Ibrahim Ferrer came together to make another tribute CD, Cuba le canta a Serrat.

Source: Wikipedia®
Genre not found
Artist not found
Album not found
Search results not found
Song not found