Interlude
Jodeci Lyrics
Come and talk to me [echoed]
Can I talk to you [echoed]
Comeee and talk to me [echoed]
Ohhhhho.
[Talking: kci]
I wanna love, I wanna luv you, I wanna luv u, I wanna luv u [repeated]
Girl I'm reachin out my hand, tryin to make you understand you don't have to be
Alone, cause I wanna be your man,girl I need u in my life, just wanna live
Right by yo side, so gurl I hope ur satisfied, until u give this love a try.
[chorus]
Im in need of love and baby ur in need of love so what about us on and on and
On til the break of dawn [repeated 2x]
[bridge]
Can u feel, can u feel me cause I can feel u baby.
[verse 2]
Satisfaction garanteed if u come and get wit me, gurl I can get down on knees,
So let me please do u lady, do u lady cause I know that's what u need, I'm need
A love, I need ur love girl listen to me.
[chorus]
Shoby doo wop show doo wop I wanna love u I wanna luv u baby.
[chorus]
[vamp out]
[ad libs K-ci and JoJo]
Contributed by Josiah B. Suggest a correction in the comments below.
To comment on specific lyrics,
highlight them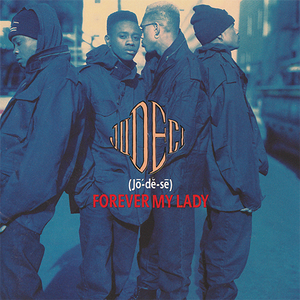 Jodeci is an American musical group, active from 1990 to 1996, whose repertoire included R&B, soul music, and new jack swing. The group consisted of two pairs of African-American brothers from Charlotte, North Carolina: the DeGrates (Donald "DeVante Swing" DeGrate, the group founder/leader, and Dalvin DeGrate) and the Haileys (main lead singer Cedric "K-Ci" Hailey and second lead singer Joel "Jo-Jo" Hailey). The group's name is a combination of the names of its members: Jo-Jo, DeVante and Dalvin, and K-Ci.
Read Full Bio
Jodeci is an American musical group, active from 1990 to 1996, whose repertoire included R&B, soul music, and new jack swing. The group consisted of two pairs of African-American brothers from Charlotte, North Carolina: the DeGrates (Donald "DeVante Swing" DeGrate, the group founder/leader, and Dalvin DeGrate) and the Haileys (main lead singer Cedric "K-Ci" Hailey and second lead singer Joel "Jo-Jo" Hailey). The group's name is a combination of the names of its members: Jo-Jo, DeVante and Dalvin, and K-Ci.

If Boyz II Men are portrayed as a clean-cut, wholesome R&B vocal group, then Jodeci's wild, sexual, bad-boy image represents the other side of the coin. Made up of two sets of brothers, the group's name is a consolidation of three members' aliases: "JoJo" Hailey, Donald "DeVante Swing" DeGrate, and Cedric "K-Ci" Hailey; the group also includes Dalvin DeGrate. Natives of Charlotte, NC, all four members toured the South as young boys singing gospel music, even recording albums; both families belonged to the Pentecostal church, and the DeGrates' father was a minister. The boys were able to hear each other's gospel songs played on the radio, and eventually were introduced through girlfriends as teenagers. However, when they did meet, K-Ci was with a girl Dalvin had been dating, and a fight nearly broke out. The Hailey brothers and DeVante started hanging out together, partying and talking about making R&B records together, coming up with the name Jodeci at this time.

At age 16, DeVante ran away to Minneapolis to get a job in Prince's organization, but was refused. He returned to Charlotte, where he wrote a song and recorded JoJo singing it. The two planned on going to New York to shop the demo around by themselves, but both K-Ci and Dalvin decided to tag along at the last minute. By the time they got to New York, they had demo recordings of 29 songs, which they brought to the offices of Uptown Entertainment. They were almost rejected, but rapper Heavy D overheard the tape and talked Uptown president Andre Harrell into hearing the group. Harrell was impressed, and just like that, Jodeci signed a recording contract. In 1991, they recorded Forever My Lady, which featured the gold single "Come and Talk to Me" and went on to sell over three million copies. A minor feud resulted over the band's follow-up album, Diary of a Mad Band; Jodeci, unhappy with their treatment by Uptown, flirted with the idea of leaving for Dr. Dre's Death Row Records, which resulted in almost zero promotion for their new album. It didn't matter much, as Diary went platinum. The group's troubles got worse in 1993; DeVante and K-Ci were involved in an incident with a woman K-Ci met at a club and brought back to DeVante's apartment. The woman filed charges against the two, saying that K-Ci had threatened her and fondled her breast, while DeVante pointed a gun at her. Both pleaded guilty, but that wasn't all; shortly afterwards, DeVante's house was robbed of over 160,000 dollars in jewelry and clothes as the singer was held with guns in his mouth and at the back of his head.

Jodeci's third album, The Show, the After Party, the Hotel, was released in the summer of 1995. DeVante also was afforded the opportunity to work with Al Green, one of his idols, writing and producing the song "Could This Be the Love." ~ Steve Huey, Rovi

Jodeci Albums:

* 1991: Forever My Lady #18 US (3x platinum)
* 1993: Diary of a Mad Band #3 US (2x platinum)
* 1995: The Show, The After Party, The Hotel #2 US (platinum)
* 2005: Back to The Future: The Very Best of Jodeci (300,000)


Jodeci Singles:

* 1991: "Gotta Love"
* 1991: "Stay" (US #41, R&B #1)
* 1991: "Forever My Lady" (US #25, R&B #1)
* 1991: "Come and Talk to Me" (US #11, R&B #1)
* 1993: "Cry For You" (US #15, R&B #1)
* 1993: "Feenin'" (US #25, R&B #2)
* 1993: "Lately" (US #4, R&B #1)
* 1993: "Let's Go Through the Motions" (US #65)
* 1994: "What About Us" (R&B #14)
* 1995: "Freek'n You" (US #14, R&B #3)
* 1995: "Love U 4 Life"
* 1996: "Get on Up" (US #22, R&B #4)

Jodeci Side-Projects:

(K-Ci & JoJo)
* 1997: Love Always
* 1999: It's Real
* 2000: X
* 2002: Emotional
* 2005: All My Life "Their Greatest Hits"

(Dalvin Degrate)
* 2000: Met.A.Mor.Phic

(K-Ci Solo)
* 2006: My Book
Genre not found
Artist not found
Album not found
Search results not found
Song not found