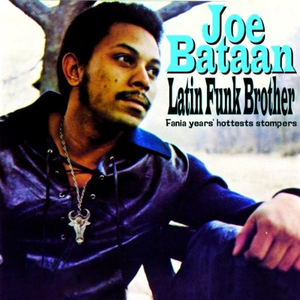 No recording artist has more impeccable street credentials than Joe Bataan, the originator of the New York Latin Soul style that paralleled Latin boogaloo and anticipated disco. His musical experience began with street corner doo-wop in the 1950s, and came to include one of the first rap records to hit the charts, 1979's "Rap-O, Clap-O". In between these milestones, he recorded classic albums like St. Latin's Day Massacre, a perennial favorite in the salsa market
Read Full Bio
No recording artist has more impeccable street credentials than Joe Bataan, the originator of the New York Latin Soul style that paralleled Latin boogaloo and anticipated disco. His musical experience began with street corner doo-wop in the 1950s, and came to include one of the first rap records to hit the charts, 1979's "Rap-O, Clap-O". In between these milestones, he recorded classic albums like St. Latin's Day Massacre, a perennial favorite in the salsa market, Salsoul, which gave the record label its name and helped spark the national explosion of urban dance music, and Afrofilipino, which included one of the very earliest New York disco hits, an instrumental version of Gil Scott Heron's "The Bottle".

Born Peter Nitollano, of African-American/Filipino parents, Joe Bataan grew up in Spanish Harlem, where he ran with Puerto Rican gangs and absorbed R&B, Afro-Cuban and Afro-Rican musical influences. His music career followed a pair of stints in Coxsackie State Prison. Self taught on the piano, he organized his first band in 1965 and scored his first recording success in 1967 with "Gypsy Woman" on Fania Records, . The tune was a hit with the New York Latin market despite the English lyrics sung by Joe, and exemplified the nascent Latin Soul sound. In early anticipation of the disco formula, "Gypsy Woman" created dance energy by alternating what was fundamentally a pop-soul tune with a break featuring double timed hand claps, . Joe would take this tendency even further on his influential Salsoul, which fused funk and latin influences in slick yet soulful orchestrations. Salsoul remains influential as a rare groove cult item, but pointed to the future at the time of its release. The LP embodied the artist's highly deliberate and culturally aware musical concept. Bataan theorized the '70s next big thing as a hybrid: an Afro Cuban rhythm section playing Brazilian influenced patterns over orchestral funk. In many ways, his vision was on the money, though most of the money would go to others, and mainstream stardom would elude him. He did, however, get in on the ground floor of the new trend as an early hit maker. His biggest commercial move was a Salsoul production released under the Epic umbrella, and promoted to the new disco market as Afrofilipino, which included 1975's "The Bottle", a much anthologized classic that drives an R&B horn arrangment with a relentless piano montuno.

Always in touch with the street, Joe Bataan picked up on rap very early in the game. His minor rap hit, "Rap-O, Clap-O" was a bit more successful in Europe than in the States, and is remembered as rap's debut in the European market. Nevertheless, his legacy remains his gritty and realistic Latin soul lyrics, his self identification as an "Ordinary Guy", and his highly personal and prophetic merger of Latin and soul influences.
Genre not found
Artist not found
Album not found
Search results not found
Song not found
We have lyrics for 'Shaft' by these artists:



noredirect/Isaac Hayes Who's the black private dick That's a sex machine to all…
Chevy Woods I got my hand on the wheel weed smoke up…
Dread Zeppelin Who's the white entertainer That's a sex machine to all the…
Incubus Who am I? I am I. Who are you? You…



We have lyrics for these tracks by Joe Bataan:



Always & Forever Always and forever Each moment with you Is just like a dream…
Bilingual Girl Oye, look who is there Está super hot será latino ó…
Call My Name Before the setting sun and I'll appear And know that I'm…
Chick a Boom Boom boom, chick-a-boom boom boom Chick-a-boom, chick-a-boom…
Chick-A-Boom Boom boom, chick-a-boom boom boom Chick-a-boom, chick-a-boo…
Crystal Blue Persuasion Look over yonder (better get ready) What do you see? (Crysta…
Cycles of You In the morning, as I make my way down the…
Freedom 3RD STOREE Miscellaneous Get Wit' Me"(feat. Joe Budden [Intr…
Gypsy Woman From nowhere through the caravan Round the campfire light A …
I Wish You Love I wish you bluebirds in the spring To give your heart…
If I Were A King If I were a king (if I were a king) I'd…
It's A Good Feeling Everybody is doing it. That's right! Everybody is doing it.…
Mestizo Mestizo, you're the air, Mestizo, you're the world, Latino…
Mestizo (12" Mix) Mestizos throughout the earth Stand tall **about your birth …
Mi Nube Gracias Señor por la nube que hiciste para mí Para que…
More Love Ooh, ooh, ooh. Let it be soon, don't hesitate, make love,…
Mujer Mujer mía... Mira este amor; Cómo pasa. Después que te fuist…
Mujer Mia Mujer mía Mira el tiempo como pasa Después que te fuistes de…
My Cloud Thank you lord for the cloud you made for me I…
Ordinary Guy I can't move a mountain top Everything's ordinary on my bloc…
Para Puerto Rico Voy Desde lejos yo oigo Un canto suspirar El zumbido de tus play…
Rap-O Clap-O Just clap your hands, everybody Everybody, come on, clap yo…
Sad Girl Sad girl Sad girl You look so sad Did he break your heart? …
Subway Joe (oh is this the right car? Boss street is coming up…
The Prayer In the name of the Father, and of the Son,…
Under The Street Lamp Standing around telling jokes We can't go no where because w…
Uptown Hey! Hey! Uptown Shoop shoo dooby dooby Uptown How! Uptown S…
What Good Is A Castle What good is a castle Way high upon a hill If you're…
When Sunny Gets Blue When Sunny gets blue, her eyes get gray and cloudy, Then…
When We Get Married Darlin' oh-oh-oh When we get married we'll have a big celeb…
You're Driving Me Right out of My Mind Now that you've taken, all the love that I could…

The lyrics can frequently be found in the comments below or by filtering for lyric videos.