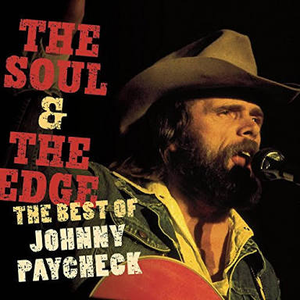 Someone To Give My Love To
Johnny Paycheck (May 31, 1938 – February 18, 2003) was a country music singer.…
Read Full Bio ↴
Johnny Paycheck (May 31, 1938 – February 18, 2003) was a country music singer. He is most famous for covering the David Allan Coe song "Take This Job And Shove It".

Born Donald Eugene Lytle in Greenfield, Ohio, he began playing guitar by age 6 and made his first record at age 15. After a time served in the United States Navy (which included a court-martial for assault), he began performing under the name Donny Young. The singer took a job with country music star George Jones, for whom he played bass and steel guitar for several years, co-writing Jones' hit song, "Once You've Had the Best." By the 1960s, he had changed his name to Johnny Paycheck, a name similar to Johnny Cash, which has sometimes caused confusion.

A member of the Grand Ole Opry, PayCheck is best remembered for his 1977 cover of, "Take This Job and Shove It" (written by David Allan Coe) which sold over 2 million copies and inspired a motion picture of the same name. Colorado Kool-Aid is another of his most famous songs. In his career, PayCheck recorded eleven songs that made it into country music's top ten chart plus he co-wrote several successful songs for other country singers including "Apartment #9," a hit for Tammy Wynette.

His life was often filled with turmoil and in 1985, PayCheck was convicted of shooting a man in Hillsboro, Ohio and spent two years in prison. His tax problems with the IRS led to his filing for bankruptcy in 1990. Later in the 1990s, he began capitalizing the fourth letter of his name in a style later dubbed CamelCase, preferring to be known as Johnny PayCheck.

PayCheck suffered from drug and alcohol addiction during his career, although he was said to have "put his life in order" [1] after his prison stay. Suffering from emphysema and asthma, after a lengthy illness, Johnny PayCheck died at Nashville's Vanderbilt University Medical Center.

He was interred in Woodlawn Memorial Park Cemetery in Nashville.

He is survived by his wife Sharon PayCheck and son Jonathan PayCheck.
Someone To Give My Love To
Johnny Paycheck Lyrics
Jump to: Overall Meaning ↴ Line by Line Meaning ↴
I could search from now to the end of time
And never find another you
I'm so glad because I know your mine
Someone to give my love to
I believe, my love, that your one of a kind
For there's no one else like you
You're the light of my life, so let it shine
Someone to give my love to
I find happiness is lovin' you
I'll do my best to make your dreams all come true
I will follow you to the ends of the earth
For my place will be with you
I have taken you for better or worse
Someone to give my love to
I find happiness is lovin' you
I do my best to make your dreams all come true
Days of man and wife time are precious and few
I will spend them all with you
Then beyond forever, I'll wait for you
Someone to give my love to
Overall Meaning
The opening line of Johnny Paycheck's song "Someone to Give My Love to" sets the tone for a classic love song. In this song, the singer expresses his undying love for his partner, stating that he could search for eternity and never find anyone else like her. He is grateful knowing that she is his, and he has someone to give his love to.
The singer goes on to describe how he believes his partner is one of a kind and how she brings light to his life. He finds happiness in loving her and promises to do his best to make her dreams come true. He proclaims that he will follow her to the ends of the earth and has taken her for better or worse because he has someone to give his love to.
The final verse speaks of the importance of spending time with each other, as the days of being married and spending time together are precious and few. The singer promises to spend all of his time with his partner and even beyond forever, he will wait for her.
Overall, "Someone to Give My Love to" expresses the deep love that the singer has for his partner, promising to be there for her through thick and thin, to make her happy and to cherish the moments they have together.

Line by Line Meaning
I could search from now to the end of time
I couldn't find another person like you no matter how long I tried
And never find another you
I couldn't find anyone as unique as you
I'm so glad because I know your mine
I'm happy because you belong to me
Someone to give my love to
You are the person I want to shower with my love
I believe, my love, that your one of a kind
I truly believe that you are unique
For there's no one else like you
You are very special, there is no one else like you
You're the light of my life, so let it shine
You bring light into my life, and I appreciate it
Someone to give my love to
You are the person who deserves my love the most
I find happiness is lovin' you
I feel happy when I love you
I'll do my best to make your dreams all come true
I will make an effort to help you achieve your dreams
I will follow you to the ends of the earth
I will go anywhere with you, no matter how far
For my place will be with you
We are meant to be together
I have taken you for better or worse
I have accepted you, good and bad
Someone to give my love to
You are the person I want to shower with my love
Days of man and wife time are precious and few
The time we have together as a married couple is limited and valuable
I will spend them all with you
I plan to spend all my time with you
Then beyond forever, I'll wait for you
I will love you forever, and I'll be waiting for you
Someone to give my love to
You are the person I want to shower with my love
Lyrics © Universal Music Publishing Group
Written by: BILL RICE, JERRY FOSTER

Lyrics Licensed & Provided by LyricFind
To comment on or correct specific content,
highlight it
Genre not found
Artist not found
Album not found
Search results not found
Song not found