لي عم حسو فيكي حب ومكتر.
مافيي حب بعد اكتر .
بكفي عليي شو مكسر نوم عفراق.
لو تعرفي شو يلي بصبرني.
عبعدك شو بيخبرني السهر وفكاري تجبرني الك اشتااق...
بحبك بعد غيمة بعد غيمة شتة اصفر.
بحبك وبيبان عليي وكلشي و دغري بتأثر .
بخاف الخريف يرووح واخرف عباب التلج .
اكبر وانسى الوقت.
وبعدو الحطب اخضر.
بحبك بعد غيمة بعد غيمة شتة اصفر.
بحبك وبيبان عليي وكلشي و دغري بتأثر .
بخاف الخريف يرووح واخرف عباب التلج .
اكبر وانسى الوقت.
وبعدو الحطب اخضر...
بيكفي وما بيكفي بعد بدي انا اغرق.
مطرح ما بيطفي جمر حبك انا واعلق.
بيكفي وما بيكفي بعد بدي انا اغرق.
مطرح ما بيطفي جمر حبك انا واعلق.
يغفى الوقت ويناام.
غطي الرمل بحراام.
ومين اللي لح ينلااااام...
بحبك بعد غيمة بعد غيمة شتة اصفر...
بحبك وبيبان عليي وكلشي و دغري بتأثر .
بخاف الخريف يرووح واخرف عباب التلج .
اكبر وانسى الوقت.
وبعدو الحطب اخضر...
بحبك بعد غيمة.بعد غيمة...
اكبر وانسى الوقت.
بحبك بعد غيمة بعد غيمة شتة اصفر.
بحبك وبيبان عليي وكلشي و دغري بتأثر .
بخاف الخريف يرووح واخرف عباب التلج .
اكبر وانسى الوقت.
وبعدو الحطب اخضر...
Contributed by Layla G. Suggest a correction in the comments below.
To comment on specific lyrics,
highlight them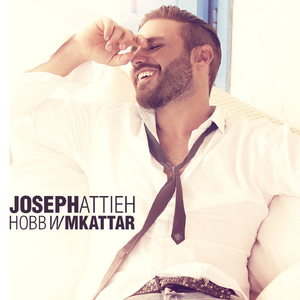 Joseph Attieh (Arabic: جوزيف عطية) was born in 1988 in Batroun, a city in northern Lebanon. He was raised in Jbeil, Lebanon. Joseph Attiya is a radio and TV production student.

He plays the Guitar, Naiy and Piano music instruments.

People who know Jospeh describe him as a fun and loving person, with a very nice personality. Jospeh loves to stay away when he gets angry, He loves to eat and is very dynamic.

Joseph Attiyeh loves acting and wishes to become a director because it is his hobby.
Read Full Bio
Joseph Attieh (Arabic: جوزيف عطية) was born in 1988 in Batroun, a city in northern Lebanon. He was raised in Jbeil, Lebanon. Joseph Attiya is a radio and TV production student.

He plays the Guitar, Naiy and Piano music instruments.

People who know Jospeh describe him as a fun and loving person, with a very nice personality. Jospeh loves to stay away when he gets angry, He loves to eat and is very dynamic.

Joseph Attiyeh loves acting and wishes to become a director because it is his hobby.

Joseph Attiyeh loves to listen to the voice of Wael Kfoury , Fadl Shaker , Saber El Robaey , Fairuz , Nancy Ajram and Warda .

Joseph has a nice voice; he is very good in acting and theater. If he wins a Million Dollar Joseph Attieyeh wishes to help the people in need and use the rest of the money for himself and his family. He admits that he loves to own a professional movie film camera.

One the day Joseph Atiyeh won Star Academy 3, he did not get a Million dollars but on the contrary he received a trophy, $50,000 in cash, brand 2006 new car and the love and attention of his fans from all across the world.

Joseph Attieh was the First Lebanese Winner of Star Academy Reality TV-Show in the Middle East.

Jospeh Atiyeh, won during the talent show of Star Academy after fans voted for Joseph Attieh giving him an overwhelming majority of 55% over the other contestants.

Joseph Attiah, the Lebanese candidate, has won the competition of Star Academy 3 during the year 2006.

Joseph deserves the title because he has a fantastic voice and a sweet personality.

On the last prime of the third season of Star Academy Lebanon, The results came as follows:

- Joseph Attieh 55%

- Hani Hussein 30%

- Hana2 El Idrisi 15%

Joseph Attieh was 19 years old when he won the title.

Joseph Attiya who is a radio and TV production student received a trophy, $50,000 in cash and a brand 2006 new car.

Attieh's competitors were Hani Hussein from Egypt and Hana el-Idrissi from Morocco who both respectively received 29.2 and 16.65 percent of the votes.

Star Academy reality TV show which is hosted by Lebanon''s LBC Group satellite television is an Arabic adaptation of the French television show Star Academy. It was launched in 2003 and has become one of the most widely viewed programs all over the Arab world. To view details on the Show History please check Star Academy Lebanon

Star Academy 3, lasted for a period of four months with tough competition among the candidates. Then a winner was announced.

Joseph Attiyeh who was born in the northern coastal hometown of Batroun drew thousands of people who gathered outdoors Friday night anxiously awaiting him after he won the title.

Festivities spread across neighboring towns and villages especially in Jbiel were Joseph lives. Fans of the Show and Fans of Joseph gathered in streets and celebrated by dancing the traditional Lebanese (Dabkeh El Loubnaniyeh).

Star Academy 3 began on December 23th of 2005 featuring a group of 19 young men and women. To know more about the third season of Star Academy 3, check the Star Academy Third Season
Genre not found
Artist not found
Album not found
Search results not found
Song not found