These chords are old but we shake hands
'Cause I believe that they're the good guys
We can use all the help we can
So many minor chords outside
I fell in love with the sound
Oh I love to sing along with you
We got tunes we kicked around some
We got a bucket that the tunes go through
Babe we both had dry spells
Hard times in bad lands
I'm a good man for ya
I'm a good man
Last night there was a horse in the road
I was twisting in the hairpin
My hands held on my mind let go
And back to you my heart went skipping
I found the inside of the road
Thought about the first time that I met you
All those glances that we stole
Sometimes if you want them then you've got to
Babe we both had dry spells
Hard times in bad lands
I' a good man for ya
I' a good man
They shot a Western south of here
They had him cornered in a canyon
And even his horse had disappeared
They said it got run down by a bad, bad man
You're not a good shot but I'm worse
And there's so much where we ain't been yet
So swing up on this little horse
The only thing we'll hit is sunset
Babe we both had dry spells
Hard times in bad lands
I'm a good man for ya
I'm a good man
Lyrics © Kobalt Music Publishing Ltd.
Written by: JOSH RITTER

Lyrics Licensed & Provided by LyricFind
To comment on specific lyrics,
highlight them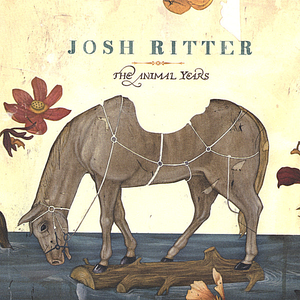 Josh Ritter (born in Moscow, Idaho on October 21, 1976) is an American singer-songwriter, guitarist and author who performs and records with The Royal City Band (as Josh Ritter & The Royal City Band). Ritter is known for his distinctive Americana style and narrative lyrics. In 2006 he was named one of the "100 Greatest Living Songwriters" by Paste magazine.

Born to two neuroscientists, Ritter bought his first guitar from the local K-MART after hearing the Bob Dylan and Johnny Cash classic Girl From The North Country.
Read Full Bio
Josh Ritter (born in Moscow, Idaho on October 21, 1976) is an American singer-songwriter, guitarist and author who performs and records with The Royal City Band (as Josh Ritter & The Royal City Band). Ritter is known for his distinctive Americana style and narrative lyrics. In 2006 he was named one of the "100 Greatest Living Songwriters" by Paste magazine.

Born to two neuroscientists, Ritter bought his first guitar from the local K-MART after hearing the Bob Dylan and Johnny Cash classic Girl From The North Country. He started at Oberlin College with the intent to follow in his parents' scientist footsteps, but instead discovered songwriting, and the music of artists like Gillian Welch, Townes Van Zandt, and Leonard Cohen. He graduated and then moved east, favoring its close proximity to historic folk clubs such as "Club Passim" in Boston. On a shoestring budget he recorded his critically acclaimed breakthrough album Golden Age of Radio in 2002 at various tiny, one-room studios on the East Coast. He has continued to grow from there, further developing his sound on subsequent albums.

Josh has recorded several records and E.P.s. In chronological order, they are:

Josh Ritter (Self Titled) (2000)
Golden Age of Radio (2001)
Come and Find Me EP (2003)
Hello Starling (2003)
4 Songs Live E.P. (2005)
The Animal Years (2006)
Girl In The War E.P. (2006)
Good Man E.P. (2006)
In The Dark: Live At Vicar Street (2006)
The Historical Conquests Of Josh Ritter (2007)
Live at the Record Exchange EP (2008)
So Runs the World Away (2010)
To the Yet Unknowing World (2011)
Josh Ritter & The Royal City Band, Live at The Iveagh Gardens (April 2011)
The Beast In Its Tracks (2013)
Acoustic Live, Vol.1 (2015)
Sermon on the Rocks (2015)
Genre not found
Artist not found
Album not found
Search results not found
Song not found