Jump to: Overall Meaning | Line by Line Meaning
We started looking for you
In the darker caves
We had a lot of love
We thought would light the way
We saw the wrecks of buildings
And ships that sank in starlight
We saw the ghosts of angels
That spoke of falls from tremendous heights
[Chorus]
Don't you leave us in the dark [Repeat: x4]
We saw your old flames
And some were burning yet
It made us smile to see
Just how well tended each was kept
But other fires were burning too
And I saw the battlefields
The dying Light Brigade
Stretched out upon the wheel
[Chorus]
Every heart is much the same
We tell ourselves down here
The same chambers fed by veins
The same maze of love and fear
We thought you were a saint
But the halo was an eye
It's hard to see how there could be
So much dark inside the light
[Chorus]
Overall Meaning
The song "In the Dark" by Josh Ritter appears to be a plea to someone who had either left their relationship or has passed away to come back. The persona refers to the person they are addressing as a saint with a halo. However, they seem to have realised that the person has faults and is not entirely perfect. They seek to find them in the "darker caves" hoping that the love they had between them would light the way. The search seems to take them through a journey of reminiscing their past love life.
The song presents imagery of old flames burning and how some were still burning, seeing the wrecks of buildings and ships that sank stars which symbolises the remnants of their past, filled with memories. The ghosts of angels that spoke of falls from tremendous heights could represent their struggles and fights as a couple. The "battlefields" symbolise their disagreements and arguments as a couple. The narrator seems to be urging the person they are addressing not to leave them in the dark, essentially telling them they need them and the relationship they once had.
The chorus is a repetition of the phrase "don't you leave us in the dark" which seems to be a desperate plea for whomever the persona addresses not to abandon the relationship.

Line by Line Meaning
We started looking for you
We set out to find you.
In the darker caves
We searched in the hidden and obscure places.
We had a lot of love
We had a strong affection for you.
We thought would light the way
We expected our love to guide us.
We saw the wrecks of buildings
We observed the ruins of structures.
And ships that sank in starlight
We witnessed vessels that drowned under the night sky.
We saw the ghosts of angels
We witnessed the apparitions of celestial beings.
That spoke of falls from tremendous heights
These angels talked about their disastrous falls from great heights.
Don't you leave us in the dark
Please don't abandon us without understanding.
We saw your old flames
We met your previous lovers.
And some were burning yet
Some still carried a great passion for you.
It made us smile to see
We were happy to witness this love.
Just how well tended each was kept
How this love was preserved and cherished.
But other fires were burning too
However, there were other passions present as well.
And I saw the battlefields
We saw the evidence of conflicts.
The dying Light Brigade
Individuals or groups whose lives or passion deteriorated.
Stretched out upon the wheel
This suffering was relentless and never-ceasing.
Don't you leave us in the dark
We hope for illumination and understanding.
Every heart is much the same
All individuals share similar emotions.
We tell ourselves down here
We want ourselves to believe that this is true.
The same chambers fed by veins
We all are driven by some similar motivations.
The same maze of love and fear
The path towards love is fraught with obstacles.
We thought you were a saint
We believed you to be an ideal person.
But the halo was an eye
But your purity is not genuine.
It's hard to see how there could be
It's difficult to imagine how can you have dark secrets.
So much dark inside the light
Oftentimes, goodness can hide viciousness.
Don't you leave us in the dark
We seek transparency and honesty.
Lyrics © Sony/ATV Music Publishing LLC
Written by: BIX BEIDERBECKE, WILLIAM H CHALLIS

Lyrics Licensed & Provided by LyricFind
To comment on or correct specific content,
highlight it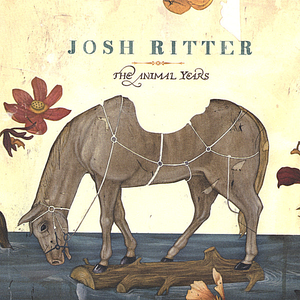 Josh Ritter (born in Moscow, Idaho on October 21, 1976) is an American singer-songwriter, guitarist and author who performs and records with The Royal City Band (as Josh Ritter & The Royal City Band). Ritter is known for his distinctive Americana style and narrative lyrics. In 2006 he was named one of the "100 Greatest Living Songwriters" by Paste magazine.

Born to two neuroscientists, Ritter bought his first guitar from the local K-MART after hearing the Bob Dylan and Johnny Cash classic Girl From The North Country.
Read Full Bio
Josh Ritter (born in Moscow, Idaho on October 21, 1976) is an American singer-songwriter, guitarist and author who performs and records with The Royal City Band (as Josh Ritter & The Royal City Band). Ritter is known for his distinctive Americana style and narrative lyrics. In 2006 he was named one of the "100 Greatest Living Songwriters" by Paste magazine.

Born to two neuroscientists, Ritter bought his first guitar from the local K-MART after hearing the Bob Dylan and Johnny Cash classic Girl From The North Country. He started at Oberlin College with the intent to follow in his parents' scientist footsteps, but instead discovered songwriting, and the music of artists like Gillian Welch, Townes Van Zandt, and Leonard Cohen. He graduated and then moved east, favoring its close proximity to historic folk clubs such as "Club Passim" in Boston. On a shoestring budget he recorded his critically acclaimed breakthrough album Golden Age of Radio in 2002 at various tiny, one-room studios on the East Coast. He has continued to grow from there, further developing his sound on subsequent albums.

Josh has recorded several records and E.P.s. In chronological order, they are:

Josh Ritter (Self Titled) (2000)
Golden Age of Radio (2001)
Come and Find Me EP (2003)
Hello Starling (2003)
4 Songs Live E.P. (2005)
The Animal Years (2006)
Girl In The War E.P. (2006)
Good Man E.P. (2006)
In The Dark: Live At Vicar Street (2006)
The Historical Conquests Of Josh Ritter (2007)
Live at the Record Exchange EP (2008)
So Runs the World Away (2010)
To the Yet Unknowing World (2011)
Josh Ritter & The Royal City Band, Live at The Iveagh Gardens (April 2011)
The Beast In Its Tracks (2013)
Acoustic Live, Vol.1 (2015)
Sermon on the Rocks (2015)
Genre not found
Artist not found
Album not found
Search results not found
Song not found