A Little light jazz
Whisper softly
While my heart melts
For you and I'll see
Only sunshine
Only moonlight
For the first time its real
And the higher you take me
The more that you make me
Feel so hazy
Tell me what this means
I got jet lag and I never even left the ground
See it's like that every time you come around
Oh, I'm so hung over and I never even touched a drop
See I can't get enough
This must be love
How the time flies
When you're near me
Get those butterflies
Inside and I'll be
Where the stars shine
Where the birds fly
'Till the next time you're mine
And the higher you take me
The more that you make me
Feel so hazy
Tell me what this means
I got jet lag and I never even left the ground
See it's like that every time you come around
Oh, I'm so hung over and I never even touched a drop
See I can't get enough
This must be love
Whenever you're with me
It feels like gravity
Ain't got no hold on me
Tell me what does this mean
This must be love
Love
I got jet lag and I never even left the ground
And it's like that every time you come around
I'm so hung over and I never even touched one drop
See I got jet lag
Baby don't cha know
You really really got it goin' on
Baby don't cha know
You really really got it goin' on
Baby don't cha know
You really really got it goin' on
Baby don't you know
Baby don't you know
I got jet lag and I never even left the ground
See it's like that every time you come around
Oh, I'm so hung over and I never even touched a drop
I never even left the ground
I never no no
Jet lag, jet leg
Lyrics © Universal Music Publishing Group
Written by: BETTY WRIGHT, CONNOR REEVES, JONATHAN NICHOLAS SHORTEN, JOSS STONE

Lyrics Licensed & Provided by LyricFind
To comment on specific lyrics,
highlight them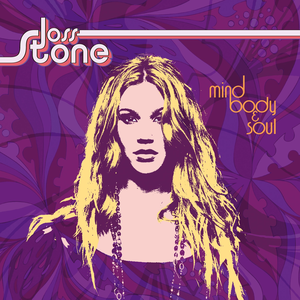 Joss Stone (born Joscelyn Eve Stoker in Dover, United Kingdom on April 11, 1987) is an English soul singer whose throaty style of singing was influenced by early Motown singers.

Her debut album, The Soul Sessions, consists of classic soul tracks by Betty Wright, Aretha Franklin, Laura Lee and Bettye Swann and was released in late 2003. It reached the top 5 in the UK albums chart, and also made the top forty of the U.S. Billboard 200 album chart.
Read Full Bio
Joss Stone (born Joscelyn Eve Stoker in Dover, United Kingdom on April 11, 1987) is an English soul singer whose throaty style of singing was influenced by early Motown singers.

Her debut album, The Soul Sessions, consists of classic soul tracks by Betty Wright, Aretha Franklin, Laura Lee and Bettye Swann and was released in late 2003. It reached the top 5 in the UK albums chart, and also made the top forty of the U.S. Billboard 200 album chart.

Joss Stone was nominated for "British Breakthrough Act", and won "British Female Solo Artist" and "British Urban Act", entering the Guinness World Records for being the youngest BRIT Award solo winner at age seventeen.

After achieving critical acclaim for The Soul Sessions, Stone recorded an album full of original songs in 2004 titled Mind, Body & Soul.
It proved to be an even bigger success than her first album, as it debuted at #1 in the UK (breaking the record for the youngest female ever to top the albums charts there, a record previously held by Avril Lavigne).

Stone began working on her third studio album, Introducing Joss Stone, at Compass Point Studios in Nassau, Bahamas, in May 2006.
It was released on 12 March 2007 in the UK on Virgin Records, involving production by Raphael Saadiq and collaborations with Lauryn Hill, Common and Joi.
Stone describes it as "truly me. That's why I'm calling it Introducing Joss Stone. These are my words, and this is who I am as an artist".
The album debuted and peaked at number twelve on the UK Albums Chart. It also debuted at number two on the Billboard 200 selling 118,000 copies in its first week, becoming the highest debut for a British solo female artist on the U.S. chart, surpassing the record previously held by Amy Winehouse with Back to Black. It has sold 60,000 copies in the UK since its release.
Joss Stone was nominated for the MOBO Award for "Best UK Female" in September 2007, but lost out to Amy Winehouse.

Tell Me 'Bout It, the album's lead single, debuted and peaked at number twenty-eight on the UK Singles Chart—where it stayed for three weeks only, and peaked at number eighty-three on the U.S Billboard Hot 100.
The second single, Tell Me What We're Gonna Do Now, a collaboration with rapper Common, made the top sixty-five of the U.S. Hot R&B/Hip-Hop Songs.
Joss Stone turned its music video to a Product Red — this means that the video is available online over iTunes Store and that the gains from these sales revert to Product Red, an organisation which helps women and children in Africa affected by HIV and/or AIDS.
Joss Stone is the first artist to do this, entering the Guinness World Records once again.
On 4 October 2007, Stone's official website confirmed Baby Baby Baby as the album's third single.
Stone's fifth album, LP1 was released on 26 July 2011. The Somehow Songfacts says that the long player was the first release through Stone's own Stone'd Records and was recorded in just a week at Blackbird Studios in Nashville. Stone fought a legal battle with her record company EMI to release her from her contract and The LP1 album title signifies the fresh start the singer felt she was making.

Trivia:
Worryingly for fans of Stone, she recently confessed that singing is not a career she plans to stick to: she told a journalist recently that she would like to give it up in a few years to become a normal housewife with a husband and children.

Singles:
* 2004 - Fell In Love With A Boy
* 2004 - Super Duper Love
* 2004 - You Had Me
* 2004 - Right To Be Wrong
* 2005 - Spoiled
* 2005 - The Right Time (Cover of Extra for the GAP-Ad)
* 2005 - Don't Cha Wanna Ride?
* 2007 - Tell Me 'Bout It
* 2007 - Tell Me What We're Gonna Do Now
Genre not found
Artist not found
Album not found
Search results not found
Song not found