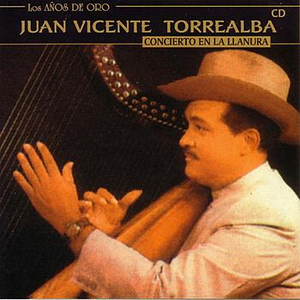 Juan Vicente Torrealba (Caracas, Venezuela, 20 February 1917 – 2 May 2019) was a Venezuelan llanera harpist and composer.

He formed his own group, Los Torrealberos, in 1947. In the 1970s he began to collaborate with artists from around the world and working with a full orchestra.
Genre not found
Artist not found
Album not found
Search results not found
Song not found
La Potranca Zaina
Juan Vicente Torrealba Lyrics


We have lyrics for these tracks by Juan Vicente Torrealba:



Alma llanera Yo nací en una ribera del Arauca vibrador soy hermano de…
Barquisimeto Hoy dare para ti mi cantar ante el embrujo dlarense de…
Concierto en la Llanura Culpable me declaro culpable de soñarte junto a mi Culpable …
La Potra Zaina Les contaré señores La historia muy bonita De linda potranqu…
Muchacha De Ojazos Negros Solamente dos favores quisiera pedirle a Dios: ser patrón de…
Rosario Pasaste ayer como brisa fugaz Y me quede con tu dulce…

The lyrics can frequently be found in the comments below, by filtering for lyric videos or browsing the comments in the different videos below.

Help us build the world's largest lyrics collection by contributing lyrics in the comments below.