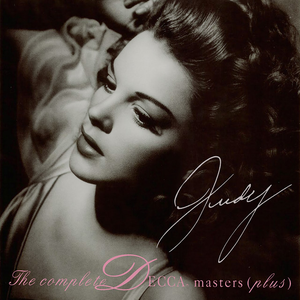 In Between - Single Version
Judy Garland (June 10, 1922 – June 22, 1969) was an American actress and singe…
Read Full Bio ↴
Judy Garland (June 10, 1922 – June 22, 1969) was an American actress and singer from Grand Rapids, Minnesota, USA. Through a career that spanned 45 of her 47 years, Garland attained international stardom as an actress in musical and dramatic roles, as a recording artist, and on the concert stage. Respected for her versatility, she received a Juvenile Academy Award, won a Golden Globe Award, received the Cecil B. DeMille Award for her work in films, as well as Grammy Awards and a Special Tony Award. She had a contralto singing range.

After appearing in Vaudeville theater with her sisters, Judy was signed to Metro-Goldwyn-Mayer as a teenager. There she made more than two dozen films, including nine with Mickey Rooney, and the film with which she would be most identified, "The Wizard of Oz" (1939). After 15 years, Judy was released from the studio but gained renewed success through record-breaking concert appearances, including a critically acclaimed Carnegie Hall concert, a well-regarded but short-lived television series, and a return to film acting beginning with "A Star Is Born" (1954).

Despite her professional triumphs, Judy battled personal problems throughout her life. Insecure about her appearance, her feelings were compounded by film executives who told her she was unattractive and overweight. Plied with drugs to control her weight and increase her productivity, Garland endured a decades-long struggle with addiction. Garland was plagued by financial instability, often owing hundreds of thousands of dollars in back taxes, and her first four of five marriages ended in divorce. She attempted suicide on a number of occasions. Garland died of an accidental drug overdose at the age of 47, leaving children Liza Minnelli, Lorna Luft, and Joey Luft.

Legacy

Judy Garland's legacy as a performer and a personality has endured long after her death. The American Film Institute named Garland eighth among the "Greatest Female Stars of All Time". She has been the subject of over two dozen biographies since her death, including the well-received "Me and My Shadows: A Family Memoir" by her daughter, Lorna Luft. Luft's memoir was later adapted into the multiple award-winning television mini-series, "Life with Judy Garland: Me and My Shadows", which won Emmy Awards for two actresses portraying Garland (Tammy Blanchard and Judy Davis).

Garland was posthumously awarded the Grammy Lifetime Achievement Award in 1997. Several of her recordings have been inducted into the Grammy Hall of Fame. These include "Over the Rainbow," which was ranked as the number one movie song of all time in the American Film Institute's "100 Years...100 Songs" list. Four more Garland songs are featured on the list: "Have Yourself a Merry Little Christmas" (#76), "Get Happy" (#61), "The Trolley Song" (#26), and "The Man That Got Away" (#11).

Judy Garland has twice been honored on U.S. postage stamps, in 1989 (as Dorothy) and again in 2006 (as Vicki Lester from A Star Is Born).
Jump to: Overall Meaning ↴ Line by Line Meaning ↴
Fifteen thousand times a day
I hear a voice within me say
Hide yourself behind the screen
You shouldn't be heard, you shouldn't be seen
You're just an awful in between
That's what I am and in between
It's just like small pox quarantine
I can't do this, I can't go there
I'm just a circle in a square
I don't fit in anywhere
I"m past the stage of dull and carriage
I'm not the age to think of marriage
I'm too old for toys and I'm too young for boys
I'm just an in between
I'm not a child or children bore me
I'm not grown up, grown ups ignore me
And in every sense I'm just on a fence
I'm just an in between
I'll be glad when momma let's me go to dances
And have romances
I'll be glad to have a party dress that boys will adore
A dress that touches the floor
I'm sick and tired of bedtime story
I'm so inspired by love and glories
But I guess it's no use, I still get mother goose
I'm just an in between
I'm allow to go to pictures shows
That is if nurse is feeling able
But we only go to Mickey Mouse
I'm not allowed Clarke Gable
It's such an imposition
For a girl who's got ambition
To be an in between
My dad says I should bother more
About my lack of grammar
Huh, the only thing that bothers me
Is my lack of glamor
Why if I could use a lipstick and a powder pop
Who knows I might be ? in the rough
Instead of in between
I'll be glad when uncle Jim can't call me precious child
That simply drives me wild
I'll be glad to have a date that doesn't grow on a trees
A date that's not history
I'll be so glad when I have ?
All by myself, I get so lonesome
And I hope and pray for the day when I'll be sweet sixteen
Then I won't have to be an in between
Overall Meaning
Judy Garland's "In-Between" is a melancholic song that expresses the confusion of a girl on the cusp of adolescence. The lyrics describe the struggle of not fitting in, falling somewhere between adulthood and childhood, and experiencing a sense of limbo. The opening verse, "Fifteen thousand times a day," indicates the frequency of her internal monologue that tells her to hide her true self behind a screen. She feels as if she shouldn't be heard or seen because she is just an "awful in-between." This state of being in between is compared to a small pox quarantine, which emphasizes the idea of isolation and being alone in her confusion.
The song conveys the sense of being lost and not fitting into either the adult or child world. She's not old enough for one and not young enough for the other. She's beyond playing with toys and not yet interested in boys. In every sense, she's just on a fence, and there's no place where she feels like she fits. The longing for adulthood is evident in the lines, "I'll be glad when Momma let's me go to dances and have romances. I'll be glad to have a party dress that boys will adore." But at the same time, she feels trapped in her childish life since she's not allowed to go to adult movies or wear makeup.
The song's message is one of a yearning for self-acceptance and for finding her place in the world. The final verse indicates that she is looking forward to a future where she is past her in-between stage and free to live her life without the constraints that hold her back.

Line by Line Meaning
Fifteen thousand times a day
I constantly hear a voice telling me to hide myself
I hear a voice within me say
The voice is coming from inside my head
Hide yourself behind the screen
I should keep myself hidden from the world
You shouldn't be heard, you shouldn't be seen
I'm not good enough to be noticed
You're just an awful in between
I'm in a state of limbo, not belonging to either childhood or adulthood
That's what I am and in between
I'm stuck in the middle
It's just like small pox quarantine
My predicament is isolating
I can't do this, I can't go there
I feel restricted in my actions
I'm just a circle in a square
I don't fit in with anyone or anything
I don't fit in anywhere
I don't belong anywhere
I'm past the stage of doll and carriage
I'm too old for young child's toys
I'm not the age to think of marriage
I'm not old enough to consider marriage
I'm too old for toys and I'm too young for boys
I'm in an awkward stage between childhood and adolescence
I'm just an in between
I'm stuck in the middle
I'm not a child or children bore me
I'm too old for child's play
I'm not grown up, grown ups ignore me
I don't receive attention from adults
And in every sense I'm just on a fence
I can't make up my mind between childhood and adulthood
I'm just an in between
I'm stuck in the middle
I'll be glad when momma let's me go to dances
I'm looking forward to going to dances
And have romances
I'm excited for the opportunity to have romantic relationships
I'll be glad to have a party dress that boys will adore
I want to wear a dress that will make me attractive to boys
A dress that touches the floor
I want a glamorous gown
I'm sick and tired of bedtime story
I'm bored of childish stories
I'm so inspired by love and glories
I'm excited for romantic love and opportunities
But I guess it's no use, I still get mother goose
I'm still stuck with childish stories
I'm just an in between
I'm stuck in the middle
I'm allowed to go to picture shows
I'm allowed to watch movies
That is if nurse is feeling able
I'm under the supervision of a nurse
But we only go to Mickey Mouse
I'm only allowed to watch children's movies
I'm not allowed Clark Gable
I'm not allowed to watch movies with romantic male leads
It's such an imposition
It's a burden
For a girl who's got ambition
As someone with hopes and dreams
To be an in between
To be stuck in the middle
My dad says I should bother more about my lack of grammar
My dad wants me to focus more on improving my grammar
The only thing that bothers me
The only thing that really concerns me
Is my lack of glamor
I want to be glamorous and attractive
Why if I could use a lipstick and a powder pop
If I could use makeup
Who knows I might be ? in the rough
I could be a diamond in the rough, with hidden beauty
Instead of in between
Instead of being stuck in the middle
I'll be glad when uncle Jim can't call me precious child
I'm looking forward to being treated as an adult
That simply drives me wild
That drives me crazy
I'll be glad to have a date that doesn't grow on a trees
I want to have dates with real people, not fictional characters
A date that's not history
I want to have a contemporary and relevant date
I'll be so glad when I have ?
I'm not sure what I'll have, but I'm looking forward to it
All by myself, I get so lonesome
I feel lonely when I'm on my own
And I hope and pray for the day when I'll be sweet sixteen
I can't wait to turn sixteen and leave my in-between state
Then I won't have to be an in between
I'll finally be able to belong to one side or the other
Lyrics © Sony/ATV Music Publishing LLC
Written by: ROGER EDENS

Lyrics Licensed & Provided by LyricFind
To comment on or correct specific content,
highlight it
Genre not found
Artist not found
Album not found
Search results not found
Song not found