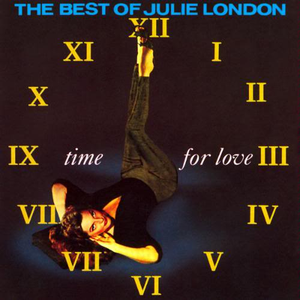 Julie London (née Peck; September 26,1926 — October 18, 2000) was an America…
Read Full Bio ↴
Julie London (née Peck; September 26,1926 — October 18, 2000) was an American jazz and pop singer and actress. She was noted for her smoky, sensual voice and languid demeanor. She released 32 albums of pop and jazz standards during the 1950s and 1960s, with her signature song being the classic "Cry Me a River," which she introduced in 1955.

London's 35-year acting career began in films in 1944 and included playing opposite Gary Cooper in Man of the West (1958) and Robert Mitchum in The Wonderful Country (1959). She achieved continuing success in the TV medical drama Emergency! (1972–1979), co-starring her real-life husband, Bobby Troup, and produced by her ex-husband, Jack Webb, in which London played the female lead role of nurse Dixie McCall. She and Randolph Mantooth, who played one-half of her medical students, a paramedic, in the series, were very close to her family, until her death in 2000.

Born in Santa Rosa, California, she was the daughter of Jack and Josephine Peck, who were a vaudeville song-and-dance team. When she was fourteen the family moved to Los Angeles. Shortly after that, she began appearing in movies. She graduated from the Hollywood Professional High School in 1945.

London began singing under the name Gayle Peck in public in her teens before appearing in a film. She was discovered by talent agent Sue Carol (wife of actor Alan Ladd), while working as an elevator operator. Her early film career, however, did not include any singing roles.
London recorded 32 albums in a career that began in 1955 with a live performance at the 881 Club in Los Angeles. Billboard named her the most popular female vocalist for 1955, 1956, and 1957. She was the subject of a 1957 Life cover article in which she was quoted as saying, "It's only a thimbleful of a voice, and I have to use it close to the microphone. But it is a kind of oversmoked voice, and it automatically sounds intimate."
London's debut recordings were for the Bethlehem Records label. While shopping for a record deal, she recorded four tracks that would later be included on the compilation album Bethlehem's Girlfriends in 1955. Bobby Troup backed London on the album, for which London recorded the standards "Don't Worry About Me", "Motherless Child", "A Foggy Day", and "You're Blasé".
London's most famous single, "Cry Me a River", was written by her high-school classmate Arthur Hamilton and produced by Troup. The recording became a million-seller after its release in December 1955 and also sold on reissue in April 1983 from the attention brought by a Mari Wilson cover. London performed the song in the film The Girl Can't Help It (1956), and her recording gained later attention in the films Passion of Mind (2000) and V for Vendetta (2006). The song "Yummy Yummy Yummy" was featured on the HBO television series Six Feet Under and appears on its soundtrack album. London's "Must Be Catchin'" was featured in the 2011 premiere episode of the ABC series Pan Am. Her last recording was "My Funny Valentine" for the soundtrack of the Burt Reynolds film Sharky's Machine (1981).
Other popular singles include "Hot Toddy", "Daddy", and "Desafinado". Recordings such as "Go Slow" epitomized her career style: her voice is slow, smoky, and playfully sensual.

She was married to Jack Webb, of Dragnet fame. Her obvious beauty and self-poise (she was a pinup girl prized by GIs during World War II) contrasted with his pedestrian appearance and stiff-as-a-board acting technique (much parodied by impersonators). This unlikely pairing arose from his and her love for jazz; their marriage lasted from July 1947 to November 1953. They had two daughters, one who was killed in a traffic accident in the 1990s and one who survived London. In 1954, having become somewhat reclusive after her divorce from Jack Webb, she met jazz composer and musician Bobby Troup at a club on La Brea Blvd. They married on December 31, 1959 and remained married until Troup's death in February 1999. Together, they had one daughter and twin sons.

London suffered a stroke in 1995, and was in poor health until her death in Encino, California, at the age of seventy-four, survived by four of her five children. She died on18th October 2000, and was buried in Forest Lawn - Hollywood Hills Cemetery in Los Angeles.
Jump to: Overall Meaning ↴ Line by Line Meaning ↴
Now you say you're lonely
You cry the whole night thorough
Well, you can cry me a river, cry me a river
I cried a river over you
Now you say you're sorry
For bein' so untrue
Well, you can cry me a river, cry me a river
I cried a river over you
You drove me, nearly drove me out of my head
While you never shed a tear
Remember, I remember all that you said
Told me love was too plebeian
Told me you were through with me and
Now you say you love me
Well, just to prove you do
Come on and cry me a river, cry me a river
I cried a river over you
I cried a river over you
I cried a river over you
I cried a river over you
Overall Meaning
The song 'Cry Me a River' by Julie London is a song about heartbreak and betrayal. The singer's lover has been unfaithful and now they feel lonely and sorry. The singer responds by telling their lover to cry them a river, suggesting that their tears do not mean anything anymore, as the singer has already cried their own river over their betrayal. The chorus repeats this sentiment, reminding the lover that the singer has moved on and that their tears will not bring them back.
The lyrics also contain a sense of bitterness towards the lover for causing the singer so much pain. The lines, "You drove me, nearly drove me out of my head / While you never shed a tear," demonstrate the singer's frustration at their lover's lack of remorse. The lyrics also recall how the lover had once told the singer that love is "too plebeian" and that they were "through" with them. Now, the lover is saying they love the singer again, but the singer is not convinced and challenges the lover to "cry me a river" to prove it.
Overall, the song conveys a sense of emotional maturity and resilience in the singer who has moved on from their betrayal and is able to stand up to their former lover.

Line by Line Meaning
Now you say you're lonely
You now claim to be experiencing quite some loneliness
You cry the whole night thorough
Your night is spent crying all the way through
Well, you can cry me a river, cry me a river
You can direct your sorrow to me and even cry an entire river over me
I cried a river over you
I was once in your shoes and it made me cry a lot, so I can understand how you currently feel
Now you say you're sorry
You now express regret for your past actions
For bein' so untrue
Because you weren't honest and truthful
You drove me, nearly drove me out of my head
Your actions caused me unbearable emotional distress
While you never shed a tear
Yet, you never showed any sign of remorse
Remember, I remember all that you said
I recall every single thing you told me
Told me love was too plebeian
You informed me that love was only for common people
Told me you were through with me and
You mentioned that you were done with our relationship
Now you say you love me
You're now saying that you love me after all that has happened
Well, just to prove you do
To demonstrate the genuineness of your love towards me
Come on and cry me a river, cry me a river
You can show me proof of your love by crying a river over me
I cried a river over you
Just like you, I also cried excessively over what happened between us
I cried a river over you
I cried uncontrollably about you
I cried a river over you
I was really hurt by you and cried a lot about it
Lyrics © Kanjian Music, Warner Chappell Music, Inc.
Written by: Arthur Hamilton

Lyrics Licensed & Provided by LyricFind
To comment on or correct specific content,
highlight it
Genre not found
Artist not found
Album not found
Search results not found
Song not found