Jump to: Overall Meaning | Line by Line Meaning
One man wakes, awakens another
Second one wakes his next door brother
Three awake can rouse a town
And turn the whole place upside down
Many awake will cause such a fuss
It finally awakes all of us
One man wakes with dawn in his eyes
Surely then it multiplies
Surely then it multiplies
Overall Meaning
The lyrics of Justice's song Helix are very metaphorical and speak to the power of collective action. The first two lines describe how one person's awakening can lead to another's, and this chain reaction can expand to a whole town, causing chaos and commotion. The following lines describe how this process continues and finally reaches everyone, bringing them all to a state of wakefulness.
The idea behind the lyrics is to encourage people to make a change and to take action in their own lives. It suggests that one person can start a movement that will eventually inspire others to follow, creating a snowball effect that can lead to significant change. The message is one of positivity and empowerment, emphasizing the potential that each person has to make a difference in the world.
Overall, Helix is a powerful anthem that speaks to people's desire for change and their need for inspiration. It encourages listeners to recognize their own potential and to take steps towards creating the world they want to see. It is a call to action and a reminder that small actions can have a significant impact.

Line by Line Meaning
One man wakes, awakens another
A single person, who is awakened and conscious, can encourage another person to gain awareness.
Second one wakes his next door brother
The second person who is conscious can awaken the person living next door to him.
Three awake can rouse a town
When at least three people are conscious, they can awaken the whole town.
And turn the whole place upside down
Once everyone in town has gained awareness, it can result in great change, revolution and chaos.
Many awake will cause such a fuss
If more people become conscious, it will create more noise and raise more awareness.
It finally awakes all of us
This newfound awareness will eventually awaken each and every one of us.
One man wakes with dawn in his eyes
When a person wakes up with a new resolve and purpose, they bring hope and energy to those around them.
Surely then it multiplies
The energy and awareness of one person can spread and awaken others.
Surely then it multiplies
This cycle of awareness and awakening continues to spread and grow exponentially.
Lyrics © CONCORD MUSIC PUBLISHING LLC
Written by: XAVIER DE ROSNAY, GASPARD AUGE

Lyrics Licensed & Provided by LyricFind
To comment on or correct specific content,
highlight it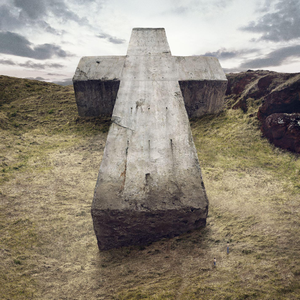 There are at least 9 artists who have used the name "Justice".

1) Justice is an electronic music duo from Paris, France, formed in 2003 and consisting of Gaspard Augé (born 21 May, 1979) and Xavier de Rosnay (born 2 July, 1982). They are mostly known for their remix of Simian's "Never Be Alone", later renamed "We Are Your Friends", as well as their "Waters of Nazareth" EP and their single release of ''D.A.N.C.E.''. Their debut album is entitled "†" but is often spelled out "Cross".
Read Full Bio
There are at least 9 artists who have used the name "Justice".

1) Justice is an electronic music duo from Paris, France, formed in 2003 and consisting of Gaspard Augé (born 21 May, 1979) and Xavier de Rosnay (born 2 July, 1982). They are mostly known for their remix of Simian's "Never Be Alone", later renamed "We Are Your Friends", as well as their "Waters of Nazareth" EP and their single release of ''D.A.N.C.E.''. Their debut album is entitled "†" but is often spelled out "Cross". Justice is the most commercially successful act on the label of Pedro Winter (Busy P), Ed Banger.

2) In the summer of 2003 a couple of young hardcore enthusiasts put their heads together and decided to create a band that would stir things up and speak out. Bummed out but at the same time motivated by the stale state of affairs in hardcore at the time, JUSTICE burst onto the scene with an unseen energy, a righteous attitude and the determination to turn things around. More than three years down the line and after some line up changes, a slew of well received releases (their demo, two EP's and a full length) and countless tours and shows (in Europe and the States), it is safe to say their mission's been accomplished. JUSTICE has become a household name to hardcore/punk kids worldwide and they have accomplished that by doing what they do best: writing catchy, honest and meaningful songs and backing it all up with an insane work ethic.

Justice Played their last show the 8th of March 2008 and released one final 12" ep along with their demise.

Justice released two LPs, two 7 inches and a 12" EP. Members are now in Rhythm To The Madness, Loud And Clear and Rise And Fall. http://www.myspace.com/justicehc.

FTS – vocals
Stief – guitar
Daan – drums
Sike – bass

E-mail: intro_justice@hotmail.com

3) Justice is a thrash/death metal band from Franconia, Germany. The band was founded in 1993. You can visit their homepage at http://www.justiceweb.de. In 2003 and 2006 the band started the Earthshaker Festival.

4) Justice is Anthony Bowes, aka Tony Justice, a drum 'n' bass producer . Justice produced with Blame from 1991-1996, mainly on the Moving Shadow record label. They also produced together under the alias Icons.

5) Justice is also an Irish Folk band, about which fairly few things are known. Their track "They Shoot Children" is one of the more renowned tracks and yet, internet culture doesn't tell much about this artist.

6) Justice is a reggae artist

7) Justice is a thrash metal band from Virovitica, Croatia. They recorded one demo album called "Antariksh Expands" in 1994. Band is merely mentioned here: http://www.cmar-net.org/bandovi/band_panonski.htm[



[b] 8) Justice is the name of the solo project of Anders Pierson. He has released one EP to date, "2008: The Singles," unfortunately it has not yet reached the internet, instead being released only through cassette tapes.

9) Justice is a Holland based Hardcore producer who Founded the Pendeho record label together with Drokz
Genre not found
Artist not found
Album not found
Search results not found
Song not found