Ooh-ooh, ooh-ooh, ooh-ooh, ooh-ooh, ooh-ooh
Ooh-ooh, ooh-ooh, ooh-ooh, ooh-ooh, ooh-ooh
Ooh-ooh, ooh-ooh, ooh-ooh, ooh-ooh, ooh-ooh
Time too precious and my patience thin
My mind and my soul is the weapon
And every failure was a lesson
It's time to stop blocking these blessings
See, I just wanna grow into my greatness
I wish I had the time that you takin'
'Cause I got needs
Yeah, I got needs
I want war, but I need peace
And they kept on callin' me crazy
But maybe, that's how God made me
Take a look at what you made me
Callin' me crazy, that's what you made me
Look at the mess I got myself in
I don't wanna get numb to the feeling
Will all my sins be forgiven?
Hope you pin me to the wall like a painting
I just want a kiss on my neckbone
I just want some head
And to feel wet kisses to make it all better
Ripped up my old love letters
Tick-tock, you got me fed up
Used up your chances, held my heart for ransom
And now a new man treat me better than you did
Get my pussy wetter than you did
You know it could happen, you and me
That's all that I wanted it to be
That's all that I wanted it to be
But I got needs
Yeah, I got needs
I want war, but I need peace
You kept on callin' me crazy
But baby, that's what you made me
Take a look at what you made me
Callin' me crazy, that's what you made me
Lyrics © Sony/ATV Music Publishing LLC, Kobalt Music Publishing Ltd.
Written by: Karly-Marina Loaiza, Mark Anthony Spears, Roget Chahayed

Lyrics Licensed & Provided by LyricFind
To comment on specific lyrics,
highlight them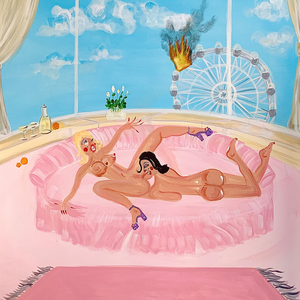 i want war (BUT I NEED PEACE)
Karly-Marina Loaiza (born July 17, 1994 in Pereira, Colombia) professionally known as Kali Uchis, is a Colombian-American singer-songwriter, record producer, music video director and fashion designer. She writes and produces most of her own music.

The stylistic range of left-field pop artist Kali Uchis is reflected in the variety of her collaborators – an extensive genre-crossing list that includes Tyler, the Creator, Gorillaz, Daniel Caesar, Juanes, and BadBadNotGood.
Read Full Bio
Karly-Marina Loaiza (born July 17, 1994 in Pereira, Colombia) professionally known as Kali Uchis, is a Colombian-American singer-songwriter, record producer, music video director and fashion designer. She writes and produces most of her own music.

The stylistic range of left-field pop artist Kali Uchis is reflected in the variety of her collaborators – an extensive genre-crossing list that includes Tyler, the Creator, Gorillaz, Daniel Caesar, Juanes, and BadBadNotGood. A singer, songwriter, and producer, as well as a video director, Uchis truly arrived on her own with the self-released Por Vida (2015), an EP that led to a deal with Virgin EMI. By the time Uchis released her lively debut full-length, the Top Five Billboard R&B/hip-hop hit Isolation (2018), she had already been nominated for Grammy awards through her featured appearances on Daniel Caesar's "Get You" and Juanes' "El Ratico."

Kali Uchis experienced the majority of her upbringing in Virginia and also spent time in her parents' native Colombia. As a teenager growing up in Alexandria, just south of Washington, D.C., she learned to play piano and saxophone and also developed a deep interest in visual arts. Her recorded debut was made in 2012 with the self-released mixtape Drunken Babble. Within three years, she had several singles to her credit, including "Know What I Want" and "Lottery," typically promoted with videos she directed, as well as collaborations with Snoop Dogg, GoldLink, Tyler, the Creator, and Major Lazer. Following the 2015 independent release of Por Vida, a free digital-download EP with tracks produced by Diplo, Kaytranada, and Tyler, Uchis started releasing her material through major-label Virgin EMI. A DJ Dahi-tweaked version of Por Vida's "Ridin Round," issued that November after a move to Los Angeles, was the artist's first single for the major label. "Only Girl," a relaxed Kaytranada production featuring Vince Staples and the Internet's Steve Lacy, followed in April 2016. She was also featured that year on Daniel Caesar's "Get You."

Throughout 2017, Uchis added to her discography of featured appearances via tracks by Juanes, Gorillaz, Tyler, Bootsy Collins, and Miguel, and she previewed her debut album with the singles "Tyrant" (featuring Jorja Smith) and "Nuestro Planeta" (featuring Reykon). By the end of the year, "Get You" had been nominated for a Grammy in the category of Best R&B Performance, and Juanes' "El Ratico" made Uchis a Latin Grammy nominee when it was up for Record of the Year. January 2018 saw the release of the BadBadNotGood-produced single "After the Storm" (featuring Tyler and Bootsy). Uchis released her debut album, Isolation, three months later. It debuted at number 32 on the Billboard 200 and entered the R&B/hip-hop chart at number four.

http://kaliuchis.com
Genre not found
Artist not found
Album not found
Search results not found
Song not found