Jump to: Overall Meaning | Line by Line Meaning
School spirit-
Alpha, step
Omega, step
Kappa, step
Sigma, step
Gangstas walk
Pimps gon' talk
Ooh, hecky nah, that boy is raw
AKA, step
Delta, step
S.G. Rho, step
Zeta, step
Gangstas walk
Pimps gon' talk
Ooh, hecky nah, that boy is raw
I'ma get on this TV, mama
I'ma, I'ma put ish down
I'ma make sure these light-skinned-
Never, ever, never come back in style
Told 'em I finished school and I started my own business
They say, "Oh you graduated?" No, I decided I was finished
Chasing y'all dreams and what you got planned
Now I spit it so hot, you got tanned
Back to school and I hate it there, I hate it there
Everything I want, I gotta wait a year, I wait a year
This- graduated at the top of our class
I went to Cheesecake, he was a waiter there
Alpha, step
Omega, step
Kappa, step
Sigma, step
Gangstas walk
Pimps gon' talk
Ooh, hecky nah, that boy is raw
AKA, step
Delta, step
S.G. Rho, step
Zeta, step
Gangstas walk
Pimps gon' talk
Ooh, hecky nah, that boy (uh) is raw
I got a Jones like Norah for your sorrow
Bring more of them girls I've seen in the Aurora
Tammy, Becky, and Laura, or a Shirley
I'm trying to hit it early, like I'm in a hurry
See, that's how dude became the young Pootie Tang, tippy tow
Roc-A-Fella chain, yeah, that's my rapper style
Rosary piece, yeah, that's my Catholic style
Red and white 1's, yeah, that's my Kappa style
And I ain't even pledge
Crack my head on the steering wheel and I ain't even dead
If I could go through all that and still be breathing
Bend over, I'm here for a reason
Alpha, step
Omega, step
Kappa, step
Sigma, step
Gangstas walk
Pimps gon' talk
Ooh, hecky nah, that boy is raw
AKA, step
Delta, step
S.G. Rho, step
Zeta, step
Gangstas walk
Pimps gon' talk
Ooh, hecky nah, that boy is raw
Feel a woo coming on, cuz
I feel a woo coming on, cuz
(Woo)
There it was
I feel some woos coming on, cuz
A couple woos coming on, cuz
(Woo, woo)
There they was
I feel a woo coming on, cuz
I feel a woo coming on, cuz
(Woo)
There it was
I feel some woos coming on, cuz
A couple woos coming on, cuz
(Woo, woo)
There they was
Overall Meaning
In "School Spirit", Kanye West seems to express his frustration with traditional education and society's expectations of success. He establishes the structure of the song with a marching band beat, mimicking the rhythm of step routines, popular in Greek fraternities and sororities.
The first verse talks about fraternity and sorority steps, which are performed during step dances in Greek organizations. Kanye suggests that even though these are important, they are not what defines someone's abilities or intellect. He then continues to talk about his own personal journey and success. Despite being told that he needed to go back to school, he chose to start his own business right after dropping out. He also references his own unique style and how it sets him apart from others.
The chorus talks about how he still can't escape the pressures of school because he still has to wait a year for things he wants to happen, and he still has to deal with people who judge him for not having graduated. He then reinforces his determination to succeed and his desire to be recognized for his talents.
Overall, "School Spirit" is a clever play on expectations of conformity and the struggle of individuality in society within the world of education.

Line by Line Meaning
Alpha, step
Starting with the Alpha fraternity's step dance move. This song is all about different fraternity steps.
Omega, step
Next up, Omega fraternity's step dance move.
Kappa, step
Now we move on to Kappa fraternity's step dance move.
Sigma, step
Finally, it's Sigma fraternity's turn for their step dance move.
Gangstas walk
While the fraternities are showcasing their moves, the gangstas walk up and down in their own style.
Pimps gon' talk
Likewise, the 'pimps' are having their own conversations while watching the fraternities and gangstas.
Ooh, hecky nah, that boy is raw
People are awed by Kanye West's talent, saying 'ooh' and 'hecky nah' (slang for 'heck no'), and calling him 'raw.'
AKA, step
Kanye switches his focus to the Alpha Kappa Alpha sorority's step dance move.
Delta, step
Now he's highlighting the Delta Sigma Theta sorority's step dance move.
S.G. Rho, step
Now he's showcasing Sigma Gamma Rho sorority's step dance move.
Zeta, step
Last but not least, he's featuring the Zeta Phi Beta sorority's step dance move.
I'ma get on this TV, mama
Kanye's telling his mom that he's going to make it big and get on TV.
I'ma, I'ma put ish down
He's saying he's going to put his music out into the world and make a name for himself.
I'ma make sure these light-skinned-
He's going to make sure that people with lighter skin tones aren't in style and only dark-skinned people are.
Never, ever, never come back in style
He wants his style to be dominant forever and not let any other style come back to take over.
Told 'em I finished school and I started my own business
Kanye's telling people that he's already graduated and started his own music business.
They say, "Oh you graduated?" No, I decided I was finished
People are surprised that he doesn't have a degree, but he's saying he doesn't need one because he's already finished with education.
Chasing y'all dreams and what you got planned
He's saying that he's not going to chase other people's dreams and will do what he thinks is right for himself.
Now I spit it so hot, you got tanned
He's now saying that he's gotten so good at rapping that people who listen to him feel 'tanned' or hot because of how fire his music is.
Back to school and I hate it there, I hate it there
He's not a fan of school and he really hates being there even though he's already graduated.
Everything I want, I gotta wait a year, I wait a year
He's saying he's so successful now that if he wants anything, he no longer has to wait as long, now only a year.
This- graduated at the top of our class
Kanye's referencing himself and his friends from high school who graduated with honors.
I went to Cheesecake, he was a waiter there
Kanye ran into an old classmate while he was at a Cheesecake Factory restaurant and saw that this person was working there as a waiter.
I got a Jones like Norah for your sorrow
He has a strong desire (a 'Jones') for someone's pain or sadness like Norah Jones sings about.
Bring more of them girls I've seen in the Aurora
He's asking for more girls who look like ones he's seen in the Aurora (a nightclub or party scene).
Tammy, Becky, and Laura, or a Shirley
He's rattling off the names of girls he's interested in and mentions the possibility of a girl named Shirley as well.
I'm trying to hit it early, like I'm in a hurry
He wants to get with these girls early, almost like he's in a rush to do so.
See, that's how dude became the young Pootie Tang, tippy tow
Kanye's referencing how a person can become a ladies' man like the character Pootie Tang from the movie of the same name, and how smooth and sly he was ('tippy tow').
Roc-A-Fella chain, yeah, that's my rapper style
He's talking about his Roc-A-Fella chain, a signature piece of jewelry for his record label, and how it's now associated with his personal style as a rapper.
Rosary piece, yeah, that's my Catholic style
He's also talking about his rosary as a representation of his Catholic faith, and how it's also associated with his style.
Red and white 1's, yeah, that's my Kappa style
He's referring to his red and white Jordans (sneakers) as part of his personal style, and how it's associated with Kappa fraternity's colors.
And I ain't even pledge
He didn't actually pledge to any fraternity or sorority, but he still has his own personal style associated with their colors and symbols.
Crack my head on the steering wheel and I ain't even dead
He's been in a car accident and hit his head on the steering wheel, but he's lucky to be alive and have survived it.
If I could go through all that and still be breathing
He's emphasizing how grateful he is to be alive and still breathing after the car accident.
Bend over, I'm here for a reason
He's using a sexually suggestive line to tell someone to bend over because he has a purpose for being there.
Feel a woo coming on, cuz
Kanye feels like he's about to do something cool or revolutionary, indicated by the use of the word 'woo.'
There it was
He was successful in whatever it was he was trying to do- the 'woo' came true.
I feel some woos coming on, cuz
Kanye is feeling multiple 'woos' coming on.
A couple woos coming on, cuz
There are only a couple more 'woos' to come.
There they was
Those 'woos' came true as well.
Lyrics © Sony/ATV Music Publishing LLC, SPRINGTIME MUSIC INC
Written by: Aretha Franklin, Kanye Omari West

Lyrics Licensed & Provided by LyricFind
To comment on or correct specific content,
highlight it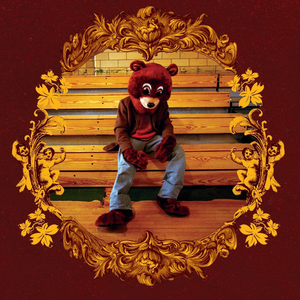 This song uses an old-school Aretha Franklin sample from the song "Spirit in the Dark". Aretha gave Kanye clearance for the sample on the condition that the song didn't have profanity, which is why this song is edited even on the explicit version of the album.
Genre not found
Artist not found
Album not found
Search results not found
Song not found