(Gonna take you to the glory, oh I can't study war)
Now where the south side, now where the west side
Can I talk my shit again?
Even if I don't hit again?
Dog are you fucking kidding?
My hat, my shoes, my coat
Louis Vuitton stitch, with Donatella Versace
That's Louis Vuitton's bitch
I think Hennessy, I drank, I'm gone
Off that Bacardi Limon and Corona, I'm zoning
Class back in session so I upped it a grade
Two years Dwayne Wayne became Dwyane Wade
And, hey please don't start me
I'm like Gnarls Barkley meets Charles Barkley
I'm pop the Barkers, I'm hood the Parkers
While y'all was in limbo I raised the bar up
I touched on everything
Married to the game, roc-a-chain instead of a wedding ring
Y'all bridesmaids catch the garter
On nights when 'Ye romance
Cameras flash so much
That I gotta do that Yayo dance
I'm on a world tour with Common, my man
After each and every show a couple dykes in the van it's easy
The hood love to listen to Jeezy and Weezy
And, oh yeah, Yeezy
I did it for the glory
Now where the south side, now where the west side
What am I supposed to do now?
Man the game all messed up
How I'm suppose to stand out when everyone get dressed up?
So yeah, at the Grammys I went ultra Travolta
Yeah that tuxedo might have been a little guido
But with my ego
I can stand there in a speedo
And be looked at like a fucking hero
The glory, the story, the chain, the polo, the night
The grind, the empty bottles of no-doze
Tank on empty, whipping my mamma's Volvo
I spent that gas money on clothes with logos
The fur is Hermes, shit that you don't floss
The Goyard so hard man, I'm Hugo's boss
Why I gotta ask what that two-door cost
House on the hill
Two doors from Tracey Ross
And I'm asking about her girlfriends
Yeah, the dark skinny ones
She asking about the speed boats yeah I admit we rented 'em
When you meet me in person what do you feel like?
I know, I know I look better in real life
O' hear people compare themselves to big a lot
You know B.I.G. and Pac, you know to get it hot
I guess after I live I wanna be compared to BIG
Anyone, Big Pun, Big L or Notorious, fit in
Get money and stunt and stay glorious
And I'm gonna stop killing these niggas soon as the chorus hit
Now where the south side, now where the west side
Yeah I'ma stop killing these niggas soon as the chorus hit
These haters be killing themselves they wanna come and get the glory
Lyrics © Universal Music Publishing Group, Sony/ATV Music Publishing LLC
Written by: Leslie A. Weinstein, Norman Landsberg, John Elis Ventura, Laura Nyro, Kanye Omari West, Felix A. Pappalardi

Lyrics Licensed & Provided by LyricFind
To comment on specific lyrics,
highlight them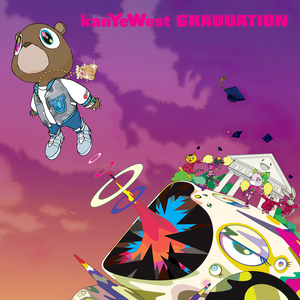 The beat for this song samples from Laura Nyro's song "Save The Country", which features a strong religious message. This fits with Kanye's semi-religious image as a rapper, but thematically, Kanye uses "the glory" to refer to fame and wealth, nothing religious.

Just like the preceding track, West intended this track for Common's Finding Forever album, and even told MTV "The Glory" would be Common's first single for that album.
Genre not found
Artist not found
Album not found
Search results not found
Song not found