You're Driving Me Crazy
Keely Smith Lyrics
You left me sad and lonely;
Why did you leave me lonely?
For here's a heart that's only
For nobody but you!
I'm burning like a flame, dear;
Oh, I'll never be the same, dear;
I'll always place the blame, dear,
On nobody but you.
Yes, you,
You're driving me crazy!
What did I do? What did I do?
My tears for you
Make everything hazy,
Clouding the skies of blue.
How true,
Were the friends who were near me to cheer me,
Believe me, they knew!
But you,
Were the kind who would hurt me, desert me,
When I needed you!
Yes, you!
You're driving me crazy!
What did I do to you?
Lyrics © SUSSMAN & ASSOCIATES
Written by: Walter Donaldson

Lyrics Licensed & Provided by LyricFind
To comment on specific lyrics,
highlight them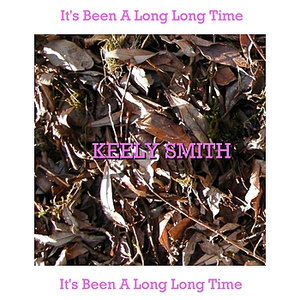 Keely Smith (Dorothy Jacqueline Keely, Norfolk, Virginia, March 9, 1932 - December 16, 2017) was a Grammy Award-winning American jazz and popular music singer, who performed and recorded extensively in the 1950s with then-husband Louis Prima, and throughout the 1960s as a solo-artist.

Smith showed a natural aptitude for singing at a young age. At 14, she sang with a naval air station band led by Saxie Dowell. At 15, she got her first paying job with the Earl Bennett band.
Read Full Bio
Keely Smith (Dorothy Jacqueline Keely, Norfolk, Virginia, March 9, 1932 - December 16, 2017) was a Grammy Award-winning American jazz and popular music singer, who performed and recorded extensively in the 1950s with then-husband Louis Prima, and throughout the 1960s as a solo-artist.

Smith showed a natural aptitude for singing at a young age. At 14, she sang with a naval air station band led by Saxie Dowell. At 15, she got her first paying job with the Earl Bennett band.

She saw Louis Prima perform in New York City in 1949. When he came through Norfolk, Virginia, she auditioned. She became the calm balance to Prima's wild antics, as he made his way through a repertoire of jump blues, jazz, and Italian pop songs. They recorded together in 1949 and married in 1953.

Their songs included Johnny Mercer's and Harold Arlen's "That Ol' Black Magic", which was a Top 20 hit in the US in 1958. At the 1st Annual Grammy Awards in 1959, Smith and Prima won the first Grammy for Best Performance by a Vocal Group for "That Ol' Black Magic". Her deadpan act was popular with fans. The duo followed up with the minor successes "I've Got You Under My Skin" and "Bei Mir Bist Du Schoen", a revival of the 1937 Andrews Sisters hit. Smith and Prima's act was a mainstay of the Las Vegas lounge scene for much of the 1950s. Though her actual voice was not used, she was caricatured as "Squealy Smith" in Bob Clampett's 1960 Beany and Cecil episode "So What and the Seven Whatnots," a Snow White spoof in a Vegas setting.

Smith appeared with Prima in the 1959 film, Hey Boy! Hey Girl!, singing "Fever", and also appeared in and sang on the soundtrack of the previous year's Thunder Road. Her song in Thunder Road was "Whippoorwill". Her first big solo hit was "I Wish You Love" in 1957. In 1961, Smith divorced Prima. She then signed with Reprise Records, where her musical director was Nelson Riddle. In 1965, she had Top 20 hits in the United Kingdom with an album of Beatles compositions, and a single, "You're Breaking My Heart" which reached No. 14 in April.

She returned to singing in 1985, recording the album I'm in Love Again with Bud Shank and Bill Perkins. Her albums, Swing, Swing, Swing (2002), Keely Sings Sinatra (2001) for which she received a Grammy nomination, and Keely Swings Count Basie Style with Strings (2002) won critical and popular acclaim.

In 1998, a Golden Palm Star on the Palm Springs Walk of Stars was dedicated to her.

Smith was of Irish and Native American ancestry.

Married Louis Leo Prima July 13, 1953, in Virginia Beach; the couple divorced in 1961. They had two children: Toni Elizabeth and Luanne Francis.
Married Jimmy Bowen in 1965. The couple divorced in 1969.
Married singer Bobby Milano (real name Charles Caci) in 1975 in Palm Springs. Frank Sinatra gave the bride away.

Smith died of apparent heart failure in Palm Springs California on December 16t, 2017 at the age of 89.


Discography
1957 I Wish You Love (Capitol)
1958 Politely! (Capitol)
1959 Swingin' Pretty (Capitol)
1959 Be My Love (Dot)
1960 Swing, You Lovers (Dot)
1960 A Keely Christmas (Dot)
1961 Twist With Keely Smith (Dot)
1961 Dearly Beloved (Dot)
1962 Because You're Mine (Dot)
1962 What Kind of Fool Am I? (Dot)
1962 Cherokeely Swings (Dot)
1963 Little Girl Blue/Little Girl New (Reprise)
1964 The Intimate Keely Smith (Reprise)
1965 Keely Smith Sings the John Lennon—Paul McCartney Songbook (Reprise)
1965 That Old Black Magic (Reprise)
1985 I'm In Love Again (Fantasy)
2000 Swing, Swing, Swing (Concord Jazz)
2001 Keely Sings Sinatra (Concord Jazz)
2002 Keely Swings Basie-Style With Strings (Concord Jazz)
2005 Vegas '58 – Today (Concord)

With Louis Prima

1958 Breaking It Up! (Columbia)
1958 Louis Prima & Keely Smith on Broadway (Coronet)
1959 Louis and Keely! (Dot)
1958 Together (Dot)
1961 Return of the Wildest! (Dot)

With Louis Prima and Sam Butera and the Witnesses

1957 The Call of the Wildest (Capitol)
1957 The Wildest Show at Tahoe (Capitol)
1958 Las Vegas Prima Style (Capitol)
1959 Hey Boy! Hey Girl! (Capitol)
1960 On Stage (Dot)
Genre not found
Artist not found
Album not found
Search results not found
Song not found