Grew up in a small town
And when the rain would fall down
I'd just stare out my window
Dreamin' of what could be
And if I'd end up happy
I would pray
Trying hard to reach out
But when I tried to speak out
Felt like no one could hear me
Wanted to belong here
But something felt so wrong here
So I pray
I could breakaway
I'll spread my wings, and I'll learn how to fly
I'll do what it takes till I touch the sky
And I'll make a wish
Take a chance
Make a change
And breakaway
Out of the darkness and into the sun
But I won't forget all the ones that I love
I'll take a risk
Take a chance
Make a change
And breakaway
Want to feel the warm breeze
Sleep under a palm tree
Feel the rush of the ocean
Get on board a fast train
Travel on a jet plane
Faraway
And breakaway
I'll spread my wings, and I'll learn how to fly
I'll do what it takes till I touch the sky
And I'll make a wish, take a chance, make a change
And breakaway
Out of the darkness and into the sun
I won't forget all the ones that I love
I gotta take a risk, take a chance, make a change
And breakaway
Buildings with a hundred floors
Swinging 'round revolvin' doors
Maybe I don't know where they take me
But gotta keep movin' on
Movin' on
Fly away
Breakaway
I'll spread my wings, and I'll learn how to fly
Though it's not easy to tell you goodbye
I gotta take a risk, take a chance, make a change
And breakaway
Out of the darkness and into the sun
But I won't forget the place I come from
I gotta take a risk, take a chance, make a change
And breakaway
Breakaway
Breakaway
Lyrics © BMG Rights Management, Universal Music Publishing Group, Songtrust Ave, Warner Chappell Music, Inc.
Written by: Avril Ramona Lavigne, Bridget Louise Benenate, Matthew Gerrard

Lyrics Licensed & Provided by LyricFind
To comment on specific lyrics,
highlight them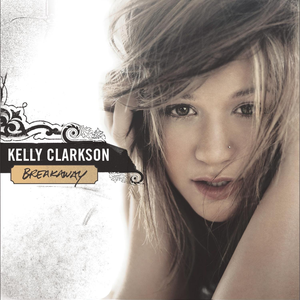 In May 2006, "Breakaway" was reissued as the fifth and final single from the album of the same name.

"Breakaway" received positive reviews from music critics, who could relate to the song's message and simple lyrics. It incorporates acoustic guitars and airy drums which are interspersed with Clarkson's controlled voice. The lyrics narrate Clarkson's journey as a girl growing up in a small town who follows her dream for self-improvement.
Genre not found
Artist not found
Album not found
Search results not found
Song not found