It's Gonna Take a Miracle
Ken Boothe Lyrics
Loving you so
I was too blind to see you
Letting me go
But now that you've set me free
It's gonna take a miracle
Yes, it's gonna take a miracle
To make me love someone new
'Cause I'm crazy for you
Oh oh, didn't you know
It wouldn't be so easy
Lettin' you go
I could have told you
That it's gonna take a miracle
Oh-uh yes, it's gonna take a miracle
To make me love someone new
'Cause I'm crazy for you
Oh, tho' I know I can't forget about you
Or come so will show you how much
You're turning me around, destroying me
I'll never be the same anymore
You must realize
You took your love and left me
Quite by surprise
You can be sure that now it's gonna take a miracle
Yes, it's gonna take a miracle
To make me love someone new
'Cause I'm crazy for you
Lyrics © Universal Music Publishing Group
Written by: BOBBY WEINSTEIN, LOU STALLMAN, TEDDY RANDAZZO

Lyrics Licensed & Provided by LyricFind
To comment on specific lyrics,
highlight them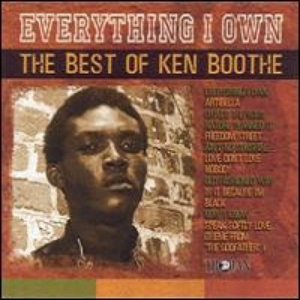 It's Gonna Take a Miracle
Ken Boothe's (born 1948 in Kingston, Jamaica) is known as "Mr Rocksteady" for his prominence during the musical period 1966-1974 and was a major idol for the to-be members of UB40. Boothe started by recording a version of Sandie Shaw's "Puppet on a String" in 1967. Later the same year, Boothe and Alton Ellis had a successful U.K. tour with the group The Soul Vendors. Under new direction from record producer Lloyd Chalmers, the song "Everything I Own" surprisingly was Number One in the UK in 1974.
Read Full Bio
Ken Boothe's (born 1948 in Kingston, Jamaica) is known as "Mr Rocksteady" for his prominence during the musical period 1966-1974 and was a major idol for the to-be members of UB40. Boothe started by recording a version of Sandie Shaw's "Puppet on a String" in 1967. Later the same year, Boothe and Alton Ellis had a successful U.K. tour with the group The Soul Vendors. Under new direction from record producer Lloyd Chalmers, the song "Everything I Own" surprisingly was Number One in the UK in 1974. The song, written by David Gates, was given a sympathetic light reggae feel and found instant favour in the West Indies and in the U.K.

Boothe seemed, at the time, to have the makings of an international, long-lasting, hit maker, certainly when compared to most of the other latter-day reggae acts. His smoother style gave him a wider appeal, rather like UB40 and Aswad. Boothe's choice of songs also showed the breadth of his musical taste. But for all that, he only managed one more hit in the UK Chart, "Crying over You", which made Number 11.

In more recent times, Boothe has also recorded for Bunny Lee, Phil Pratt, King Jammy, Pete Weston, Jack Ruby, Hugh "Red Man" James, Castro Brown, and Tappa Zukie. Plus in 1995, he teamed up with Shaggy, for a new styled version of his old track, "The Train Is Coming", which appeared on the soundtrack of the film, Money Train.

A double-disc overview of Boothe's Trojan years, Crying over You, was released by the label in 2001.

Boothe's official Web site is at www.kenboothemusic.com
Genre not found
Artist not found
Album not found
Search results not found
Song not found