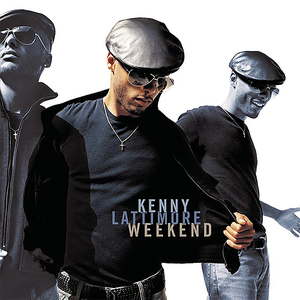 Kenny Lattimore (born April 10, 1970) is an American R&B singer. Among his most popular hits were "Never Too Busy" and "For You".

Lattimore first developed his interest for music in the high school band program at Eleanor Roosevelt High School in Greenbelt, Maryland. He often acknowledges Dr. Baker for setting him on current path. Lattimore recently spoke at the 2005 Eleanor Roosevelt High School Graduation.

After a stint as a member of the R&B group Maniquin
Read Full Bio
Kenny Lattimore (born April 10, 1970) is an American R&B singer. Among his most popular hits were "Never Too Busy" and "For You".

Lattimore first developed his interest for music in the high school band program at Eleanor Roosevelt High School in Greenbelt, Maryland. He often acknowledges Dr. Baker for setting him on current path. Lattimore recently spoke at the 2005 Eleanor Roosevelt High School Graduation.

After a stint as a member of the R&B group Maniquin, Kenny regrouped and released his debut album Kenny Lattimore on Columbia Records in 1996. That set boasted a pair of Top 20 hits "Never Too Busy" and the perennial wedding favorite "For You". The huge success of the album earned Lattimore a win for Best New Artist at the NAACP Image Awards in 1996.[1]

He followed his debut up with another critically-acclaimed set of smouldering soul music when From The Soul Of Man was released in 1998, yielding the hits "Days Like This" and "If I Lose My Woman". After a short hiatus, the singer re-emerged with a new album and a new label. Arista Records would be the new home for Weekend whose title track was a radio favorite.

He married R&B singer Chanté Moore on January 1, 2002. In 2003, he and his wife recorded a duet album entitled Things That Lovers Do consisting of classic soul songs from the 70's and 80's plus two new original songs. The standout singles were the smooth & contemporary "Loveable (From Your Head To Your Toes)" and an upbeat funky cover of René & Angela's "You Don't Have To Cry". The music video for the latter featured a very pregnant Chante Moore shortly before she gave birth to the couple's son Kenny Jr. on April 10, 2003. Lattimore & Moore continued promoting the album with a hugely successful touring stage show.

Following the success of Things That Lovers Do, Kenny released another album of duets with his wife. This time, the duo bested the previous effort with a double-CD of gospel and R&B love songs entitled Uncovered/Covered. The set will be lead off by dual singles, a slick Bryan Michael Cox production "Figure It Out", as well as "Make Me Like The Moon", a stirring gospel ballad co-written by Kenny and Chanté, and produced by Fred Hammond. Uncovered/Covered was released in stores October 10, 2006 on LaFace/Verity/Zomba Music Group and debuted at #10 on the Billboard R&B Charts and #2 on the Billboard Gospel charts its first week in stores.
Genre not found
Artist not found
Album not found
Search results not found
Song not found
We have lyrics for 'Baby You're The One' by these artists:



US5 It's so hard to believe it Can't believe that I found…



We have lyrics for these tracks by Kenny Lattimore:



Ain't No Way Ain't no way for me to love you, If you won't…
All my tommorows All my yesterdays, all so blue. Days spent waiting, waitin…
Always Remember Always remember, I'll be here waiting You know Always reme…
And I Love Her I give her all my love That's all I do And if…
Back 2 Cool It's getting hard, hard for me To realize will never be…
Beautiful Girl Beautiful girl, beautiful girl I think I've found myself an…
Beautiful Nowheres I feel the pressure breaking down Nowhere to go, nowhere to…
Blood Sweat & Tears Tell me where has your love gone Seems the distance is…
Built to Last These hands were made for battle These feet were made to…
Can I've got something on my mind I just gotta let you…
Can You Feel Me I've got something on my mind I just gotta let you…
Can You Feel Me (feat. Shanice) I've got something on my mind I just gotta let you…
Can You Feel Me feat. Shanice I've got something on my mind I just gotta let you…
Can't Get Enough I thought I was protecting myself See I held everything that…
Come Down In Time In the quiet silent seconds I turned off the light…
Come To Me Baby, come inside Sit down, relax a while There's no work …
Days like these I've been here before, baby, knowing that I'm in love And…
Destiny I think I've found myself an angel A pretty girl who…
Don't Deserve Hurt you, cheat you, I can't believe that you're Staying wi…
Find a Way This ain't no game, no trophy win No contest rules to…
For You For you, I'd give a life time of stability Anything you…
Forever Oh, ooh... Yeah, yeah... I would never let you go…
Forgiveness Can we find forgiveness In the throws of our misunderstandin…
Girl Beautiful girl, beautiful girl I think I've found myself a…
Giving Up Giving up is hard to do When you really love someone Givin…
Healing Come into His presence Bring your burdens here Jesus is wa…
Heart Stops I tried to fake it, at times I tend to…
I Love You More Than Words Can Say Please, let me sit down beside you I've got something to…
I Won I won't let you down Don't worry 'bout me leavin' I'll be…
I Won't Forget Lord, I want to thank You For every good thing comes…
I Won't Let You Down I won't let you down Don't worry 'bout me leavin' I'll be…
If I Ever Lose My Woman Girl I've been thinking bout what you mean to my…
If Love Is What You Want Baby let me know I'll give even more I heard about your…
If You Could See You You don't know all the beauty you posses inside You just…
If You Could See You Through My Eyes You don't know All the beauty you posses inside You just c…
Joy You gave your heart and got no love in return He…
Just What I t Takes Just another story of the lost and lonely Stuck right in…
Lately Is this just a dream, another dream? I'm wishing it was…
Let's Straighten It Out Sit yourself down, girl, and talk to me Tell me what's…
Look Of Love Summer goes, winter's slow Autumn leaves but you're still a…
Love Me Back What a good feeling To know that I got someone so…
Love Will Find a Way In a perfect world One we've never known We would never need…
Love Will Find Away In a perfect world one we've never known We would never…
Loveable Okay, tell me what you love, I love everything about…
Make Believe I'm coming to terms with how I'm feeling Putting my heart…
Never Too Busy Girl when we first started we were spending all our…
Nothing Like You Nothing like a woman For me to hold and kiss Making love…
Remix This Heart Ain't nothing new underneath the sun But you could be the…
Right Down To It Listen baby, if I drive you crazy Ain't nothing personal abo…
Someone How many cars on the drive are actually yours You never…
Still If everyday could be like Waking up to your smile And tast…
The Things I'll Do The things I'll do for you Make you forget what he…
Things That Lovers Do Walkin? with you hand in hand I'm so proud to be…
Tomorrow Had so much to give you, had so many plans For…
Trial Separation Trial separation, many days and nights I sat and thought abo…
Week End It's the weekend hopin we can chill again sort of…
Well Done Through these eyes I see My brothers are in need Lord, let…
What Must I Do Found a crack that's been breaking our foundation bout 4-5…
Where Did Love Go Where did love go? How could the feeling be gone? Where di…
While My Guitar Gently Weeps I look at you all see the love there that's…
Who Who.... Yea~ yea~ yea~ Ooh~ Who saw you stumble baby? Wh…
With You I I won't let you down Don't worry 'bout me leavin' I'll be…
With You I'm Born Again Come bring me your softness. Comfort me through all this mad…
You For you, I'd give a life time of stability Anything you…
You Have My Heart Stop analyzing where we are Cause weeks to us feel like…
You Move Me I've got something on my mind I just gotta let you…
You're All I Need to Get By Like the sweet morning dew, I took one look at…
You're My Girl Nobody more precious, spend your life with me Without you g…
Your Are My Starship Yeah... Yeah... Yeah... Verse 1: You are my life, I have …

The lyrics can frequently be found in the comments below, by filtering for lyric videos or browsing the comments in the different videos below.