yuuhi ga mado no mukou de
oto mo tatezu yukkuri
shizunde yuku keshiki ni mune ga
washitsukami ni gyutte sareta
chiisana yume kakaenagara
tsumazuki koronde
hiza wo surimuita aoi natsu no hi
azami no saku komichi wo nukete
semishigure no nami oikaketeta
yake ni yuuki ga nijinde ita no wa
itsuka no natsumoyou
shizuka ni yomigaeru kono mune ni
saikin, wasurete ita na
tachidomatte miru koto
hagureta kumo mitai ni boku wa
machi to hito ni nagasarete ita
suisaiga de kaita you na
yuugure no naka wo
boku wa hashitteta aoi natsu no hi
azami no saku komichi de ima mo
semishigure wa mada kikoemasu ka?
ano hi ni wa mou modorenai keredo
itsuka no natsumoyou
kondo, ai ni yukou
ai ni yukou.
hitomi tojite miageta sora wo
kakete yuku kaze wa wasurekaketa
aoi natsu to onaji ni oigashite
egao ga komiageru
azami no saku komichi wo nukete
semishigure no nami oikaketeta
yake ni yuuki ga nijinde ita no wa
itsuka no natsumoyou
shizuka ni yomigaeru kono mune ni
Contributed by Jayce E. Suggest a correction in the comments below.
To comment on specific lyrics,
highlight them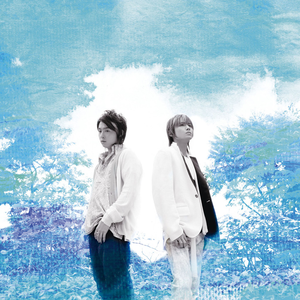 KinKi Kids are Domoto Tsuyoshi, 堂本剛 (40) and Domoto Koichi, 堂本光一 (40), both hailing from the Kinki region of Japan. Both joined Johnny's Entertainment in 1994 and they made their debut in 1997 with their single Glass no Shounen, which made them a number one on the hit chart ORICON for many weeks and sold well over 1,000,000 copies. They are also listed in the Guinness Book of Records, where they are credited with having most number of consecutive singles that debuted at #1 on their charts.
Read Full Bio
KinKi Kids are Domoto Tsuyoshi, 堂本剛 (40) and Domoto Koichi, 堂本光一 (40), both hailing from the Kinki region of Japan. Both joined Johnny's Entertainment in 1994 and they made their debut in 1997 with their single Glass no Shounen, which made them a number one on the hit chart ORICON for many weeks and sold well over 1,000,000 copies. They are also listed in the Guinness Book of Records, where they are credited with having most number of consecutive singles that debuted at #1 on their charts. As of September 2013, all 32 of their singles have debuted at #1. They also have a long running show, Shin Domoto Kyoudai, which hosts celebrity guests and broadcasts weekly on Sundays.

Widely known in Japan, the KinKi Kids are very popular among girls of all ages, and their subscription concerts even draw boys. Not only do they sing, but they are also talented actors, having appeared in popular dramas, movies, and commercials both alone and together. For example, Tsuyoshi played a part in Kindaichi Shounen no Jikenbo and Summer Snow, and Koichi was in Remote as well as Sushi Ouji. However despite their shared surnames they are in fact completely unrelated and hail from two different prefectures in the Kinki region.

KinKi Kids are signed and promoted by Johnny and Associates. Other well-known Johnny and Associates groups include SMAP, TOKIO, V6, NewS and Arashi.

-------------------------

Albums
A album (Jul 21,1997)
B album (Aug 12,1998)
C album (Aug 4,1999)
KinKi Single Selection (May 17,2000)
D album (Dec 13,2000)
E album (Jul 25,2001)
F album (Dec 26,2002)
G album -24/7- (Oct 22,2003)
KinKi Single Selection 2 (Dec 22, 2004)
H album - H.A.N.D. - (Nov 16,2005)
I album -iD- (December 14, 2006)
Phi album (November, 2007)
J album (December 09, 2009)
K album (November 09, 2011)
L album (December 13, 2013)
M album (December 10, 2014)
N album (September 21, 2016)
Ballad Selection (January 6, 2017)
The BEST (December 6, 2017)
-------------------------

Singles
Glass no Shounen (硝子の少年) (Jul 21, 1997)
Aisareru Yori Aishitai (愛されるより愛したい) (Nov 12, 1997)
Jetcoaster Romance (ジェットコースター・ロマンス) (Apr 22,1998)
Zenbu Dakishimete / Ao no Jidai (全部だきしめて/青の時代) (Jul 29,1998)
Happy Happy Greeting / Cinderella Christmas (Happy Happy Greeting/シンデレラ・クリスマス) (Dec 9,1998)
Yamenai de, PURE (やめないで、PURE) (Feb 24,1999)
Flower (フラワー) (May 26,1999)
Ame no Melody / to Heart (雨のMelody/to Heart) (Oct 6,1999)
Suki ni Natteku Aishiteku / KinKi no Yaru Ki Manman Song (好きになってく 愛してく/KinKiのやる気まんまんソング) (Mar 8,2000)
Natsu no Ousama / Mou Kimi Igai Aisenai (夏の王様/もう君以外愛せない) (Jun 21,2000)
Boku no Senaka ni wa Hane ga Aru (ボクの背中には羽根がある) (Feb 7,2001)
Jounetsu (情熱) (May 23,2001)
Hey! Minna Genki Kai? (Hey! みんな元気かい?) (Nov 14,2001)
Kanashimi Blue (カナシミ ブルー) (May 2,2002)
solitude ~Hontou no Sayonara~ (solitude~真実のサヨナラ~) (Oct 23,2002)
Eien no BLOODS (永遠のBLOODS) (Apr 9,2003)
Kokoro ni Yume wo Kimi ni wa Ai wo / Gira☆Gira (心に夢を君には愛を/ギラ☆ギラ) (Jun 18,2003)
Hakka Candy (薄荷キャンディー) (Aug 13,2003)
Ne, Ganbaru yo. (ね、がんばるよ。) (Jan 15,2004) (Penned by Yoshida Miwa of DREAMS COME TRUE)
Anniversary (Dec 22,2004)
Velvet no Yami (ビロードの闇) (June 15,2005)
SNOW! SNOW! SNOW! (December 21,2005)
Natsu Moyou (夏模様) (July 26, 2006)
Harmony of December (November 29, 2006)
Brand New Song (Apr 25, 2007)
Eien ni (永遠に) (October, 2007)
Secret Code (August 27, 2008)
Yakusoku (約束) (January 28, 2009)
Swan Song (スワンソング) (October 28,2009)
Family〜Hitotsu ni Naru Koto (Family 〜ひとつになること) (December 1, 2010)
Time (June 15, 2011)
Kawatta katachi no ishi (変わったかたちの石) (January 11, 2012)
Mada Namida ni Naranai Kanashimi ga" (まだ涙にならない悲しみが)(October 23, 2013)
Koi wa Nioe to Chirinuru o" (恋は匂へと散りぬるを)(October 23, 2013)
Kagi no Nai Hako" (鍵のない箱(November 12, 2014)
Yume wo Mireba Kizutsuku Koto mo aru" (夢を見れば傷つくこともある)(November 18, 2015)
Bara to Taiyou" (薔薇と太陽)(July 20, 2016)
Michi wa Tezukara Yume no Hana" (道は手ずから夢の花)(November 2, 2016)
The Red Light (July 12, 2017)
Topaz Love/DESTINY (January 24, 2018)
Aitai, Aitai, Aenai (会いたい、会いたい、会えない)(December 19, 2018)
-------------------------

Videos
us (May 20,1998)
KinKi Kids 3 days Panic! at Tokyo Dome '98-'99 (Apr 20,1999)
KinKi KISS Single Selection (May 9,2001)
*VHS Title: "KinKi KISS Single Selection 1" and "KinKi KISS Single Selection 2"
KinKi Kids Returns! 2001 Taipei Concert (Sep 5,2001)
-ism (Jan 9,2002)
KinKi Kids F Dome Concert ~Fun Fan Forever~ (Dec 3,2003)
KinKi KiSS 2 Single Selection (Jul 14,2004)
*VHS Title: "KinKi KISS 3 Single Selection"
KinKi Kids Dome Tour 2004-2005 Font De Anniversary (Aug 3,2005)
KinKi Kids PHI Con 2008 (January 1, 2008)
We are Phin 39!! And U? KinKi Kids Live in Dome 07-08 (June 18, 2008)
KinKi you DVD (September 30,2009)
KinKi Kids concert tour J (September 11, 2010)
KinKi Kids 2010-2011 ~Kimi mo Doumoto Family~ (~君も堂本FAMILY~) (July 27, 2011)
King KinKi Kids 2011-2012 (July 18, 2012)
KinKi Kids Concert - Thank you for 15 years - 2012-2013 (August 7, 2013)
Genre not found
Artist not found
Album not found
Search results not found
Song not found