I like to dance all night
It summons the day
That's how I play
Yeah that's how I play
I said who are you
No matter who you are
So we dance all night
And dance all day
I say
I say
We're gonna fuel the fire
We're gonna stoke it up
We're gonna sip this wine
And pass the cup
Who needs avenues
Who needs reservoirs
We're gonna show this town
How to kiss these stars
I say
I say
I'm on a hunt to kill
I'm gonna skin the hide
A yelp and scream
And away I ride
I'll never top this view
I'll never fall aground
It's all for you
For what you found
I say
I say
I say
I say
It's gonna take your hand
It's gonna drive you home
It's gonna keep on, keep on, keep on
And then forever roam.
Lyrics © BMG Rights Management, Mazzika Group, Warner Chappell Music, Inc.
Written by: CALEB FOLLOWILL, JARED FOLLOWILL, MATTHEW FOLLOWILL, NATHAN FOLLOWILL

Lyrics Licensed & Provided by LyricFind
To comment on specific lyrics,
highlight them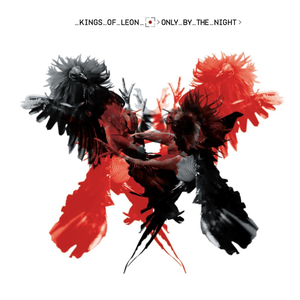 Kings of Leon is an American rock band that formed in Nashville, Tennessee, United States in 1999, consisting of brothers Anthony "Caleb" Followill (lead vocals, rhythm guitar), Ivan "Nathan" Followill (drums, percussion, backing vocals) and Michael "Jared" Followill (bass guitar, backing vocals), with their cousin Cameron "Matthew" Followill (lead guitar, backing vocals). Each member of the family group is known by their middle name (second given name) as opposed to their first given name.
Read Full Bio
Kings of Leon is an American rock band that formed in Nashville, Tennessee, United States in 1999, consisting of brothers Anthony "Caleb" Followill (lead vocals, rhythm guitar), Ivan "Nathan" Followill (drums, percussion, backing vocals) and Michael "Jared" Followill (bass guitar, backing vocals), with their cousin Cameron "Matthew" Followill (lead guitar, backing vocals). Each member of the family group is known by their middle name (second given name) as opposed to their first given name.

The band's early music was an upbeat blend of southern rock and blues influences but the band has gradually expanded their sound to include a variety of genres, including alternative rock.

Kings of Leon achieved initial success in the United Kingdom with nine Top 40 singles, two BRIT Awards in 2008, and all three of the band's albums at the time peaking in the top five of the UK Albums Chart. Their third album Because of the Times also reached the number one spot. After the release of Only by the Night in 2008 they finally achieved chart success in their native United States. The singles Sex on Fire, Use Somebody and Notion peaked at number one on the Hot Modern Rock Tracks, while the album itself was their first ever platinum-selling album in the US.

Early years (1999–2002)
The three Followill brothers spent much of their youth traveling around the Southern United States with their father, Ivan "Leon" Followill, a traveling Pentecostal Church preacher and their mother, Betty-Ann, who taught them when they were not in school. Caleb and Jared were both born in Mt. Juliet, Tennessee, while Nathan and Matthew were born in Oklahoma City, Oklahoma. According to Rolling Stone magazine, "While Leon preached at churches and tent revivals throughout the Deep South, the boys attended services and were occasionally enlisted to bang on some drums. They were either home-schooled or enrolled in small parochial schools at this time. Except for a five-year period when they settled in Jackson, Tennessee, the Followill's childhoods were spent driving through the south in a purple 1988 Oldsmobile, decamping for a week or two wherever Leon was scheduled to preach."

When the boys' father resigned from the church and divorced his wife in 1997, the boys relocated to Nashville and embraced the rock music and lifestyle they had previously been denied. While there, they met songwriter Angelo Petraglia, who helped the siblings hone their songwriting skills and introduced them to the musical influences of the Rolling Stones, The Clash, and Thin Lizzy in particular. Six months later, Nathan and Caleb signed with RCA Records, who insisted that the duo recruit more members for the band before launching their career. The band was formed when cousin Matthew and younger brother Jared were asked to join. They named themselves Kings of Leon in honor of Nathan, Caleb, and Jared's father and grandfather, who were both named Leon.

In an interview, Caleb admitted to "kidnapping" their cousin Matthew from his hometown in Mississippi in order for him to join the band. They told his mother that he was just staying for a week, but they consequently never allowed him to return home. Drummer Nathan added, "When we signed the deal with RCA, it was just me and Caleb. The label told us they were going to put a band together, but we said, 'We're going to buy our little brother a bass, he's a freshman in high school. Caleb will teach himself the guitar. Our cousin Matthew played guitar when he was 10 and I'll play drums.' The record label agreed,".

Youth and Young Manhood and Aha Shake Heartbreak (2003 - 2005)
Their first record, the Holy Roller Novocaine EP was released on February 18, 2003. At this stage, Jared was only 16 years old and had not yet learned to play the bass guitar. The release of Holy Roller Novocaine gave the Kings of Leon a significant amount of exposure prior to the release of their debut album, Youth and Young Manhood, receiving a 4/5 star rating from Rolling Stone magazine. Four of the five songs would later be released on Youth and Young Manhood, however the versions of Wasted Time and California Waiting on the EP differ, with the first having a more tense riff and different vocal style than the same track off Youth and Young Manhood, and the latter being recorded in a rush to finish the record. The EP contains the B-side Wicker Chair while another track titled Andrea, was discarded prior to its release. All the songs released on the EP were co-written by Angelo Petraglia who also produced the record.

The band's debut studio album, Youth and Young Manhood was released in the UK in July 2003, and in the United States in August of the same year. The album was recorded between Sound City Studios in Los Angeles and Shangri-La Studios in Malibu, California, with producer Ethan Johns (son of producer Glyn Johns who most notably worked with the Rolling Stones and the Eagles). The album received some critical notice domestically, but became a sensation in the UK and Ireland, where NME declared it "one of the best debut album of the last 10 years". Following the release of the album, Kings of Leon was chosen to tour with fellow American rock band The Strokes and U2.

The band's second album Aha Shake Heartbreak was released in the UK in October 2004 and in the United States in February 2005. Building on the southern-infused garage rock of their first album, the album broadened the band's domestic and international audience. The album was again produced by Angelo Petraglia and Ethan Johns. The Bucket, Four Kicks, and King of the Rodeo were all released as singles, with the "The Bucket" rising into the Top 20 in Britain. Taper Jean Girl was also used in the 2007 movie Disturbia and the movie Cloverfield in 2008. The band garnered accolades from several of their rock peers, including Elvis Costello, and also toured with Bob Dylan and Pearl Jam during 2005 and 2006.

Because of the Times (2006–07)
In March 2006, Kings of Leon were back in the studio with their producers Angelo Petraglia and Ethan Johns, working on their third album. Guitarist Matthew told NME: "Man, we're sitting on a bunch of songs right now that we wish we could let the world hear". The band's third album was titled Because of the Times, which may be a reference to a church ministers conference of the same name held at The Pentecostals of Alexandria church in Alexandria, Louisiana that the brothers often attended. The album showed a clear evolution from Kings of Leon's previous work, as the band's trademark dirty, southern-fried swagger was replaced with a more polished, clean-cut sound.

The album was released on April 2, 2007 in the UK, and a day later in the United States, preceded by the single On Call, which became a hit in Britain and Ireland. It debuted at number one in Britain and Ireland and entered the European charts at number twenty-five, selling approximately 70,000 copies in its first week of release. NME said that the album "cements Kings of Leon as one of the great American bands of our times." and Entertainment Weekly called Because of the Times "an epic wide-screen movie of a CD and the band's best to date." However, some critics found the album inferior to their previous efforts. Stylus Magazine rated it a C- and noted "If they wanted us to take them serious this time around, they'd at least try to be right honest about their ascent into minor celebrity and not keep on with the yokel façade. Without cautionary yarns regarding life on the tour bus or banging supermodels, the bright-eyed, legs-stretched mood of the music rings just as hollow." Dave Hood of Artrocker gave the album one star out of five, finding that "Kings of Leon are experimenting, learning, and getting a bit lost." Pitchfork Media contended that "Because of the Times sounds suspiciously like a counterattack on womankind, launched from somewhere in the mid-1990s, deep inside a bruised, stadium-sized ego."

In spite of the mixed recognition, the album spawned a number of hit singles in Europe, including Charmer and Fans, along with a number of crowd favorites such as Knocked Up and My Party.

Only by the Night (2008–09)
After recording throughout most of 2008, "the all American long haired rockers" (The Times), released their fourth studio album Only by the Night on September 19, which subsequently entered the UK Albums Chart at number one and remained there for one more week. Only By The Night also had two single week stints as the UK #1 album in 2009, one directly after the BRIT Awards. In the United States, the album reached number 5 on the Billboard Charts. Reception to the album was the most polarized yet, with the British press granting the album glowing reviews. Q Magazine named Only by the Night "Album of the Year" for 2008. In the United States, reactions to the album were more mixed. Spin, Rolling Stone, and All Music Guide gave the album positive reviews, while Pitchfork Media gave the album a virtual equivalent of 2 stars. The album was officially named as the UK's third biggest selling album of 2008 and the biggest selling album of 2008 in Australia. Sex on Fire was the first single released for download in the UK on 8 September. The song became their most successful ever as it peaked at number one in the UK and in Ireland. It was also their first song to chart number one on the Billboard Hot Modern Rock chart. The second single to be released from the album on December 8, 2008 was Use Somebody which achieved worldwide chart success and consistency, such as peaking at number two in the UK Singles Chart, and also reaching top ten chart positions in Australia, Ireland, New Zealand and the United States. The album's popularity in Australia was confirmed with a total of four singles being voted into the world's largest online music poll, the "Triple J Hottest 100". The song Crawl came in at number 70, Closer was voted number 24 and "Use Somebody" finished number 3 in the poll. However, their biggest success from Only By The Night was "Sex on Fire" which was voted number 1 in the Hottest 100 poll for 2008 and number 90 in the Triple J Hottest 100 of All Time, 2009 poll. "Sex on Fire" also won the band a Grammy Award at the 51st Grammy Awards held at the Staples Center in Los Angeles on February 8, 2009. They won Best International Band and Best International Album at the Brit Awards in 2009, where they also performed "Use Somebody" live. Kings of Leon also performed on 14 March 2009 at Sound Relief, a benefit concert, for the Victorian Bushfire Crisis. The song "Crawl" from this album was released as a free download on the band's website on July 28. The third and fourth singles were Revelry, which peaked at number 19 in New Zealand and Notion, which peaked at number 24 in Belgian charts. Only By The Night was certified platinum in the United States by the RIAA for selling one million copies in less than a year after its release.

In 2009, the band headlined a number of music festivals, including Reading & Leeds, Rock Werchter, Oxegen, T In The Park, Gurtenfestival and Open'er Festival in Europe, along with Sasquatch, Lollapalooza, and Austin City Limits in the United States. That same year, the band won their first Grammy Award for the single "Sex on Fire", as well as two BRIT Awards for "Best International Group" and "Best International Album." The album Only by the Night also won an NME Award for "Album of the Year."

Future projects (2009-2011)
The band has announced the release of a live DVD on November 10, 2009 and a remix album due for release in the coming months, though the latter is untitled and unscheduled at the moment. The DVD was filmed at London's O2 Arena in July 2009. In an interview with Billboard.com drummer Nathan stated, "England is really the first place we broke ... We figured what better place to make a live DVD than where the fans have been the craziest for the longest?" The show featured some choice rarities, and Nathan continued by saying "we just put the cameras in the back of our minds and acted like they weren't even there." The remix album came to life after Kings of Leon learned that other artists had started working on revisions of the band's songs. Mark Ronson, Kenna, Lykke Li with her cover of "Knocked Up", and Linkin Park are also contributing a remix to the album.

On October 17, 2009, the night of the final show of the US tour in Nashville, Tennessee, Nathan Followill posted "Now it's time to start creating the next musical chapter in the novel that is Kings of Leon. Thanks again to all. Boomer fucking Sooner." on his personal Twitter page.

Mechanical Bull (2012-2013):
The band's sixth LP, "Mechanical Bull", was released on September 24, 2013. The album's first single, entitled "Supersoaker", was released on July 17, 2013.

Walls (2016):
On Oct 14, 2016, Kings of Leon released their 7th studio album, "Walls", on the RCA Records label. It became the band's first number 1 on the Billboard 200 chart. The first single released from the album was "Waste a Moment".

Controversy
Kings of Leon caused controversy at the 2009 Reading Festival when Caleb Followill tried to get the crowd going by asking "I thought this was supposed to be the loudest crowd in the world?" Picking up on a perceived hostility towards the band, he announced "we know you're sick of Kings of Leon, so for all those who don't give a fuck about us, I understand. But we've worked fucking hard to get here. So anyone that has anything to say to us, fuck you. We're the goddamn Kings of Leon." The band later smashed their guitars in anger and made rude gestures before leaving the stage. Nathan Followill further criticized the Reading crowd on his twitter page, declaring "Zero love for the kings. I know it was cold but holy shit, y'all were frozen. I can only hope Leeds is in better form.". At the Leeds Festival Caleb again bad-mouthed Reading while complimenting the Leeds crowd declaring "We're only five songs in and you've blown Reading to hell", while complimenting UK crowds in general stating "It was the UK that made us feel like we could take on the world."

Discography

* Youth and Young Manhood (2003)
* Aha Shake Heartbreak (2004)
* Because of the Times (2007)
* Only by the Night (2008)
* Come Around Sundown (2010)
* Mechanical Bull (2013)
* Walls (2016)
Genre not found
Artist not found
Album not found
Search results not found
Song not found