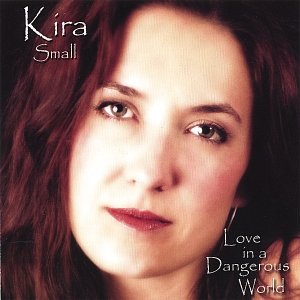 Kira Small is an artist who has always been at home in many styles of music. Trying to choose just one placed limitations on her expression that were too binding so she threw up her hands and began to forge her own. Like many of her heroes - Bonnie Raitt, Willie Nelson, Ray Charles - Kira has always aspired to transcend stylistic boundaries and just sing it however it needs to be sung.

Though she doesn't sound like a white chick from Wisconsin, Kira grew up outside of Milwaukee listening to country and folk music
Read Full Bio
Kira Small is an artist who has always been at home in many styles of music. Trying to choose just one placed limitations on her expression that were too binding so she threw up her hands and began to forge her own. Like many of her heroes - Bonnie Raitt, Willie Nelson, Ray Charles - Kira has always aspired to transcend stylistic boundaries and just sing it however it needs to be sung.

Though she doesn't sound like a white chick from Wisconsin, Kira grew up outside of Milwaukee listening to country and folk music, even going so far as to write a letter to Loretta Lynn asking for advice on how to become a country singer – she was about 9 then. Junior high brought pop and R&B into her ears and out of her mouth. It was, however, at Milwaukee's High School of the Arts that Kira's musical world was blown wide open when she left the 'burbs and hit the city. She heard and sang in gospel choirs for the first time. She was encouraged to explore improvisation as a vocalist and pianist in several of MHSA's award-winning jazz ensembles. She got her first Aretha Franklin record and hasn't been the same since.

So great was her delight in this new musical world, she followed it to Boston's Berklee College of Music. Kira became the first ever freshman member of its prestigious Vocal Jazz Ensemble, performed as a soloist in Berklee's Country Ensemble, and sang in countless other soul and R&B revues and recitals.

While on summer break from Berklee, Kira landed a gig at Fiesta Texas in San Antonio. She fell in love with Texas and its music and returned the next year after graduating from Berklee. After a brief stint at New Orleans' legendary Pat O'Brien's – her first ever piano bar gig – Kira headed back to Texas, this time to Austin, where for the next 5 1/2 years she dug her feet into its fertile musical soil. She sang in over a dozen bands, was a sought after studio vocalist, and lent her talents as a vocal arranger, musical director and composer to numerous projects. She says of her time there, "I grew up in Wisconsin, but my soul grew up in Austin…it's where I started to really find my voice."

And it's all thanks to Thursday night. For those 5+ years, Thursday night belonged to Kira and the piano at Austin's beloved Donn's Depot. Actually, Kira belonged to Thursdays at Donn's, where on any given night she would play anything from Ray Charles to Ray Price… and everywhere in between. After awhile a sound, blending this mix of influences and styles, began to emerge. It was uniquely hers and it's been developing a maturity and identity all its own ever since. Her debut album, aptly titled Wanderin' Star, recorded in Austin and Nashville over a three-year period, was released in fall of 2003. While it may not be indicative of where this artist is headed, it is a beautiful summation of where she had been so far. Comprised of a collection of some of her favorites and some of her originals, it's country-bluesy-torchy jazz, all delivered with an intimacy and freshness that will move even the hardest of hearts. This freshness is what she brings to any space she occupies, as soon as she opens her mouth to sing.

Kira spent a few years as a member of Berklee's voice faculty but the pull to be an artist was stronger and it led her to Nashville in 2001. Songwriting is in the water there and her Piscean tendency to swim in whatever waters are nearest pushed her to dive in headfirst. To no one's surprise but her own, she found herself more at home in those creative waters than ever before. She says, "I'm one of maybe 4 people in Nashville who DIDN'T come here to be a songwriter. Go figure..." She has been whipping up all of the flavors she has collected along the way into a deliciously soulful stew and her songs are garnering some impressive attention. She was signed on as a staff songwriter at Gerry Bruce Music Publishing in 2004 and has been hard at work on her artistic development with producer Bruce Dees. Although his resume as a player, singer, arranger, and producer boasts an impressive roster of country names, Dees' background is in southern soul and R&B and it is with that instinctive set of ears that he has produced Kira's latest recordings. Together they've been digging pretty deep in the dirt. Hear for yourself the treasures they unearthed on the 2006 Offrow Records release Love In A Dangerous World.
Genre not found
Artist not found
Album not found
Search results not found
Song not found