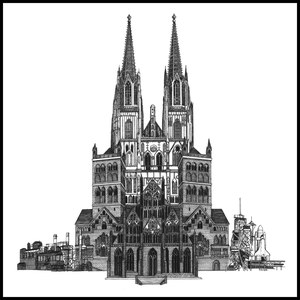 The name Kontravoid belongs on a limited run cassette circa 1980-something, the type of tape buried in lost upstate dustbins of pre-MIDI analog electronics, wedged between Cabaret Voltaire and Das Ding. The dark industrial and new wave influences are strong on ex-Crystal Castles drummer Cam Findlay's new project—his voice is scary, like an echoing underwater growl—but the underlying pop melodies always afford a degree of breathing room. The artist Felix Kalmenson has already produced two great Kontravoid music videos: "Native State
Read Full Bio
The name Kontravoid belongs on a limited run cassette circa 1980-something, the type of tape buried in lost upstate dustbins of pre-MIDI analog electronics, wedged between Cabaret Voltaire and Das Ding. The dark industrial and new wave influences are strong on ex-Crystal Castles drummer Cam Findlay's new project—his voice is scary, like an echoing underwater growl—but the underlying pop melodies always afford a degree of breathing room. The artist Felix Kalmenson has already produced two great Kontravoid music videos: "Native State," the album's most instantly rewarding song (owing to interestingly doubled male-female vocals) and its most aggressive, "Killed in Action." Kontravoid is on sale now from Bandcamp and iTunes, courtesy of Tarantula X.

- Duncan Cooper, The Fader

www.kontravoid.com
www.facebook.com/kontravoid
Genre not found
Artist not found
Album not found
Search results not found
Song not found
Killed In Action
Kontravoid Lyrics
We have lyrics for 'Killed In Action' by these artists:



The Gang Le spie uccidono i presidenti Nei letti delle loro amanti …



We have lyrics for these tracks by Kontravoid:



Cut to Cleanse Cut, cleanse. To cut to cleanse me So make signs for…
Native State All I can see. .no matter how"d you never go And this…

The lyrics can frequently be found in the comments below, by filtering for lyric videos or browsing the comments in the different videos below.