deep below the world persephone
sings of love forgotten
calling out across the river Persephone
deep below the world persephone
waits upon her rescue
mother nature's only daughter persephone
she saw the dawn with the light in her hair
twisted and torn she was taken from there
now she's down down down
oh my dear persephone
your heart sings a melody
hope you're safe and sound underground
now she's gone the world is calling
calling for her loved one
calling out across the river persephone
she saw the dawn with the light in her hair
twisted And Torn and disable in there
now she's down down down
oh my dear persephone,
Your Heart Sings A Melody
hope you're safe and sound underground
see how the winter Is Frozen And Poor
Come Back Persephone And Be Reborn
Come Back My Darling, We Miss You, My Darling
Return turn turn, return
Deep Below The World, Persephone
Sings Of Love Forgotten
Hear her Song the willow weeping
persephone persephone
oh my dear persephone
your heart sings a melody
hope you're safe and sound
yes we hope you're safe and sound
safe and sound
Contributed by Kylie P. Suggest a correction in the comments below.
To comment on specific lyrics,
highlight them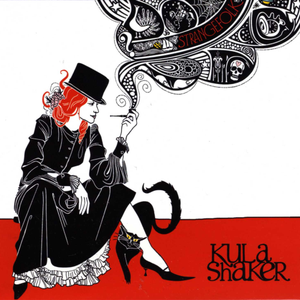 Kula Shaker are a britpop/psychedelic rock band that formed in London, England in 1995, disbanded in 1999 and then reformed in 2004, widely known for their international top 40 hits "Hey Dude" (in 1996) and "Hush" (in 1997). The band's original line-up was Crispian Mills (vocals, guitar), Alonza Bevan (bass, vocals), Jay Darlington (organ, vocals) and Paul Winterhart (drums), When they reformed in 2004, Darlington was replaced by Harry Broadbent.
Read Full Bio
Kula Shaker are a britpop/psychedelic rock band that formed in London, England in 1995, disbanded in 1999 and then reformed in 2004, widely known for their international top 40 hits "Hey Dude" (in 1996) and "Hush" (in 1997). The band's original line-up was Crispian Mills (vocals, guitar), Alonza Bevan (bass, vocals), Jay Darlington (organ, vocals) and Paul Winterhart (drums), When they reformed in 2004, Darlington was replaced by Harry Broadbent.

Their sound is roughly based on the sounds of 90s Britpop mixed in with 60s psychedelic rock, with heavy influences of Indian pop music as well as classic hard rock throughout. Their first album, 'K' was released in the United Kingdom in 1996, and it became the fastest selling debut album since 'Definitely Maybe' by Oasis. Selling 850,000 copies in the U.K. and a further 250,000 in the U.S., the band achieved success with their singles "Hey Dude" and "Tattva" climbing into the top 40. Their second album released in 1999, 'Peasants, Pigs and Astronauts', however, did not have the success of the first, selling only a fraction of 'K' despite a slightly higher marketing budget. Later that year, Mills announced the band would be breaking up due to unwanted pressure loaded upon them by their label and the urge to move on.

On 11th July 2006, Kula Shaker announced that they would be reforming, and the group set about creating an iTunes-exclusive E.P. They started by touring smaller venues in the U.K. Their third album, 'Strange Folk', was released on 20th August 2007, and their fourth, 'Pilgrim's Progress', was released on 28th June 2010. While touring since then, they have also released a Christmas single. Frontman Crispian Mills is also known for his solo work and his role in the band The Jeevas
Genre not found
Artist not found
Album not found
Search results not found
Song not found