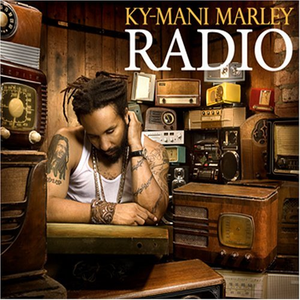 Ky-Mani Marley (born February 26, 1976, in Falmouth, Jamaica) is a Jamaican acto…
Read Full Bio ↴
Ky-Mani Marley (born February 26, 1976, in Falmouth, Jamaica) is a Jamaican actor and reggae musician. He is the son of singer Bob Marley and table tennis champion Anita Belnavis, and the half-brother of Ziggy Marley. Marley's first appearance as musician took place in 1996 when he recorded Like Father Like Son, an album consisting of cover versions of some of his father's songs. His next album, 1999's "The Journey", received mass critical acclaim, and achieved relatively good sales. His 2001 album, "Many More Roads", was nominated for a Grammy for best reggae album. He lost to his brother Damian's album, "Halfway Tree".

In 2002 he played lead role (Biggs) in the film Shottas along with Spragga Benz, Paul Campbell, Louie Rankin, Wyclef Jean, Screechie Bop and many more. It is an original story that shows the life of a shotta/gangster on the streets of Jamaica and Miami.

He achieved even more success as a musician with a cover of Eddy Grant's Electric Avenue, in collaboration with the Fugees' Pras. He has also starred in several films, including Shottas in 2002 and as John the Baptist in the 2004 film Haven.

Remaining true to his Jamaican culture, Ky-mani''s fondness for all genres of music influences the work he creates. Ky-mani is an artist with no limits. Incorporating world music, hip hop, blues, rock and a grass roots sound into his music, the end product is the pure representation of life for Ky-mani. The Ky-mani Marley sound is one that transcends cultural lines and prohibits him from being categorized as only a reggae artist. His raw, unadulterated, gruff sound captures the listener and reverberates the essence of Ky-mani''s life story.

Ky-mani launched his latest album "Radio" in 2007. The album features several key singles including One Time, The March and Conversation among others. All of the songs contain Marley's unique sound of classical reggae beats mixed with contemporary hip hop. Also featured on the CD are some of today's hottest artists including Young Buck, Mya and Gail Gotti.
Jump to: Overall Meaning ↴ Interesting Facts ↴ Line by Line Meaning ↴
Motivated right about now
Yeah that's right
Five bro five
The track on five
Let mi tell it to you one time
You violate mi even one time
I only pull the trigger one time
Slug kiss only one time
You see the pictures all at one time
Soliders lace dem I buss them one time
Girl if I give to me one time
It's for sure you'll be back more than one time
Just know your fuckin' wit a city boy
And know dem city boys keep a lotta toys
Like AK'S SK'S Eagles and loins
Keep me feelin' like the world is mine yeah
I'm at the table just dying for shit to pop off
So I can run in da safe and snatch the lock of
I got something dat will run through your vest
And leave a baseball hole in your chest
So f*&k wit me
And mamma rise me as a solider
Born bread a solider
Live die a solider
And you can say I never told yeah but
The way they kill these snichtes for free
Who me I plegde a ligents to the hood
Cause police and politians mean us no good
So light it up if your ready to fly
Real soliders ain't afraid to die
Smoke wit me
Let mi tell it to you one time
You violate mi even one time
I only pull the trigger one time
Slug kiss only one time
You see the pictures all at one time
Soliders lace dem I buss them one time
Girl if I give to me one time
It's for sure you'll be back more than one time
I'm fightin' da demons confidently courageous
I'm for the team not for individual status
It wouldn't be real if haters stick to haters
Now step back fool my flow is contagious
Here comes the birth of a new era
I'm about to bring dem to a new level
Bring them through the heat of da night
And guied them right back to the light
Stay wit mi
I'm ridin' high
I'm burning on da cali kush
She's got da goods
Baby just need a lil' push
Raised in da south
My life is like a story book
Had a lil' faith and solider dats all it took
Look at them now, look at them how I got them shook
What it is, is what it is
No matter how it look
I got the herbs if your ready to fly
Light up and let us head for the sky
Stay wit me
Let mi tell it to you one time
You violate mi even one time
I only pull the trigger one time
Slug kiss only one time
You see the pictures all at one time
Soliders lace dem I buss them one time
Girl if I give to me one time
It's for sure you'll be back more than one time
Damn I love the way your shining
Oh girl a true definition of a diamond
You make me wanna give you twins
I'm at the door baby please let me in
Good God you got me feinin
Da coco butta got dat sexy body glemin'
And I only need it one time
And for sure you'll be back more than one time
And when I roll
I roll by myself
But fool don't get it twisted get beside yourself
Cause I figure brains dat ain't good for your health no
Silly rabbit just killed itslef yeah
Storm told mi dat he got me
PR said when it's done dem gone swep mi
My mamma told mi don't let dem cowards get mi
I switched it up now I'm bussin' out a lefty
Let mi tell it to you one time
You violate mi even one time
I only pull the trigger one time
Slug kiss only one time
You see the pictures all at one time
Soliders lace dem I buss them one time
Girl if I give to me one time
It's for sure you'll be back more than one time
Overall Meaning
Line by Line Meaning
Motivated right about now
I'm feeling driven and focused at this moment
Yeah that's right
That's exactly how I feel
Five bro five
The track is at the maximum level
The track on five
The music is turned up to the highest volume
Let mi tell it to you one time
Listen closely to what I'm about to say
You violate mi even one time
If you cross me or disrespect me, even once
I only pull the trigger one time
I only need to shoot one bullet to get the job done
Slug kiss only one time
One shot from the bullet will be enough
You see the pictures all at one time
You're seeing all the evidence at once
Soliders lace dem I buss them one time
I only need to fire my gun one time to take down my enemies
Girl if I give to me one time
If you give in to me just once
It's for sure you'll be back more than one time
You'll want to come back to me multiple times
Just know your fuckin' wit a city boy
You're messing with someone from the city
And know dem city boys keep a lotta toys
City folk have a lot of weapons and tools
Like AK'S SK'S Eagles and loins
Including various types of guns
Keep me feelin' like the world is mine yeah
Having these weapons makes me feel invincible
I'm at the table just dying for shit to pop off
I'm ready for action and waiting for something to happen
So I can run in da safe and snatch the lock of
So I can steal what I want and make a quick getaway
I got something dat will run through your vest
I have a weapon powerful enough to penetrate your bulletproof vest
And leave a baseball hole in your chest
It will leave a large hole in your chest
So f*&k wit me
So don't mess with me
And mamma rise me as a solider
My mother raised me to be a fighter
Born bread a solider
I come from a long line of fighters
Live die a solider
I will fight until the end of my life
And you can say I never told yeah but
You can deny my involvement, but
The way they kill these snichtes for free
The way they kill informants without repercussions
Who me I plegde a ligents to the hood
I'm loyal to my community
Cause police and politians mean us no good
Because law enforcement and politicians are corrupt and don't care about us
So light it up if your ready to fly
If you're ready to take action, let's get started
Real soliders ain't afraid to die
True fighters are not scared of death
Smoke wit me
Let's get high together
I'm fightin' da demons confidently courageous
I'm battling my personal demons with confidence and bravery
I'm for the team not for individual status
I'm not in it for personal gain, I'm in it for the group
It wouldn't be real if haters stick to haters
It wouldn't be authentic if people only associated with those who hate them
Now step back fool my flow is contagious
Get out of my way, my style is inspiring and influential
Here comes the birth of a new era
A new age is beginning
I'm about to bring dem to a new level
I'm going to take things to the next level
Bring them through the heat of da night
Guide them through difficult times
And guied them right back to the light
And lead them to a better place
Stay wit mi
Stick with me
I'm ridin' high
I'm feeling good
I'm burning on da cali kush
I'm smoking high-quality marijuana from California
She's got da goods
She's attractive and desirable
Baby just need a lil' push
She just needs a little encouragement
Raised in da south
I come from the southern United States
My life is like a story book
My experiences are noteworthy and interesting
Had a lil' faith and solider dats all it took
All I needed was a little belief and determination
Look at them now, look at them how I got them shook
Look at how far I've come and how much influence I have now
What it is, is what it is
It is what it is
No matter how it look
Regardless of how things may appear
I got the herbs if your ready to fly
I have marijuana if you're ready to get high
Light up and let us head for the sky
Let's smoke and enjoy ourselves
Damn I love the way your shining
I love how attractive you are
Oh girl a true definition of a diamond
You're a perfect example of a precious gem
You make me wanna give you twins
You make me want to have children with you
I'm at the door baby please let me in
I want to come inside and spend time with you
Good God you got me feinin
You have me craving and wanting more
Da coco butta got dat sexy body glemin'
Your skin is shining because of the cocoa butter
And I only need it one time
I only need to be intimate with you once
And for sure you'll be back more than one time
You'll want to be intimate with me multiple times
And when I roll
When I move around
I roll by myself
I am alone
But fool don't get it twisted get beside yourself
Don't be mistaken, don't mess with me
Cause I figure brains dat ain't good for your health no
Because I have the brains to harm you if necessary
Silly rabbit just killed itslef yeah
You're foolish if you mess with me
Storm told mi dat he got me
My friend Storm promised to support me
PR said when it's done dem gone swep mi
My friend PR said he will hide me once it's all over
My mamma told mi don't let dem cowards get mi
My mother warned me not to let cowardly people harm me
I switched it up now I'm bussin' out a lefty
I've changed my ways now and I'm doing things differently
Lyrics © Sony/ATV Music Publishing LLC
Written by: KY MILLER, KY-MANI MARLEY

Lyrics Licensed & Provided by LyricFind
To comment on or correct specific content,
highlight it
Genre not found
Artist not found
Album not found
Search results not found
Song not found