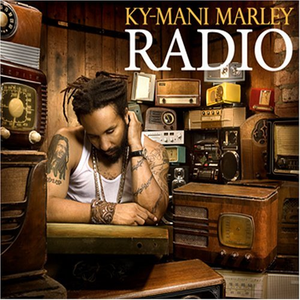 The March (Bonus Track - Vox Spanish Remix)
Ky-Mani Marley (born February 26, 1976, in Falmouth, Jamaica) is a Jamaican acto…
Read Full Bio ↴
Ky-Mani Marley (born February 26, 1976, in Falmouth, Jamaica) is a Jamaican actor and reggae musician. He is the son of singer Bob Marley and table tennis champion Anita Belnavis, and the half-brother of Ziggy Marley. Marley's first appearance as musician took place in 1996 when he recorded Like Father Like Son, an album consisting of cover versions of some of his father's songs. His next album, 1999's "The Journey", received mass critical acclaim, and achieved relatively good sales. His 2001 album, "Many More Roads", was nominated for a Grammy for best reggae album. He lost to his brother Damian's album, "Halfway Tree".

In 2002 he played lead role (Biggs) in the film Shottas along with Spragga Benz, Paul Campbell, Louie Rankin, Wyclef Jean, Screechie Bop and many more. It is an original story that shows the life of a shotta/gangster on the streets of Jamaica and Miami.

He achieved even more success as a musician with a cover of Eddy Grant's Electric Avenue, in collaboration with the Fugees' Pras. He has also starred in several films, including Shottas in 2002 and as John the Baptist in the 2004 film Haven.

Remaining true to his Jamaican culture, Ky-mani''s fondness for all genres of music influences the work he creates. Ky-mani is an artist with no limits. Incorporating world music, hip hop, blues, rock and a grass roots sound into his music, the end product is the pure representation of life for Ky-mani. The Ky-mani Marley sound is one that transcends cultural lines and prohibits him from being categorized as only a reggae artist. His raw, unadulterated, gruff sound captures the listener and reverberates the essence of Ky-mani''s life story.

Ky-mani launched his latest album "Radio" in 2007. The album features several key singles including One Time, The March and Conversation among others. All of the songs contain Marley's unique sound of classical reggae beats mixed with contemporary hip hop. Also featured on the CD are some of today's hottest artists including Young Buck, Mya and Gail Gotti.
Jump to: Overall Meaning ↴ Line by Line Meaning ↴
Yeah, yeah
Haha
Rise to your feet little soldier
Times are changing, yeah
See in order to get it
You got to go out there and get it
You got to know your mark
Yeah, take your mark
Let's go soldier
Yo left yo left yo left right left
Yo left yo left yo left right left
Yo left yo left yo left right left
Yo left yo left yo left right left
I'm feeling crazy
I've got my mind made up
I'm in my fatigues and I'm ready for war
Hear the drummer drumming
This situation's my occupation
A buffalo soldier that's just what we are
Squatta
And when you're digging your trenches soldiers make
Sure you dig them deep
Cuz the only way to survive this place in this time
Little homie is to never sleep
Whooo
You see this war ain't in Iraq it's right here on the
Neighborhood streets
Well mother fuckers they're just living to die, welcome
To the belly of the beast
You got a little bit of dro in yo pocket spark up and
Put your mind at ease
Cuz you think they give a fuck about you for a second,
Ooh
You might as well be deceased
Little soldier
Yo left yo left yo left right left
Soldier
Yo left yo left yo left right left
Soldier
Yo left yo left yo left right left
Soldier
Yo left yo left yo left right left
Respect it and check it, the Southside where I sling
Still there's no stopping till the entire world is mine
My coalition is firm, don't you be concerned
To live and die on the streets and tough lesson learned
Lord knows I ain't no killer but don't temp me
Cuz I can squeeze on my trigger until it's empty
And you would never catch me slip food to militants
'Cause I'm surrounded by angels must be heaven sent
Who me'
Live for the cause
Rap for the cause
Ain't afraid to die for the cause, nooo
I keep looking at the snakes they full of in vic
Eyes bloodshot red I'm burning of sensi
Harder the battle the sweeter the victory
And I'm ready to write my own verse of history
You can't tell me I never told yah boy
You can't rhyme yah mother fucking Soulja Boy
Yo left yo left yo left right left
Soldier
Yo left yo left yo left right left
Soldier
Yo left yo left yo left right left
Soldier
Yo left yo left yo left right left
I'm fighting to survive the seeds of my own
So I teach them lessons they need to know for when they
Get grown
Say son you stay far from snitches and find a good girl
Boy keep far from her, haha
Now keep your focus with your eye on the prize
A million rise just for their rights, fuck it a million
Die
Drop to your knees and hold your head to the sky
Say a prayer for the lord soldier that you need to fly
Dear lord the hour is upon us
As we engage in battle be merciful upon our souls
Grant us the strength so we may overcome the danger
That lay in our way
Let us pray soldiers
Our father, who arth in heaven hallowed be thy name
Thy kingdom come, thy will be done,
On earth as it is in heaven
Give us this day, our daily bread
And forgive us of our trespasses
As we forgive those who trespass against us
And stop the war
Overall Meaning
Ky-Mani Marley's "The March" is a song that sends a message of empowerment to black youth, encouraging them to rise up and fight for their rights in a world that is constantly changing. The song is narrated from the perspective of a soldier, addressing the youth as soldiers in a war they must win in order to survive, thrive and make a difference. The opening lyrics inform listeners that they need to go out and get whatever they want. The song then includes a marching chant, which embodies the militant theme of the song, and serves to rally the listener to the cause, emphasizing determination and the rhythm needed to move forward.
Ky-Mani Marley further emphasizes the theme of war and struggle by making references to situations in which black people have been historically oppressed, pointing out that the war is not just in Iraq, but right in the neighborhood streets, and that it's everyone's responsibility to fight it. Ky-Mani also emphasizes the importance of never sleeping during battle, suggesting that they need to always be awake and aware of the dangers of the world around them. The song then goes on to show the pride that the soldiers must have in the actions they take and the risks they face. Ky-Mani acknowledges that the battle will be a long and hard-fought one, but ultimately victory will taste even sweeter.

Line by Line Meaning
Rise to your feet little soldier
Encouraging someone to stand up and face the challenges ahead
Times are changing, yeah
The world is evolving and things aren't the same as before
See in order to get it
To achieve something, one has to put in effort and take action
You got to go out there and get it
Success won't come to you, you have to go after it
You got to know your mark
It's important to have a goal and know what you're aiming for
Take your mark
Prepare yourself for the challenge ahead
Let's go soldier
Get ready for action and move forward
Yo left yo left yo left right left
A call to march in sync as a united force
I'm feeling crazy
The artist is confident and ready to take on the world
I've got my mind made up
The artist is committed to their goals and won't let anything stop them
I'm in my fatigues and I'm ready for war
The artist is using war imagery to describe their readiness for the challenges ahead
Hear the drummer drumming
The artist is using drumming as a symbol of momentum and moving forward
This situation's my occupation
The artist is completely focused on their goals and sees them as a full-time job
A buffalo soldier that's just what we are
The artist is referencing the Bob Marley song 'Buffalo Soldier' and identifying with its message of being a warrior
Squatta
This is a slang term meaning to hide or lay low
And when you're digging your trenches soldiers make
A reference to the military tactic of preparing for battle by creating defensive positions
Sure you dig them deep
It's important to put in the necessary effort and preparation to succeed
Cuz the only way to survive this place in this time
The artist is acknowledging the difficulties of the current time and the need to be prepared to face them
Little homie is to never sleep
The artist is urging the listener to stay alert and aware of their surroundings
You see this war ain't in Iraq it's right here on the
The artist is speaking of the violence and danger that exists in their own community
Neighborhood streets
Referring to the streets as a dangerous, war-like environment
Well mother fuckers they're just living to die, welcome
The artist is suggesting that those who embrace violence are living in a self-destructive way
To the belly of the beast
The artist is using this phrase to refer to a dangerous, chaotic situation
You got a little bit of dro in yo pocket spark up and
A nod to using marijuana as a form of relaxation and escape from difficult circumstances
Put your mind at ease
Marijuana is seen as a way to relieve stress and calm down
Cuz you think they give a fuck about you for a second,
The artist is suggesting that those in power are not concerned with the welfare of the community
Ooh
An exclamation of frustration or recognition
You might as well be deceased
The artist is pointing out that the lack of concern from those in power could lead to destruction or even death in the community
Respect it and check it, the Southside where I sling
The artist is referring to their neighborhood and their involvement in selling drugs there
Still there's no stopping till the entire world is mine
The artist is using hyperbole to express their desire for success and domination
My coalition is firm, don't you be concerned
The artist is confident in their allies and friends
To live and die on the streets and tough lesson learned
The artist is referencing the harsh realities of life on the streets
Lord knows I ain't no killer but don't temp me
The artist is acknowledging their own moral uncertainty and the potential for violence in their environment
Cuz I can squeeze on my trigger until it's empty
The artist is identifying with the danger and violence of their surroundings
And you would never catch me slip food to militants
The artist is saying they wouldn't risk getting involved with militant groups
'Cause I'm surrounded by angels must be heaven sent
The artist is referring to their friends as 'angels' or protectors
Who me'
A rhetorical question, used to emphasize that the artist is not perfect
Live for the cause
The artist is living and working for a specific purpose or goal
Rap for the cause
The artist's music is a way of promoting their cause and spreading awareness
Ain't afraid to die for the cause, nooo
The artist is willing to risk their life for what they believe in
I keep looking at the snakes they full of in vic
The artist is recognizing the danger of those around them and the need to be cautious
Eyes bloodshot red I'm burning of sensi
The artist is using marijuana as a way to relax and deal with their situation
Harder the battle the sweeter the victory
The artist is acknowledging the difficulty of their circumstances, but also the sense of accomplishment that comes with success
And I'm ready to write my own verse of history
The artist is ready to create their own legacy, independent of the expectations of others
You can't tell me I never told yah boy
The artist is standing by their beliefs and convictions
You can't rhyme yah mother fucking Soulja Boy
A reference to the artist Soulja Boy, suggesting that there is no comparison between their styles
I'm fighting to survive the seeds of my own
The artist is facing their own failures and challenges
So I teach them lessons they need to know for when they
The artist is using their own experiences to educate and inform others
Get grown
The artist is preparing the next generation for the challenges to come
Say son you stay far from snitches and find a good girl
The artist is giving advice on avoiding dangerous situations
Boy keep far from her, haha
The artist is warning against the dangers of getting involved with the wrong people
Now keep your focus with your eye on the prize
The artist is emphasizing the importance of staying focused on goals
A million rise just for their rights, fuck it a million
The artist is talking about the importance of fighting for the rights of those who are oppressed
Die
A shocking statement, emphasizing the seriousness of the struggle
Drop to your knees and hold your head to the sky
The artist is urging the listener to pray and keep faith
Say a prayer for the lord soldier that you need to fly
An appeal to the divine for help and guidance
Dear lord the hour is upon us
A prayer to God for help and protection
As we engage in battle be merciful upon our souls
The artist is asking for mercy and protection in the midst of a dangerous situation
Grant us the strength so we may overcome the danger
An appeal for strength and resilience in the face of adversity
That lay in our way
The artist is acknowledging the challenges that lie ahead
Let us pray soldiers
An invitation to unite in prayer and ask for divine assistance
Our father, who arth in heaven hallowed be thy name
Quoting the Lord's Prayer, asking for guidance and blessings from God
Thy kingdom come, thy will be done,
An acknowledgement of God's sovereignty and a willingness to submit to His plan
On earth as it is in heaven
A desire to see God's will done on earth and His blessings poured out on humanity
Give us this day, our daily bread
A prayer for provision and sustenance
And forgive us of our trespasses
A request for forgiveness for past mistakes
As we forgive those who trespass against us
A recognition of the need to forgive others as we ourselves are forgiven
And stop the war
A plea for an end to the violence and conflict that exists in the community
Lyrics © Ultra Tunes, Sony/ATV Music Publishing LLC
Written by: KY-MANI MARLEY, JASON FARMER, ALEX FRANCIS

Lyrics Licensed & Provided by LyricFind
To comment on or correct specific content,
highlight it
Genre not found
Artist not found
Album not found
Search results not found
Song not found