Es ist das Feuer in dir
Das mich verbrennt
Die Stimme in dir
Die nur meinen Namen kennt
Es ist der Gedanke nach dir
Der immer bei mir bleibt
Die Sehnsucht nach dir
Die mich in den Wahnsinn treibt
Ich würd dir meine Seele geben
Mein Herz, mein Lebenslicht
Ich bring mich dir als Opfer dar
Doch du siehst mich nicht
Das Ungeheuer in mir
Hast du zerstört
Mein viel zu großes Herz
Das nur dir gehört
Es ist die Liebe zu dir
Die immer bei mir bleibt
Und sich mein ganzes Leben
Langsam einverleibt
Ich würd dir meine Seele geben
Mein Herz, mein Lebenslicht
Ich bring mich dir als Opfer dar
Doch du siehst mich nicht
Ich wollte alles für dich sein
Weil ich mir selbst nichts bin
Ich wollte alles für dich sein
Nur du gibst meinem Leben einen sinn
Ich würd dir meine Seele geben
Mein Herz, mein Lebenslicht
Ich bring mich dir als Opfer dar
Doch du siehst mich nicht
Ich würd dir meine Seele geben
Mein Herz, mein Lebenslicht
Ich bring mich dir als Opfer dar
Doch du siehst mich nicht
Contributed by David F. Suggest a correction in the comments below.
To comment on specific lyrics,
highlight them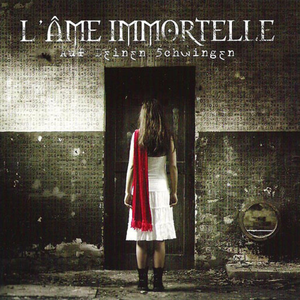 L'âme Immortelle (French: the immortal soul) is an Austrian band that produces darkwave, and more recently also industrial metal.

Many of L'âme Immortelle's songs feature melancholy or lovelorn lyrics in German or English, and juxtaposed harsh male and emotional female vocals. Current work has moved away from the band's electronic roots into the neue deutsche härte (New German hardness) genre.
L'âme Immortelle was formed in 1996 in Vienna, Austria by friends Thomas Rainer and Hannes Medwenitsch.
Read Full Bio
L'âme Immortelle (French: the immortal soul) is an Austrian band that produces darkwave, and more recently also industrial metal.

Many of L'âme Immortelle's songs feature melancholy or lovelorn lyrics in German or English, and juxtaposed harsh male and emotional female vocals. Current work has moved away from the band's electronic roots into the neue deutsche härte (New German hardness) genre.
L'âme Immortelle was formed in 1996 in Vienna, Austria by friends Thomas Rainer and Hannes Medwenitsch. Soon vocalist Sonja Kraushofer, a former classmate of Rainer, joined and the band sought a record contract. They released their first album, "Lieder die wie Wunden bluten" in 1997 on MOS Records in Lichtenstein, which became popular in the underground German Goth subculture. In 1999, L'âme Immortelle switched to Trisol Records. From 1998 through 2001, L'âme Immortelle released another LP yearly, each bringing the band greater popularity. In 2002, Medwenitsch left the band. Kraushofer and Rainer recruited Ashley Dayour as a guitarist and the re-formed L'âme Immortelle released a new single, "Tiefster Winter" in November 2002. In 2003, L'âme Immortelle released "Als die Liebe starb", as well as "Seelensturm", a collection of re-issued and re-mixed early material.

In 2004, the band switched labels again, this time to major label Supersonic, a subsidiary of Sony BMG Music Entertainment. The first issue following the switch was a collaboration with OOMPH! on the non-album single "Brennende Liebe" (released as OOMPH! feat. L'âme Immortelle); they also appeared in the video. Following that, L'âme Immortelle released a new album, "Gezeiten", which includes some of their most popular songs like "5 Jahre", "Stumme Schreie" and "Fallen Angel". A significant change in L'âme Immortelle's style is evident now that the band is on a major label; notably the electronic instrumentation of earlier work was less prominent in "Gezeiten".

Their latest album "Auf deinen Schwingen" has been released on August 2006 along with "Phönix" single. The record also includes songs like "Wohin" which contains text from another famous LAI song called "Aus den Ruinen", and "Nur Du" — a song which totally differs from older L'âme Immortelle work. The music video for this song is a cartoon, an unusual thing for the band.

official site
Genre not found
Artist not found
Album not found
Search results not found
Song not found