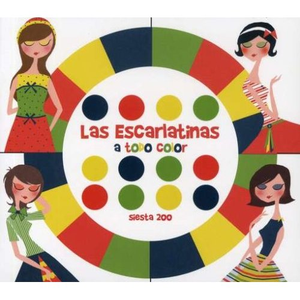 The band favours pretty straightforward and simple melodies. The sound is clear and pristine, a virtue that most bands could learn from. The playing is somehow amateurish, but makes no effort to hide this and that is absolutely most charming.
Genre not found
Artist not found
Album not found
Search results not found
Song not found
We have lyrics for 'Red Bar' by these artists:



Pearl Jam We're all crazy. We're all crazy at war. We're all crazy.…



We have lyrics for these tracks by Las Escarlatinas:



A Todo Color A Todo Color - Las Escarlatinas Rojo como el cielo Rojo,…
Buscando el Relax Todo el tiempo Deseando escapar A tu lado Lejos de la ciudad…
Dormir o morir No sé sentir sólo dormir en los laureles vivo allí ayer dude…
La sonrisa del chico de deportes Todos los dias escapo del trabajo ando deprisa, solo para ve…
Lloraré Queen Hot Space Las Palabras De Amor (The Words Of Love) (…
Mi buhardilla six Suelo dormir en mi buhardilla six rodeada del color de otra…
Seguiré Sombras en la pared tiempo para recordar lo que me trajo aqu…
Submarinos en 3-D Submarinos en 3d Siluetas de cartón Dibujos trapecistas Bici…

The lyrics can frequently be found in the comments below, by filtering for lyric videos or browsing the comments in the different videos below.