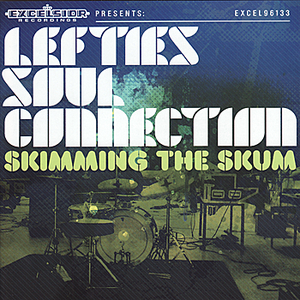 For more than ten years Lefties Soul Connection is one of Europe's most well-known garage funk & soul band. Based in Amsterdam (the Netherlands), they played all over Europe and released 3 albums: Hutspot (2006, Excelsior/MPM), Skimming the Skum (2007, Excelsior/MPM) and One Punch Pete (2011 Top Notch/Universal). They also released several - now collectable - vinyl singles.

The 'One Punch Pete' album features 3 guest vocalists:
Michelle David, a gospel/soul singer originally from New York;
Read Full Bio
For more than ten years Lefties Soul Connection is one of Europe's most well-known garage funk & soul band. Based in Amsterdam (the Netherlands), they played all over Europe and released 3 albums: Hutspot (2006, Excelsior/MPM), Skimming the Skum (2007, Excelsior/MPM) and One Punch Pete (2011 Top Notch/Universal). They also released several - now collectable - vinyl singles.

The 'One Punch Pete' album features 3 guest vocalists:
Michelle David, a gospel/soul singer originally from New York;
Flo Mega, a multi-talented singer from Germany and
Corrina Greyson, a blues singer from London.
Of course the album also features the rough instrumentals the band is well-known for. On tour in 2012 Lefties will be joined by singer Michelle David and the band will present a complete new show.

The Lefties Soul Connection line-up:
Hammond organ/percussion - Alviz
Guitar/vocals/percussion - Onno Smit
Bass/percussion - Pieter Bakker
Drums - Cody Vogel

At live shows and recording sessions the Lefties are regularly accompanied by Paul Willemsen(guitar/percussion).
Genre not found
Artist not found
Album not found
Search results not found
Song not found
We have lyrics for 'Loose Change' by these artists:



Alanna Matty And if you ever felt the same, well Would you be…
Andrew Peterson I'd give you all of me to know what you…
Athlete Got a pocket full of loose change And a ticket for…
Bruce Springsteen Met her at a friendly little bar down along the…
Gabe Piolo I feel so weightless throwing aimless punches waiting for th…
Hotel Well lately, I don't care about anything. I don't need asset…
Ja Rule loose change" by ja ja-rule talkin'/yellin': these fagg…
Lex Zaleta Two hours of my day stuck in a traffic jam; Get…
Neil Young I built a house of cards Built a house of rain Built…
Neil Young & Crazy Horse I built a house of cards Built a house of rain Built…
Royal Blood Loose change Another penny in my pocket again No shame Anoth…
Straight Lines Pull yourself together that's what he said As I'm falling ap…
The Alchemist (back for my people) Uh Yo, yo, yeah Uh, uh, yeah, yeah You…
The Animals I'm hanging out with the boys Having fun and making noise …
The Disco Biscuits Money Is the root of all evil Money Makes you feel unbeli…
The Morning Benders Be my mirror; show me what I can change Don't go,…
Wishbone Ash Money can't buy it the love I have to give. You can't…

The lyrics can frequently be found in the comments below or by filtering for lyric videos.