Afro, Afro mama oh oh
mtoto wa Sagana eeh mama
salamu zangu nakutumia popote ulipo uzipokee
nisalimie ndugu na wazazi wako mama eeh
popote walipo, Afro
mimi sijambo lakini mawazo tele moyoni
nina wasiwasi, mmh
nikikumbuka tulivyowachana mara ya mwisho
uliniahidi, Afro
tungeonana mapema siku zinapita bibi eeh
mbona sikuoni, mama
Afro mama, eeh yao
mtoto wa Sagana, eeh eeh
kaa ukumbuke, eeh
penzi hugeuka, eeh
leo kwangu kesho kwako, mama eeh
utanikumbuka, eeh
Afro,
mtoto wa Sagana
nisalimie ndugu na wazazi wako mama eeh
popote walipo, Afro
mimi sijambo lakini mawazo tele moyoni
nina wasiwasi, mmh
nikikumbuka tulivyowachana mara ya mwisho
uliniahidi, Afro
tungeonana mapema siku zinapita bibi eeh
mbona sikuoni, mama
Afro mama, eeh yao
mtoto wa Sagana, eeh eeh
kaa ukumbuke, eeh
penzi hugeuka, eeh
leo kwangu kesho kwako, mama eeh
utanikumbuka eeh, yao
Afro wa Kirinyaga, Sagana eeh, eeh
usiniweke pembeni mama, aah
ingawa wako wengi wazuri, mami
lakini nimekuchagua wewe, eeh
tabia zako sawa na sura yako,
nimeridhika kuwa na wewe, eeh
Sagana unipeleke mama, ooh
nikawaone wazazi wako mama
na TZ pia tufike mami
ukawaone baba na mama, eeh
mengine mengi sisemi mama, aah
uamuzi nakuwachia wewe, eeh
mwisho nakuombea salama, Afro
mpaka siku tutapoonana, mami
oh, Magara
Nicholas Magara
mtoto wa Kisii
Afro
I love you mama
hatima basi
Contributed by Xavier T. Suggest a correction in the comments below.
To comment on specific lyrics,
highlight them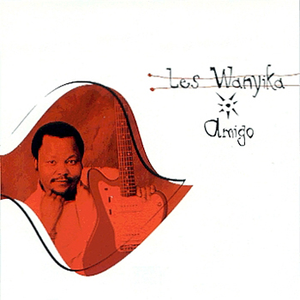 Les Wanyika was a prominent band with Kenyan and Tanzanian members and was based in Kenya. It was formed in 1978 when guitarist Omar Shabani, bassist Tom Malanga and two other members left Simba Wanyika. They were joined by John Ngereza and Issa Juma. Les Wanyika made many popular recordings, but are best remembered for their 1979 classic Sina Makosa and Paulina. Vocalist Issa Juma left the band soon afterwards to concentrate on other musical projects. The group continued until Omar Shabani's death in 1998. John Ngereza died two years later.
Read Full Bio
Les Wanyika was a prominent band with Kenyan and Tanzanian members and was based in Kenya. It was formed in 1978 when guitarist Omar Shabani, bassist Tom Malanga and two other members left Simba Wanyika. They were joined by John Ngereza and Issa Juma. Les Wanyika made many popular recordings, but are best remembered for their 1979 classic Sina Makosa and Paulina. Vocalist Issa Juma left the band soon afterwards to concentrate on other musical projects. The group continued until Omar Shabani's death in 1998. John Ngereza died two years later.

In 1971, two brothers from the coastal region of Tanga, Tanzania, Wilson and George Kinyonga formed a band they would call Simba Wanyika, a Swahili for Savannah Lions. Due to unsteady economic conditions in [Tanzania] in the 70s which strained the music industry, most of the artists of that time migrated to Kenya and other neighbouring countries in search of greener environments. It's no wonder that some of these artists became citizens of those countries. During that time, travelling between the two countries was made easy by the East African community, a tripartite agreement of understanding among Kenya, Uganda and Tanzania. After the collapse of the community in 1977, border crossings were made difficult, hence the eventual establishment of permanent base in Kenya by the group. With its development and growth, the band created several offshoots, but most notable was/is Les Wanyika. It's one thing for an artist to migrate in search of career betterment and quite another when a country falsely claims ownership of certain artists who belongs to another country for the sole purpose of looking good and seeking prominence. The so can be said of the song Malaika which originated in Tanzania, cartoonist Geofrey "Gado" Mwampembwa who is a Tanzanian working for the Nation Newspaper in Kenya and the overall location of the mount Kilimanjaro. The Kenyans have been very good on this profession. With Les Wanyika, new members of the group included both Tanzanians and Kenyans. The famous John Ngereza, Issa Juma and Omar Shabani were all from Tanzania, and one Tom Malanga was from Kenya. This band established a permanent base in Nairobi, playing in nightclubs and on various resorts. Most of the group members have either died or fallen victims of age toll.

In 2006, the group was reformed with a new line up
Genre not found
Artist not found
Album not found
Search results not found
Song not found