Download Amigo 320kbps mp3
Tabia zako zimeshakupasae
Mke na watoto wamekimbia
Tulikukanya chunga heshima yako,
Mke na watoto wako nyumbani,
Ndio hazina ya maisha yako... Amigo, Amigo
Wakati tunakupa ushauri we,
Uliona sisi watu fitina,
Twaingilia mambo yako ya ndani,
Na kwamba tukuache kama ulivyo,
Sababu wewe bingwa wa maisha... Amigo, Amigo
Thamani ya mke ni mavazi,
kula vizuri kulala vizuri
ndio siri ya kudumisha ndoa
mtaishi kwa raha amigo
watoto wako wapeleke shule,
kwa manufaa yao ya baadaye,
Elimu ndio zawadi muhimu
Kwa watoto wako, Amigo
Badala yake mabo yote hayo,
kwa mkeo imekuwa ni ndoto
Maisha yake ya kubahatisha
Na kazi unfanya, Amigo
Amechoka mwisho kakimbia
umebaki kulaumu wenzio
Lawama zako hazina msingi, bembeleza mkeo akurudie!
Majirani na rafiki tulishakukanya sana Amigo,
Heshimu mke na watoto wako,
Heshimu baba na mama nyumbani,
Na wakwe zako uwape heshima,
Shemeji zako pia waheshimu,
Tukawa sisi wabaya kwako,
Shauri wetu hauna maana,
Tukwache kama ulivyo Amigo,
Sababu wewe ni bingwa wa maisha
Mahari umeshalipa Amigo,
Mkeo huna habari naye,
Na leo yamekufika mambo,
Ubingwa wako na mke amekukimbia Eh! ×4
Contributed by Violet S. Suggest a correction in the comments below.
To comment on specific lyrics,
highlight them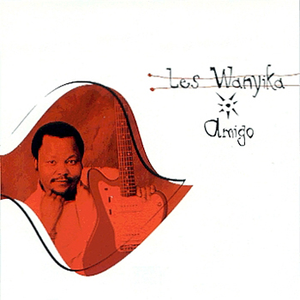 Les Wanyika was a prominent band with Kenyan and Tanzanian members and was based in Kenya. It was formed in 1978 when guitarist Omar Shabani, bassist Tom Malanga and two other members left Simba Wanyika. They were joined by John Ngereza and Issa Juma. Les Wanyika made many popular recordings, but are best remembered for their 1979 classic Sina Makosa and Paulina. Vocalist Issa Juma left the band soon afterwards to concentrate on other musical projects. The group continued until Omar Shabani's death in 1998. John Ngereza died two years later.
Read Full Bio
Les Wanyika was a prominent band with Kenyan and Tanzanian members and was based in Kenya. It was formed in 1978 when guitarist Omar Shabani, bassist Tom Malanga and two other members left Simba Wanyika. They were joined by John Ngereza and Issa Juma. Les Wanyika made many popular recordings, but are best remembered for their 1979 classic Sina Makosa and Paulina. Vocalist Issa Juma left the band soon afterwards to concentrate on other musical projects. The group continued until Omar Shabani's death in 1998. John Ngereza died two years later.

In 1971, two brothers from the coastal region of Tanga, Tanzania, Wilson and George Kinyonga formed a band they would call Simba Wanyika, a Swahili for Savannah Lions. Due to unsteady economic conditions in [Tanzania] in the 70s which strained the music industry, most of the artists of that time migrated to Kenya and other neighbouring countries in search of greener environments. It's no wonder that some of these artists became citizens of those countries. During that time, travelling between the two countries was made easy by the East African community, a tripartite agreement of understanding among Kenya, Uganda and Tanzania. After the collapse of the community in 1977, border crossings were made difficult, hence the eventual establishment of permanent base in Kenya by the group. With its development and growth, the band created several offshoots, but most notable was/is Les Wanyika. It's one thing for an artist to migrate in search of career betterment and quite another when a country falsely claims ownership of certain artists who belongs to another country for the sole purpose of looking good and seeking prominence. The so can be said of the song Malaika which originated in Tanzania, cartoonist Geofrey "Gado" Mwampembwa who is a Tanzanian working for the Nation Newspaper in Kenya and the overall location of the mount Kilimanjaro. The Kenyans have been very good on this profession. With Les Wanyika, new members of the group included both Tanzanians and Kenyans. The famous John Ngereza, Issa Juma and Omar Shabani were all from Tanzania, and one Tom Malanga was from Kenya. This band established a permanent base in Nairobi, playing in nightclubs and on various resorts. Most of the group members have either died or fallen victims of age toll.

In 2006, the group was reformed with a new line up
Genre not found
Artist not found
Album not found
Search results not found
Song not found