No matter what pain this brings,
Just don't say shit and pack your things.
And without shame or warning
We'll be somewhere else tomorrow morning.
Grip the bottle that warms our veins
'Til the storm subsides to clearer skies.
There's no prayer in the message I send,
Sometimes the only way out is just another dead end.
There will be obstacles,
This world has fangs and claws.
Consider yourself a lucky one if you truly know who the fuck you are.
Old loves that broke your heart,
New tongues that were no fun.
We are the grotesque runaways, embracing what you've abandoned.
Advocates for desperate
And graceful faces
Welcome change looks all the same
In a different location
Memories down the drain
I forget them gradually.
They vanished just like I did.
Derailed, no path for me
So take your sentiments
The evidence that you present
Tells me I've got it wrong
But it's you that makes no fucking sense.
Fuck you, we will elude
Can't capture us
Don't be confused.
From the mortals I'm removed.
Found vultures walking in my shoes.
FUCK YOU WE WILL ELUDE
Contributed by Jason T. Suggest a correction in the comments below.
To comment on specific lyrics,
highlight them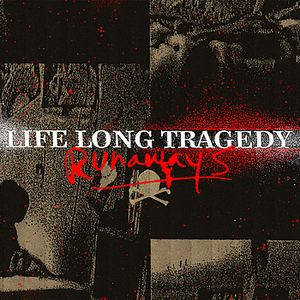 Life Long Tragedy was a melodic hardcore from San Francisco, CA, USA. Their approach was both musically melodic and brutal, fusing the heart of their influences (Unbroken, Modern Life is War) and the rage of present day life. All of it uniquely driven by their own passionate lyrical writings.

Formed in the winter 2001, Life Long Tragedy have taken a life altering course. This was their first band, formed when founding members vocalist Scott Phillips, guitarist RJ Phillips, and drummer Jason Woolery were only 14 to 16 years old.
Read Full Bio
Life Long Tragedy was a melodic hardcore from San Francisco, CA, USA. Their approach was both musically melodic and brutal, fusing the heart of their influences (Unbroken, Modern Life is War) and the rage of present day life. All of it uniquely driven by their own passionate lyrical writings.

Formed in the winter 2001, Life Long Tragedy have taken a life altering course. This was their first band, formed when founding members vocalist Scott Phillips, guitarist RJ Phillips, and drummer Jason Woolery were only 14 to 16 years old. Less than six months later guitarist Jery Gallegos and bassist Cody Sullivan rounded out the lineup which has since been unchanged In 2005, Life Long Tragedy released their debut, "Destined for Anything" on This Blessing This Curse. Soon after, the band toured the U.S. and Europe before finding a home on Deathwish.

In late 2006, Life Long Tragedy teamed up with Los Angeles based Final Fight for a split 7"EP release on Deathwish. The effort was well received, quickly selling out in physical copies, then later becoming one of the top downloaded releases on downloadpunk.com.

Over a year in the making, "Runaways" captured the raw beauty that weeps from the core of Life Long Tragedy. Songs like "The Bottomless Hole" and "Hey Death" showcased their bold growth, finding confidence at slower tempos and in more open song writing than their contemporaries. While "Youth" and "Ignoring Lessons" raced forth with the rabid rebellious energy that Life Long Tragedy have been previously been known for. All of this was complimented by some of the most heart wrenching lyrics and crude melodies in recent memory. All together, these qualities made "Runaways" an infectious effort that will be championed my many for years to come.

Life Long Tragedy called it a day in 2008.

Scott Phillips - vocals
RJ Phillips - guitar
Jery Gallegos - guiar
Cody Sullivan - bass
Jason Woolery - drums

http://myspace.com/lifelongtragedy
Genre not found
Artist not found
Album not found
Search results not found
Song not found