Thank you, Mr. cowboy boots
For making a fool of me
Now I know not to trust
Every sweet talking boy
In a pair of tight blue jeans
And thank you, Mr. baseball cap
For standing me up
You left me at the party all alone
And that's where I met
Mr. pickup truck
How long did you think that I'd stay lonely or what
Guess you didn't know me
I'm good at getting over goodbye
Good thing
I ain't stuck with you forever
By the way, hey, by the way
Hey, guess who's going out tonight
By the way, hey, by the way
Guess who's going out tonight
Sorry, if you just tuned in
And you're looking for a second chance
Miss you, well I didn't have time
I was busy making other plans
They say yeah, but then love is for a reason
Kinda like you leavin'
Leaving me here, where I am
Getting on with my life
How long did you think that I'd stay lonely or what
Guess you didn't know me
I'm good at getting over goodbye
Good thing
I ain't stuck with you forever
By the way, hey, by the way
Hey, guess who's going out tonight
By the way, hey, by the way
Guess who's going out tonight
I want you to know my heart
Ain't broke like before
(Hey-oh)
Yeah, I don't miss you anymore
(Hey-oh)
And just in case you're wondering I've been doing alright
And hey, by the way, by the way
Guess who's going out tonight
By the way, hey, by the way
Guess who's going out tonight
(How long)
How long did you think that I'd stay lonely or what
Guess you didn't know me
I'm good at getting over goodbye
Good thing
I ain't stuck with you forever
By the way, hey, by the way
Hey, guess who's going out tonight
By the way, hey, by the way
Guess who's going out tonight
(That's right)
(That's right) I'm going out tonight
That's right, I am [?] going out tonight
That's right
Lyrics © Warner Chappell Music, Inc., Universal Music Publishing Group, Sony/ATV Music Publishing LLC, BMG Rights Management, CYPMP
Written by: LINDSAY ELL, LUKE LAIRD, BARRY DEAN

Lyrics Licensed & Provided by LyricFind
To comment on specific lyrics,
highlight them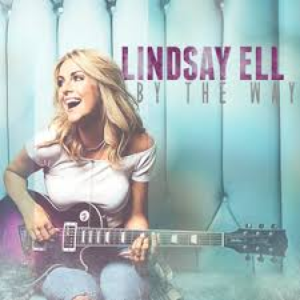 "My dad will tell you that when I was little, the car radio had to be on the country station," Lindsay Ell explains. "If my older brother touched the dial, I would beg him to turn it back. It got to the point that if they were listening to something else, all I had to do was get in the car and they'd automatically flip over to country."

Coming from a family with deep musical roots, the Stoney Creek Records' artist started playing piano and guitar at a very early age.
Read Full Bio
"My dad will tell you that when I was little, the car radio had to be on the country station," Lindsay Ell explains. "If my older brother touched the dial, I would beg him to turn it back. It got to the point that if they were listening to something else, all I had to do was get in the car and they'd automatically flip over to country."

Coming from a family with deep musical roots, the Stoney Creek Records' artist started playing piano and guitar at a very early age. "I learned how to play guitar traveling to country-bluegrass camps with my dad, and knew right from the beginning of my strong passion for country music."

The 24-year-old Calgary native was discovered at 13 by BTO and The Guess Who's Randy Bachman ("American Woman," "Takin' Care Of Business"). "Randy learned guitar from master jazz guitarist Lenny Breau, so I dove head-first into this world of blues, jazz and rock guitar – learning all these different solos, switching radio stations and trying to get an idea of where all those techniques come from. I was listening to Hendrix, Stevie Ray Vaughan, Clapton, Derek Trucks and all those incredible guitar players."

Lindsay's passion and study has served her well, leading to several unique opportunities, including an opening slot with blues icon Buddy Guy; however, her first songwriting trip to Nashville was the catalyst that brought her early affinity for country full-circle. "When I got here, it was like I was home," she says. "I didn't need to put on a facade of who I was or wasn't. And I finally fell back into my roots. Coming to Nashville brought me to who I am and who I'm meant to be."

This year, Lindsay embarks upon one of her most exciting opportunities to-date: an opening slot on The Band Perry's We Are Pioneers World Tour encompassing 50 dates throughout Europe and North America. The North American leg of the tour kicks off February 6th in Independence, MO.

Because it is rare, she knows her six-string prowess is not the only focal point, but an accent to her vision as an artist. "There aren't a lot of girls who play electric lead guitar, and it can be a defining thing," she says. First and foremost, I want people to hear me and understand my voice as a country music recording artist. When they come see me, I'd love it if they were impressed at my guitar and piano playing. But by that point, hopefully they understand the artist behind it all has a lot of different sides to her music."

To get to that point, she knows radio will be key – and she can't wait. "Going out on a radio tour and having the chance to share my music and show people how ready I am is the most exciting step I've made yet."

Having spent a decade learning about the music industry from the front of a stage, Lindsay Ell is more than ready for that step – however big or small. "Playing live, honing my craft and developing as performer before taking my first serious try at being a recording artist and getting radio airplay gives me a foundation a lot of artists just don't get. I've had the cords fail, the monitors shut down and mics die. I've seen all kinds of crowds ... and no crowd at all. I feel ready as a singer and a musician. I have confidence as a performer. I've been writing for years and, since moving to Nashville, have found how best to communicate who I am. I'm comfortable in a conference room with six people or onstage opening for Keith Urban in front of thousands. It's really not that different. Both are exciting and a little humbling. Either way, I'm ready to go."

-30-
Genre not found
Artist not found
Album not found
Search results not found
Song not found