When you drop it low, and shake it, girl you are da bomb (switch it up, switch it up)
Them other youth me say them definitely wrong
So tell me, baby, that I still your number one
'Cause Sean-da-Paul him a the man fi get it done (let's go)
I call my, girl (hey)
'Cause I got a problem (what?)
Only a curl (mhmm)
Is gonna solve it
Then I don't really care
Just get him out of my hair, yeah
Let's switch it up
Get it off my shoulder
I've had enough
Can't take it no longer
I'm over him, I swear
I'm like yeah
Gotta get him out my hair
Gotta get him out my hair
Gotta get him out my hair
Gotta get him out my hair
'Cause he was just a dick and I knew it
Got me going mad sitting in this chair
Like I don't care
Gotta get him out my hair
I tried everything but it's useless
He pushed me so far, now I'm on the edge
Make him disappear
Go get him out my hair
(Okay) Gonna bleach him out, peroxide on him
Hair on the floor like a memory of him
Now I feel brand new (that's right)
This chick is over you
We're going out
Ain't got no worries
Drama now
Now it just seems so funny
Put my hands up in the air
I'm like yeah
Gotta get him out my hair
Gotta get him out my hair
Gotta get him out my hair
Gotta get him out my hair (my hair, yeah)
'Cause he was just a dick and I knew it
Got me going mad sitting in this chair (got me feeling like)
Like I don't care
Gotta get him off my hair
I tried everything but it's useless (uh, uh)
He pushed me so far now, I'm on the edge (oh, whoa)
Make him disappear
Go get him out my hair
Wha you a deal wid, girl
Lemme tell you something
You see me and you
A one thing me always a bring it back to
Switch it up, switch it up
You know you can't leave it
Yow, yow
It terrible at the beginning when we started
Good chemistry between me and you, girl, we got it
I feed you game, and just to tame you was my target
That was my aim, just to be playing with your body
Thought that forever we could continue this party
And now you telling me that your love is departed
Right, I'm just saying you gon' miss your Sugar Daddy
How you gon' get me out your hair, girl, when I bought it?
Girlfriend you need to get your phone
Erase that number
Don't call him back
'Cause he don't deserve it (oh, really?)
And when you see him in the club
Just flip your hair
Don't show him any love (really?)
'Cause you've had enough
Oh, whoa, whoa, oh
'Cause he was just a dick and I knew it (ooh, yea)
Got me going mad sitting in this chair (oh, whoa)
Like I don't care
Gotta get him off my hair
I tried everything but it's useless
He pushed me so far now I'm on the edge
Make him disappear, oh, oh
Go get him out my hair
Hair
Go get him out my hair
He's in my hair
Gonna get him out
Gonna get him out
Go get him out of my hair
(Get him out your hair, yeah, whoa)
Lyrics © BMG Rights Management, Universal Music Publishing Group, Sony/ATV Music Publishing LLC, Kobalt Music Publishing Ltd.
Written by: Camille Purcell, Sean Paul Henriques, Iain James, Edvard Forre Erfjord, Henrik Michelsen, Anita Bay

Lyrics Licensed & Provided by LyricFind
To comment on specific lyrics,
highlight them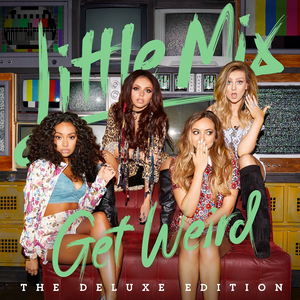 "Hair" is a song by British girl group Little Mix. The single version features guest vocals from Jamaican dancehall singer Sean Paul and was released as the fourth and final single from the group's third studio album Get Weird.
Genre not found
Artist not found
Album not found
Search results not found
Song not found