Pillar Of Davidson
Live Lyrics
Jump to: Overall Meaning | Line by Line Meaning
warm bodies I sense
are not machines that can only make money
past perfect tense
words for a feeling and all I've discovered
I'll be along son
with medicine supposed to designed to
make you high
I'll be along son
with words for a feeling and all I've discovered
old bad eyes
old bad eyes
old bad eyes
on loneliness comes
go see the foreman go see the profiteer
on loneliness drives
we're takin' our time movin' shit for
this holy slime
old, bad eyes
old, bad eyes
old, bad eyes, almighty fear
the shepherd won't leave me alone
he's in my face and I
the shepherd of my days
and I want you here by my heart
and my head, I can't start till I'm dead
Overall Meaning
The opening line of Live's Pillar Of Davidson, "warm bodies I sense are not machines that can only make money" suggests a feeling of disconnection and disillusionment with society. It seems as though the songwriter believes that people are more than just cogs in a machine that exists to make money, and that there is a deeper human connection that is being missed. The "past perfect tense" references feelings of nostalgia and longing for a time gone by, where perhaps things felt more authentic.
The chorus, "I'll be along son with medicine supposed to make you high, I'll be along son with words for a feeling and all I've discovered" suggests that the singer has found some kind of personal truth or enlightenment, and wants to share it with others. However, the use of the word "medicine" suggests that this truth may come from a place of pain or struggle, and that it is not necessarily an easy path to walk.
The song also features references to loneliness, fear, and a sense of being lost. The line "the shepherd won't leave me alone, he's in my face" could be interpreted as a nod to religion or spirituality, and the idea of a higher power watching over and guiding the singer. Ultimately, the closing lines of the song express a desire for human connection and a feeling of being lost without it - "I want you here by my heart and my head, I can't start till I'm dead."

Line by Line Meaning
warm bodies I sense
I sense the presence of living beings around me
are not machines that can only make money
They are not mere machines capable of just making money, they have emotions and other facets to them
past perfect tense
It refers to a grammatical tense that emphasizes the completion of a task or an event in the past
words for a feeling and all I've discovered
I have found words that can describe feelings and emotions
I'll be along son with medicine supposed to designed to make you high
I will come with medicine that is supposed to get you high
I'll be along son with words for a feeling and all I've discovered
I will come with words that can describe emotions and feelings
old bad eyes
It refers to someone with aged and troubled eyes
on loneliness comes go see the foreman go see the profiteer
When loneliness creeps in, go out and work or try to make money
on loneliness drives we're takin' our time movin' shit for this holy slime
Loneliness drives us to work slowly on meaningless, mundane tasks that are of little to no value
old, bad eyes, almighty fear
The speaker is afraid owing to old age, poor eyesight, and other problems
the shepherd won't leave me alone he's in my face and I the shepherd of my days
Metaphorically speaking, the speaker is being followed by a shepherd who represents death or fear thereof, and the speaker is the shepherd of their remaining days on this earth
and I want you here by my heart and my head, I can't start till I'm dead
The speaker wants the person they love to be close to them both physically and mentally, but can't start living fully until they're dead
Lyrics © Universal Music Publishing Group
Written by: CHAD ALAN GRACEY, CHAD DAVID TAYLOR, EDWARD JOEL KOWALCZYK, PATRICK DAHLHEIMER

Lyrics Licensed & Provided by LyricFind
To comment on or correct specific content,
highlight it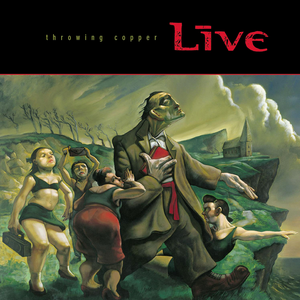 "Pillar Of Davidson" is a song by alternative rock group Live, from their 1994 album, Throwing Copper.

A song about the Harley plant workers bustin' their humps for the man for a measly $5 and a half bucks an hour.

Lead singer Ed Kowalczyk introduced "Pillar of Davidson" during concerts as: "It's a song that that you can sing, and maybe feel a little bit less lonely."
Genre not found
Artist not found
Album not found
Search results not found
Song not found