The night was clear
And the moon was yellow
And the leaves came tumbling down
I was standing on the corner
When I heard my bulldog bark
He was barkin' at the two men who were gamblin'
In the dark
It was Stagger Lee and Billy
Two men who gambled late
Stagger Lee threw seven
Billy swore that he threw eight
Stagger Lee (oh Stagger Lee) told Billy, (oh Stagger Lee)
I can't (oh Stagger Lee) let you go with that (oh Stagger Lee)
You have won all (oh Stagger Lee) my money and my brand new (oh Stagger Lee)
(oh Stagger Lee) Stetson hat (oh Stagger Lee) (oh Stagger Lee) (oh Stagger Lee)
Stagger Lee (oh Stagger Lee) went home (oh Stagger Lee)
And he got his forty-four (oh Stagger Lee) (oh Stagger Lee)
Said, I'm goin' to (oh Stagger Lee) the barroom just to pay that (oh Stagger Lee)
Debt I owe (oh Stagger Lee)
Stagger Lee went to the barroom
And he stood across the barroom door
He said, nobody move and he pulled his
Forty-four, Ooh
Stagger Lee, (oh Stagger Lee) cried Billy (oh Stagger Lee)
Oh, please (oh Stagger Lee) don't take my life (oh Stagger Lee)
I've got three little (oh Stagger Lee) children and a very (oh Stagger Lee)
Sickly wife (oh Stagger Lee) (oh Stagger Lee)
Stagger Lee (oh Stagger Lee) shot Billy (oh Stagger Lee)
Oh, he shot (oh Stagger Lee) that poor boy so bad (oh Stagger Lee)
'Till the bullet (oh Stagger Lee) came through Billy (oh Stagger Lee)and it broke the bar (oh Stagger Lee) (oh Stagger Lee)
Tender's glass (oh Stagger Lee) (oh Stagger Lee) (oh Stagger Lee) (oh Stagger Lee) (oh Stagger Lee) (oh Stagger Lee) (oh Stagger Lee) (oh Stagger Lee) (oh Stagger Lee) (oh Stagger Lee) (oh Stagger Lee)
Lyrics © BMG Rights Management, Universal Music Publishing Group, Sony/ATV Music Publishing LLC, Downtown Music Publishing
Written by: HAROLD LOGAN, LLOYD PRICE

Lyrics Licensed & Provided by LyricFind
To comment on specific lyrics,
highlight them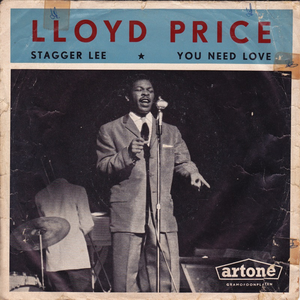 Stagger Lee is a story based partly on truth and partly on legend. The murder took place in the 1800's, and the first music recording about the subject was done by Frank Hutchenson back in 1927.

The most well know versions of this song are Mississippi John Hurt's 1928, and this version, by Lloyd Price. Lloyd's version was an updated R&B version for the 1950s.

Released in 1959, parts of this song are used in the 1967 track Wrong'em Boyo by The Rulers, as well as 1979 cover Wrong 'em Boyo by The Clash.
Read Full Bio
Stagger Lee is a story based partly on truth and partly on legend. The murder took place in the 1800's, and the first music recording about the subject was done by Frank Hutchenson back in 1927.

The most well know versions of this song are Mississippi John Hurt's 1928, and this version, by Lloyd Price. Lloyd's version was an updated R&B version for the 1950s.

Released in 1959, parts of this song are used in the 1967 track Wrong'em Boyo by The Rulers, as well as 1979 cover Wrong 'em Boyo by The Clash.

Stagger Lee has been covered by hundreds of artists in a variety of ways from 1927 to today. Versions can be found by Nick Cave and The Bad Seeds, Huey Lewis and the News, Grateful Dead, Taj Mahal and many others. Many artists cover the original Frank Hutchensen version, others cover Lloyd Price's version, and others still create entirely new versions of the song.

-
Genre not found
Artist not found
Album not found
Search results not found
Song not found