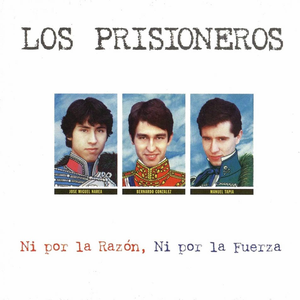 De La Cultura De La Basura
Los Prisioneros was a Chilean rock band formed in San Miguel, Santiago, Chile in…
Read Full Bio ↴
Los Prisioneros was a Chilean rock band formed in San Miguel, Santiago, Chile in 1982 by Jorge González (bass & vocals), Claudio Narea (guitar) and Miguel Tapia (drums). They began as a local band during the early 1980s, playing small shows in their neighborhood and high school. After selling a limited press number of their first album in Chile under the independent Fusión producciones label, they signed to EMI in 1985, re-releasing the same album on an LP record and Cassette. From that point on they reached mainstream success in Chile, then Peru, Ecuador and Colombia. Eventually in the early 90's their albums were re-released completely in remastered Compact Disc form, this is when Chile was no longer run by a military regime which oppressed their music in the late 1980s. Throughout the 1990s their music spread out, reaching all of South and Central America as well as some parts of the U.S., Canada and Europe.

The band started when Jorge González and Miguel Tapia decided to start their own band while being high school students. They were inexperienced but enthusiastic, after many practices and writing songs, they asked Claudio Narea if he would like to join them, and impressed by the music they were making, he accepted. Towards the early 80's they went through some name changes and before settling on "Los Prisioneros" they had the name "Los Vinchukas" as their original name. In 1983, they had played a number of local shows and that's when they met Carlos Fonseca, their future manager. Through him, they managed to score a record deal with Fusión Producciones.

In 1984, the band's debut album was released, with the hit song "La Voz De Los '80" (which was never a single). They reached acclaim in the radio and by the next year they would be touring. In 1986, their long awaited second album "Pateando Piedras" went double Platinum album in Chile. By that time, the group was invited to perform at Argentina's Chateau Rock Festival and later to a similar event in Montevideo, Uruguay. They continued touring and they became more successful mainstream wise.

The band disbanded in 1992, then as a quartet with additional members Cecilia Aguayo (keyboards) and Robert Rodríguez (guitar), since Claudio Narea had left the band earlier in 1990.

The original lineup of the band decided to get back together in 2001, offering two massive concerts in the National Stadium of Santiago, and then releasing "Los Prisioneros", their first original studio album in 13 years. However, internal problems between González and Narea led again to the departure of the guitarist in 2001. Los Prisioneros continued working as a duet with guest members like Álvaro Henríquez whom with they released a cover album. In 2004 two additional musicians joined the band: Sergio "Coty" Badilla and Gonzalo Yáñez, releasing their sixth album Manzana the same year. A little while after the release of the album band members decided to establish themselves in Mexico, attempting to get more international exposure. Yáñez decided not to leave Chile and left the band. After touring through several locations in North and South America, they finally disbanded in 2006.
De La Cultura De La Basura
Los Prisioneros Lyrics
Jump to: Overall Meaning ↴ Interesting Facts ↴ Line by Line Meaning ↴
Escuchando radio
Vamos al estadio
Nos gusta Julio Iglesias
Y el rockabilly
Tenemos la cultura de la basura
Tenemos la cabeza dura
Comemos pan con pan
Leemos historietas
La tele nos da sueño
Pero de noche
Conservo un afiche de raphael
Y me peino como él
Tengo un casete de Luis Miguel
Y colecciono servilletas de papel
De la cultura de la basura
De la cultura de la basura
Vamos al estadio
Escuchando radio
Nos carga Julio Iglesias
Y el jabón Lux
Odiamos a los jefes de nuestra fábrica
Copiamos a los jefes de nuestra fábrica
Cenamos con los jefes de nuestra fábrica
Marchamos con los jefes de nuestra fábrica
De la cultura de la basura
De la cultura de la basura
Overall Meaning
The lyrics of Los Prisioneros's song "De La Cultura De La Basura" depict a society that is consumed by materialism, conformity, and a lack of critical thinking. The song begins with the notion that people listen to the radio, attend sporting events, and enjoy the music of Julio Iglesias and rockabilly. As the song progresses, the lyrics illustrate a culture fixated upon trivial, meaningless pursuits, such as reading comics, watching television, and collecting paper napkins. In this sense, the song critiques a society that has abandoned intellectual pursuits and replaced them with superficial ones.
The refrain, "De la cultura de la basura" (Of the culture of trash), encapsulates this overarching theme. The song suggests that this society is not only lacking in substance but has also become complicit in the perpetuation of a disposable culture. Individuals copy their bosses, march with them, dine with them, and hate them while holding onto meaningless possessions. The lyrics imply that the society has become so accustomed to pointless activities and materialism that it has lost sight of what is essential. Thus, this song is a potent commentary on the cultural decay and the mentally poisonous effect of social conformity.
Interesting facts about the song:
Interesting Facts
Note: This section uses generative AI, which can be inaccurate.


Line by Line Meaning
Escuchando radio
We listen to the radio
Vamos al estadio
We go to the stadium
Nos gusta Julio Iglesias
We like Julio Iglesias
Y el rockabilly
And rockabilly
Tenemos la cultura de la basura
We have the culture of trash
Tenemos la cabeza dura
We have hard heads
Comemos pan con pan
We eat bread with bread
Leemos historietas
We read comics
La tele nos da sueño
TV makes us sleepy
Pero de noche
But at night
Conservo un afiche de raphael
I keep a poster of Raphael
Y me peino como él
And I style my hair like him
Tengo un casete de Luis Miguel
I have a Luis Miguel cassette
Y colecciono servilletas de papel
And I collect paper napkins
De la cultura de la basura
Of the culture of trash
Vamos al estadio
We go to the stadium
Escuchando radio
Listening to the radio
Nos carga Julio Iglesias
We can't stand Julio Iglesias
Y el jabón Lux
And Lux soap
Odiamos a los jefes de nuestra fábrica
We hate our factory bosses
Copiamos a los jefes de nuestra fábrica
We copy our factory bosses
Cenamos con los jefes de nuestra fábrica
We have dinner with our factory bosses
Marchamos con los jefes de nuestra fábrica
We march with our factory bosses
De la cultura de la basura
Of the culture of trash
Lyrics © SADAIC LATIN COPYRIGHTS, INC.
Written by: JORGE GONZALEZ

Lyrics Licensed & Provided by LyricFind
To comment on or correct specific content,
highlight it
Genre not found
Artist not found
Album not found
Search results not found
Song not found