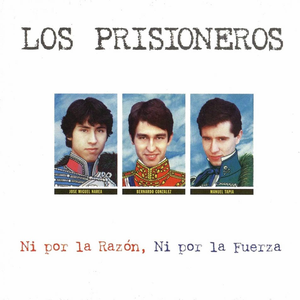 Los Prisioneros was a Chilean rock band formed in San Miguel, Santiago, Chile in…
Read Full Bio ↴
Los Prisioneros was a Chilean rock band formed in San Miguel, Santiago, Chile in 1982 by Jorge González (bass & vocals), Claudio Narea (guitar) and Miguel Tapia (drums). They began as a local band during the early 1980s, playing small shows in their neighborhood and high school. After selling a limited press number of their first album in Chile under the independent Fusión producciones label, they signed to EMI in 1985, re-releasing the same album on an LP record and Cassette. From that point on they reached mainstream success in Chile, then Peru, Ecuador and Colombia. Eventually in the early 90's their albums were re-released completely in remastered Compact Disc form, this is when Chile was no longer run by a military regime which oppressed their music in the late 1980s. Throughout the 1990s their music spread out, reaching all of South and Central America as well as some parts of the U.S., Canada and Europe.

The band started when Jorge González and Miguel Tapia decided to start their own band while being high school students. They were inexperienced but enthusiastic, after many practices and writing songs, they asked Claudio Narea if he would like to join them, and impressed by the music they were making, he accepted. Towards the early 80's they went through some name changes and before settling on "Los Prisioneros" they had the name "Los Vinchukas" as their original name. In 1983, they had played a number of local shows and that's when they met Carlos Fonseca, their future manager. Through him, they managed to score a record deal with Fusión Producciones.

In 1984, the band's debut album was released, with the hit song "La Voz De Los '80" (which was never a single). They reached acclaim in the radio and by the next year they would be touring. In 1986, their long awaited second album "Pateando Piedras" went double Platinum album in Chile. By that time, the group was invited to perform at Argentina's Chateau Rock Festival and later to a similar event in Montevideo, Uruguay. They continued touring and they became more successful mainstream wise.

The band disbanded in 1992, then as a quartet with additional members Cecilia Aguayo (keyboards) and Robert Rodríguez (guitar), since Claudio Narea had left the band earlier in 1990.

The original lineup of the band decided to get back together in 2001, offering two massive concerts in the National Stadium of Santiago, and then releasing "Los Prisioneros", their first original studio album in 13 years. However, internal problems between González and Narea led again to the departure of the guitarist in 2001. Los Prisioneros continued working as a duet with guest members like Álvaro Henríquez whom with they released a cover album. In 2004 two additional musicians joined the band: Sergio "Coty" Badilla and Gonzalo Yáñez, releasing their sixth album Manzana the same year. A little while after the release of the album band members decided to establish themselves in Mexico, attempting to get more international exposure. Yáñez decided not to leave Chile and left the band. After touring through several locations in North and South America, they finally disbanded in 2006.
Jump to: Overall Meaning ↴ Interesting Facts ↴ Line by Line Meaning ↴
EL COBARDE
(J. Gonzá¡lez)1989
Corriendo vas
Sin preguntar
Llorando lá¡grimas de verdad
Y aquá­ estoy yo
En mi rincón
Leyendo libros de revolución
Porque soy el cobarde,
Soy el cobarde, soy
Y es que soy el cobarde,
Soy el cobarde, soy.
Overall Meaning
The song "El Cobarde" by Los Prisioneros speaks of a person who is constantly running away from things without asking any questions. They are always shedding real tears and seeking comfort in hiding in a corner while reading books of revolution. The person admits to being a coward and repeats it in the chorus. This repeated self-identification as a coward may have a deeper meaning, as it highlights how some people would rather distance themselves from conflict and unjust systems instead of standing up to them.
The song may be interpreted in different ways, but it could be seen as a commentary on the oppressive political climate in Chile at the time. The lyrics could have been a way to critique those who were apathetic towards standing up for their rights and the rights of others. One could also interpret it as an individual's inner turmoil with fear and insecurity, as they struggle to find the courage to fight for what they believe in.
Interesting facts about the song "El Cobarde":
Interesting Facts
Note: This section uses generative AI, which can be inaccurate.


Line by Line Meaning
Corriendo vas
You are running away without asking questions
Sin preguntar
You are not curious enough to find out what's happening
Llorando lágrimas de verdad
You are crying genuine tears of fear and sadness
Y aquí estoy yo
And here I am
En mi rincón
In my corner
Leyendo libros de revolución
Reading books about revolution
Porque soy el cobarde,
Because I am the coward
Soy el cobarde, soy
I am the coward
Y es que soy el cobarde,
And it's because I am the coward
Soy el cobarde, soy.
That I am the coward
Contributed by Eli H. Suggest a correction in the comments below.
To comment on or correct specific content,
highlight it
Genre not found
Artist not found
Album not found
Search results not found
Song not found