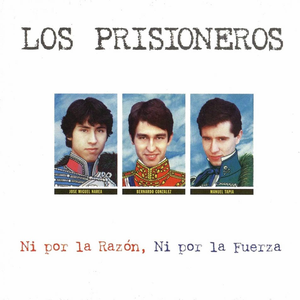 Los Prisioneros was a Chilean rock band formed in San Miguel, Santiago, Chile in…
Read Full Bio ↴
Los Prisioneros was a Chilean rock band formed in San Miguel, Santiago, Chile in 1982 by Jorge González (bass & vocals), Claudio Narea (guitar) and Miguel Tapia (drums). They began as a local band during the early 1980s, playing small shows in their neighborhood and high school. After selling a limited press number of their first album in Chile under the independent Fusión producciones label, they signed to EMI in 1985, re-releasing the same album on an LP record and Cassette. From that point on they reached mainstream success in Chile, then Peru, Ecuador and Colombia. Eventually in the early 90's their albums were re-released completely in remastered Compact Disc form, this is when Chile was no longer run by a military regime which oppressed their music in the late 1980s. Throughout the 1990s their music spread out, reaching all of South and Central America as well as some parts of the U.S., Canada and Europe.

The band started when Jorge González and Miguel Tapia decided to start their own band while being high school students. They were inexperienced but enthusiastic, after many practices and writing songs, they asked Claudio Narea if he would like to join them, and impressed by the music they were making, he accepted. Towards the early 80's they went through some name changes and before settling on "Los Prisioneros" they had the name "Los Vinchukas" as their original name. In 1983, they had played a number of local shows and that's when they met Carlos Fonseca, their future manager. Through him, they managed to score a record deal with Fusión Producciones.

In 1984, the band's debut album was released, with the hit song "La Voz De Los '80" (which was never a single). They reached acclaim in the radio and by the next year they would be touring. In 1986, their long awaited second album "Pateando Piedras" went double Platinum album in Chile. By that time, the group was invited to perform at Argentina's Chateau Rock Festival and later to a similar event in Montevideo, Uruguay. They continued touring and they became more successful mainstream wise.

The band disbanded in 1992, then as a quartet with additional members Cecilia Aguayo (keyboards) and Robert Rodríguez (guitar), since Claudio Narea had left the band earlier in 1990.

The original lineup of the band decided to get back together in 2001, offering two massive concerts in the National Stadium of Santiago, and then releasing "Los Prisioneros", their first original studio album in 13 years. However, internal problems between González and Narea led again to the departure of the guitarist in 2001. Los Prisioneros continued working as a duet with guest members like Álvaro Henríquez whom with they released a cover album. In 2004 two additional musicians joined the band: Sergio "Coty" Badilla and Gonzalo Yáñez, releasing their sixth album Manzana the same year. A little while after the release of the album band members decided to establish themselves in Mexico, attempting to get more international exposure. Yáñez decided not to leave Chile and left the band. After touring through several locations in North and South America, they finally disbanded in 2006.
Jump to: Overall Meaning ↴ Interesting Facts ↴ Line by Line Meaning ↴
Porque tienen miedo
Porque están todos ahí
Porque me hacen preguntas
Porque están en "buena onda"
Porque bailan y aúllan como gringos
Porque piden una más
Porque pasan sus lenguas por mi barro
Porque no tienen sangre en el corazón
Porque dan la lata
Porque tienen frío
Porque piden circo
Porque sufren por costumbre
Porque nos molestan y no nos dejan en paz
Porque no son dignos
Porque piden por favor
Porque todos viven pensando
Las mismas huevadas
Porque andan jugando al mono mayor
Porque piden cosas que no quieren
Y hacen de lo lindo algo imbécil
Porque creen tener derecho a algo
Que no es de cartón
Generación de mierda
Porque me molestas
Porque me haces transpirar
Porque me conversas
Porque tú crees saber quién soy
Porque dices que me quieres
Y no entiendes la mitad de lo que digo
Y luego vas y te disfrazas
Y a veces necesito creer en ti
Necesito creer en ti
Generación de mierda
Estás robando de la casa de tus viejos
Para poder comprar algunas gomas
Mientras te acuerdas que estudiaste
En el Grange School
Tienes que pagarme para poder bailar
Tienes que pagarme o te vas a la cresta
Con tus ganas de ver lo único
Que vale la pena ver
Nos aplaudes porque nos crees vanguardia
Pero cuando aplauda el pueblo te arrancarás
Y tus viejos tienen la mansión en Vitacura
Y tú vas a huevar a Matucana
Lloras la pobreza y a jugar
Al perseguido por la sociedad
Oh, no otro artista más
Se me acerca y me quiere felicitar
Dices que me quieres
Y no entiendes lo que digo ¡Hey!
Y vas y te disfrazas
Y a veces necesito creer en ti
Generación de mierda
Overall Meaning
The song Generación De Mierda by Los Prisioneros is a critique of the generation that was born and raised during the dictatorship in Chile in the 1980s. The lyrics highlight the issues and problems that this generation faced, from fear and conformity to materialism and hypocrisy. The song addresses the generation's lack of identity, their shallow desires, and their inability to think for themselves. The chorus "Generación de mierda" (translated to "generation of sh*t") emphasizes the band's anger and frustration towards the younger generation.
The verses paint a picture of a society that is conformist and lacks individuality. The line "Porque están en 'buena onda'" (translated to "because they're in a good mood") highlights the superficiality and facade of the younger generation. The line "Porque bailan y aúllan como gringos" (translated to "because they dance and howl like Americans") touches on the cultural influence that the US had on Chile during this time. The line "Porque no tienen sangre en el corazón" (translated to "because they have no blood in their hearts") references the lack of empathy and compassion that the younger generation showed towards their fellow citizens who were suffering during the dictatorship.
Interestingly, the song was banned from radio and television in Chile because of its strong political and social commentary. It was seen as a threat to the government's efforts to control the narrative and maintain order. Despite this, the song became a massive hit and is still considered an anthem for the younger generation in Chile.
Other interesting facts about the song include:
Interesting Facts
Note: This section uses generative AI, which can be inaccurate.


Line by Line Meaning
Porque tienen miedo
Because they are afraid of the unknown
Porque están todos ahí
Because they follow the crowd and lack individuality
Porque me hacen preguntas
Because they fail to understand the message and ask irrelevant questions
Porque están en 'buena onda'
Because they are superficial and pretend to care about social issues
Porque bailan y aúllan como gringos
Because they imitate foreign culture without understanding its meaning
Porque piden una más
Because they are never satisfied and always want more
Porque pasan sus lenguas por mi barro
Because they mock and disrespect the message
Porque no tienen sangre en el corazón
Because they lack empathy and compassion
Porque dan la lata
Because they are annoying and bothersome
Porque tienen frío
Because they are indifferent and apathetic
Porque piden circo
Because they seek entertainment over substance
Porque sufren por costumbre
Because they have become accustomed to suffering and do not seek change
Porque nos molestan y no nos dejan en paz
Because they harass and do not respect personal boundaries
Porque no son dignos
Because they lack self-respect and do not value their own worth
Porque piden por favor
Because they beg and have a sense of entitlement
Porque todos viven pensando Las mismas huevadas
Because they live with the same narrow-mindedness and lack originality
Porque andan jugando al mono mayor
Because they act childish and do not take responsibility for their actions
Porque piden cosas que no quieren Y hacen de lo lindo algo imbécil
Because they ask for things they do not really desire and make a spectacle of themselves
Porque creen tener derecho a algo Que no es de cartón
Because they believe they are entitled to something without putting in the effort to earn it
Generación de mierda
A generation of worthless people
Porque me molestas Porque me haces transpirar Porque me conversas Porque tú crees saber quién soy
Because they bother, irritate, and try to engage with the artist without truly understanding them
Porque dices que me quieres Y no entiendes la mitad de lo que digo
Because they claim to care for the artist, but fail to comprehend their message
Y luego vas y te disfrazas
And then you disguise yourself
Y a veces necesito creer en ti Generación de mierda
And sometimes I need to believe in you, even though you are a worthless generation
Estás robando de la casa de tus viejos Para poder comprar algunas gomas Mientras te acuerdas que estudiaste En el Grange School
You are stealing from your parents to buy drugs, while remembering your privileged education
Tienes que pagarme para poder bailar Tienes que pagarme o te vas a la cresta Con tus ganas de ver lo único Que vale la pena ver
You have to pay to dance, or else you will lose the opportunity to see what is truly worth seeing
Nos aplaudes porque nos crees vanguardia Pero cuando aplauda el pueblo te arrancarás
You applaud us because you think we are avant-garde, but you will turn away when the general public applauds
Y tus viejos tienen la mansión en Vitacura Y tú vas a huevar a Matucana
And your parents have a mansion in a wealthy neighborhood, while you hang out in a poor, seedy area
Lloras la pobreza y a jugar Al perseguido por la sociedad Oh, no otro artista más Se me acerca y me quiere felicitar
You cry about poverty but play at being persecuted by society, and artists approach me to congratulate me
Dices que me quieres Y no entiendes lo que digo ¡Hey! Y vas y te disfrazas Y a veces necesito creer en ti
You say you love me, but don't comprehend my message. Hey! And then you disguise yourself. And sometimes I need to believe in you
Lyrics © SADAIC LATIN COPYRIGHTS, INC.
Written by: JORGE GONZALEZ RIOS

Lyrics Licensed & Provided by LyricFind
To comment on or correct specific content,
highlight it
Genre not found
Artist not found
Album not found
Search results not found
Song not found