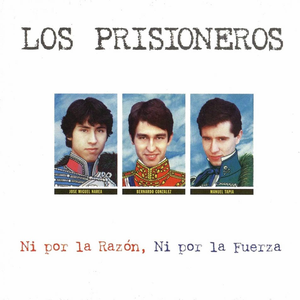 Los Prisioneros was a Chilean rock band formed in San Miguel, Santiago, Chile in…
Read Full Bio ↴
Los Prisioneros was a Chilean rock band formed in San Miguel, Santiago, Chile in 1982 by Jorge González (bass & vocals), Claudio Narea (guitar) and Miguel Tapia (drums). They began as a local band during the early 1980s, playing small shows in their neighborhood and high school. After selling a limited press number of their first album in Chile under the independent Fusión producciones label, they signed to EMI in 1985, re-releasing the same album on an LP record and Cassette. From that point on they reached mainstream success in Chile, then Peru, Ecuador and Colombia. Eventually in the early 90's their albums were re-released completely in remastered Compact Disc form, this is when Chile was no longer run by a military regime which oppressed their music in the late 1980s. Throughout the 1990s their music spread out, reaching all of South and Central America as well as some parts of the U.S., Canada and Europe.

The band started when Jorge González and Miguel Tapia decided to start their own band while being high school students. They were inexperienced but enthusiastic, after many practices and writing songs, they asked Claudio Narea if he would like to join them, and impressed by the music they were making, he accepted. Towards the early 80's they went through some name changes and before settling on "Los Prisioneros" they had the name "Los Vinchukas" as their original name. In 1983, they had played a number of local shows and that's when they met Carlos Fonseca, their future manager. Through him, they managed to score a record deal with Fusión Producciones.

In 1984, the band's debut album was released, with the hit song "La Voz De Los '80" (which was never a single). They reached acclaim in the radio and by the next year they would be touring. In 1986, their long awaited second album "Pateando Piedras" went double Platinum album in Chile. By that time, the group was invited to perform at Argentina's Chateau Rock Festival and later to a similar event in Montevideo, Uruguay. They continued touring and they became more successful mainstream wise.

The band disbanded in 1992, then as a quartet with additional members Cecilia Aguayo (keyboards) and Robert Rodríguez (guitar), since Claudio Narea had left the band earlier in 1990.

The original lineup of the band decided to get back together in 2001, offering two massive concerts in the National Stadium of Santiago, and then releasing "Los Prisioneros", their first original studio album in 13 years. However, internal problems between González and Narea led again to the departure of the guitarist in 2001. Los Prisioneros continued working as a duet with guest members like Álvaro Henríquez whom with they released a cover album. In 2004 two additional musicians joined the band: Sergio "Coty" Badilla and Gonzalo Yáñez, releasing their sixth album Manzana the same year. A little while after the release of the album band members decided to establish themselves in Mexico, attempting to get more international exposure. Yáñez decided not to leave Chile and left the band. After touring through several locations in North and South America, they finally disbanded in 2006.
Jump to: Overall Meaning ↴ Interesting Facts ↴ Line by Line Meaning ↴
El momento ha llegado de hacernos a un lado
Jugando juegos de otros nunca vamos a campeonar
Tú y yo tenemos buen gusto nada nos puede dar susto
Lo de afuera afuera, ocupemos nuestro país
Influencias, sugerencias, europeos llévense su decadencia
Advertencia, vamos a declarar
Independencia cultural
Independencia cultural
En este sitio lejano, la gente es pobre, la gente da la mano
No hay orgullos de raza, no hay colonias ni tradición
Siempre ocultando el acento no hemos sido aplaudidos ni un momento
En el colegio se enseña que cultura es cualquier cosa rara
Menos lo que hagas tú
No te disfraces, no te acomplejes
Eres precioso porque eres diferente
Grita fuerte tenemos que declarar
Independencia cultural
Independencia cultural
Ya no quiero mas Bach puagh
Porque yo siento de un modo diferente
Si la cultura es Europa, la cultura es lo caro
Pues yo quiero entenderme con la gente
No quiero ver tu pelo pintado de verde
Si la moda es Europa, si la moda es lo caro
Yo quisiera entenderme con la gente
Independencia cultural
Independencia cultural
Overall Meaning
The lyrics to Los Prisioneros's song "Independencia Cultural" express the need for cultural independence from European influences in Latin America. The song calls for individuals to step aside from playing other people's games and to embrace their own country's culture. The lyrics mention how in distant places, such as Latin America, people are poor and lack pride in their own race and traditions. The song speaks about how cultural education in schools often highlights anything foreign over one's own cultural background. The lyrics challenge individuals to embrace their differences rather than attempting to fit into European standards. The chorus repeatedly emphasizes the need for cultural independence.
Overall, this song speaks to the struggle for Latin Americans to embrace their own culture and to challenge the imposition of European cultural values. The song encourages individuality and the importance of understanding and embracing one's unique cultural identity.
Some interesting facts about the song are:
Interesting Facts
Note: This section uses generative AI, which can be inaccurate.


Line by Line Meaning
El momento ha llegado de hacernos a un lado
It's time to step aside from playing other people's games as we won't be able to win that way
Jugando juegos de otros nunca vamos a campeonar
Playing other people's games won't allow us to be successful
Tú y yo tenemos buen gusto nada nos puede dar susto
We have good taste and nothing can scare us
Lo de afuera afuera, ocupemos nuestro país
Let's keep foreign influences outside and focus on developing our own country
Influencias, sugerencias, europeos llévense su decadencia
European influences and suggestions bring their decadence and they can take it with them
Advertencia, vamos a declarar
A warning, we are going to declare
Independencia cultural
Cultural independence
En este sitio lejano, la gente es pobre, la gente da la mano
In this distant place, people are poor but they are friendly
No hay orgullos de raza, no hay colonias ni tradición
There is no pride in race, no colonies or tradition
Siempre ocultando el acento no hemos sido aplaudidos ni un momento
We have never been applauded because we have always hidden our accents
En el colegio se enseña que cultura es cualquier cosa rara
In school, culture is taught as anything strange
Menos lo que hagas tú
Except for what you create
No te disfraces, no te acomplejes
Don't disguise yourself, don't be shy
Eres precioso porque eres diferente
You are precious because you are different
Grita fuerte tenemos que declarar
Shout loud as we have to declare
Ya no quiero mas Bach puagh
I don't want to hear Bach anymore
Porque yo siento de un modo diferente
Because I feel in a different way
Si la cultura es Europa, la cultura es lo caro
If culture is Europe, then culture is expensive
Pues yo quiero entenderme con la gente
But I want to communicate with people
No quiero ver tu pelo pintado de verde
I don't want to see your hair painted in green
Si la moda es Europa, si la moda es lo caro
If fashion is Europe, then fashion is expensive
Yo quisiera entenderme con la gente
I want to understand people
Lyrics © SADAIC LATIN COPYRIGHTS, INC.
Written by: JORGE HUMBERTO GONZALEZ RIOS

Lyrics Licensed & Provided by LyricFind
To comment on or correct specific content,
highlight it
Genre not found
Artist not found
Album not found
Search results not found
Song not found