Hold on to me through all transitions and premonitions
of how this will end leaving each other no reasons to
bother learn or pretend love me never the world will
sever so hold on to me no one's here...
Are we the same to feel like one till everything's gone
for all that I am feels bitter and hollow when you
don't follow this pale light of green an ocean tide and
nothing to hide so hold on.
Why lie when I chose to be open mind true and spoken
Why hide now you're here and the shapes are clear
Why die before your time this time is mine alone, alone...
Time chases dreams while we're demanding
Some understanding from someone above
And are you there do you even care or are we alone
Through all transitions and bitter ambitions
Do you smile at the end?
Contributed by Lila P. Suggest a correction in the comments below.
To comment on specific lyrics,
highlight them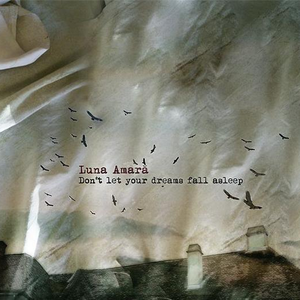 Luna Amara is a Romanian alternative metal band. The name means "Bitter Moon" in Romanian, and is borrowed from the Roman Polański movie of the same name, inspired by the eponymous novel written by Pascal Bruckner.
The band was founded in September 1999 under the name Tanagra Noise by Nick Fagadar (vocals, guitar) and Gheorghe Farcas (bass guitar). In 2000 they changed it to the current name, Luna Amara. The band has played on stage over 200 times in the past five years, throughout Romania.
Read Full Bio
Luna Amara is a Romanian alternative metal band. The name means "Bitter Moon" in Romanian, and is borrowed from the Roman Polański movie of the same name, inspired by the eponymous novel written by Pascal Bruckner.
The band was founded in September 1999 under the name Tanagra Noise by Nick Fagadar (vocals, guitar) and Gheorghe Farcas (bass guitar). In 2000 they changed it to the current name, Luna Amara. The band has played on stage over 200 times in the past five years, throughout Romania. As a live act, this Romanian five-piece outfit has a style that combines modern heavy metal with alternative rock.
All the artists in the band want to dedicate their lives to promote and support a modern European society in Romania. Luna Amara is involved in ecological projects such as "Save Vama Veche" (protecting the endangered seahorses), "Save Rosia Montana" (protecting the wildlife and natural surroundings of a historical mining area from cyanide poisoning) and social awareness projects, such as the recent "Vote for Them" tour, organized to convince young adults to vote.
Considered a "cult band", Luna Amara is currently Romania's most successful group from the new wave of rock acts. The "Folclor" ("Folklore"), "Gri Dorian" ("Dorian Grey"), "Rosu aprins" ("Scarlet") and "Ego nr. 4" singles reached number one in airplay charts at local radio stations around the country.
In January 2006 they released the album "Loc lipsa" (Missing Place). The band performed a 40 dates tour all over Romania in clubs and open air locations as well as shows in Holland, Germany, Bulgaria and Turkey. For the 2nd time running, Luna Amara has been invited to play live at Sziget Festival in Budapest.


Discography

Asfalt (July 2004)

Loc Lipsa (January 2006)

Don`t Let Your Dreams Fall Asleep (May 2009)
Genre not found
Artist not found
Album not found
Search results not found
Song not found