Połknąłem oko opatrzności
Palec Boży stanął mi w gardle
Słońcem zapalam papierosa
To ja Wszechświat rozpostarłem
Ja Twórca
Ja Amen
Ja Wybuchem
Ja Panem
Skrzydłami kruka krzyczę
Białego, bom nieskalany
(Jam) Kartą Atutową i Szczurem i Rydwanem
Nurkuję w łzy twoje w nadziei
Że wrosnę na stałe w tę ranę
Zapuszczę korzenie w twoim zwątpieniu
Ja Wózkiem Niemowlaka
i Ja Karawanem
Contributed by Liliana B. Suggest a correction in the comments below.
To comment on specific lyrics,
highlight them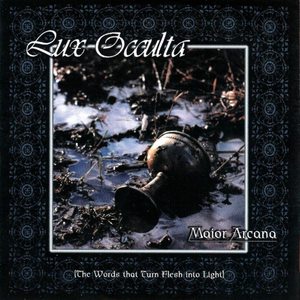 Lux Occulta (Latin for "hidden light") is the name of a Polish symphonic black metal band, founded in late 1994. Their work, also strongly influenced by progressive metal, commonly incorporates elaborate arrangements often featuring multiple sections and unpredictable time signature changes. The band was dormant from 2002 until 2012 due to "various reasons" including the lack of a drummer; they returned in 2014 with Kołysanki, a radical change in direction consisting almost exclusively of avant-garde electronic music.
Read Full Bio
Lux Occulta (Latin for "hidden light") is the name of a Polish symphonic black metal band, founded in late 1994. Their work, also strongly influenced by progressive metal, commonly incorporates elaborate arrangements often featuring multiple sections and unpredictable time signature changes. The band was dormant from 2002 until 2012 due to "various reasons" including the lack of a drummer; they returned in 2014 with Kołysanki, a radical change in direction consisting almost exclusively of avant-garde electronic music.

Discography:
1996 - Forever Alone. Immortal.
1997 - Dionysos
1998 - Maior Arcana: The Words That Turn Flesh into Light (anthology)
1999 - My Guardian Anger
2001 - The Mother and the Enemy
2014 - Kołysanki
Genre not found
Artist not found
Album not found
Search results not found
Song not found