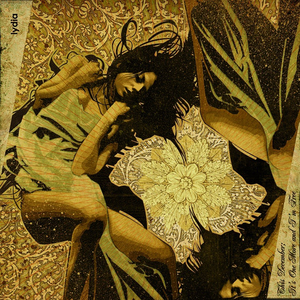 ... When The Ghosts Make Love Again
There are multiple artists called Lydia: 1. a two-piece indie rock band, 2. a Spanish female singer, 3. a Korean female singer.

1) Lydia is a two-piece (formerly six) indie rock group from Gilbert, Arizona.

Lydia started out in 2003 as a five piece band: Leighton Antelman (Lead Vocals and Guitar), Steve McGraw (Guitar), Maria Sais De Sicilia (Backup vocals and Keyboard), Dustin Forsgren (Bass), and Loren Brinton (Drums). Their debut album, This December; It's One More and I'm Free was released on September 27th
Read Full Bio
There are multiple artists called Lydia: 1. a two-piece indie rock band, 2. a Spanish female singer, 3. a Korean female singer.

1) Lydia is a two-piece (formerly six) indie rock group from Gilbert, Arizona.

Lydia started out in 2003 as a five piece band: Leighton Antelman (Lead Vocals and Guitar), Steve McGraw (Guitar), Maria Sais De Sicilia (Backup vocals and Keyboard), Dustin Forsgren (Bass), and Loren Brinton (Drums). Their debut album, This December; It's One More and I'm Free was released on September 27th, 2005 with the HourZero Records.

Their sophomore album, Illuminate, featured a new line-up: Evan Aranbul replaced Forsgren, Mindy White replaced Sais De Sicilia, and Craig Taylor replaced Brinton; a second guitarist, Ethan Koozer, was also added. Illuminate garnered extremely positive reviews and gained the band increased recognition. They toured extensively throughout the country and participated in the Zumiez Couch Tour, Vans Warped Tour, and The Bamboozle festival. They also played on the first annual Bamboozle Roadshow in 2008. In 2009, the band released an acoustic EP of 4 re-recorded songs off of "This December" titled Hotel Sessions.

Their final release, 7 track EP "Assailants", came out in 2010. Lead vocalist Leighton Antelman embarked on a solo project with an album planned for 2011, due to be produced by Matt Malpass. He has also stated that drummer Craig Taylor will continue to work with him. Mindy White formed States with Bryan & Stephen Laurenson of Copeland. Ethan Koozer is currently playing guitar for the New Jersey-based band Gates which contains former members of Bears & Bright Lights. Steve McGraw has formed a new band called The Saturn Hands.

In late May of 2011 Leighton announced that Lydia would put out a new record to be produced by Matt Malpass. Leighton hasn't announced a release date but he acknowledged that it should be expected in mid to late fall of 2011. Leighton and Matt also collaborated on their own project named The Cinema. Leighton tracked and recorded the album throughout June and July and will be mastered by Matt after. They will be producing this album on their own similarly to Assailants.

2) Lydia Rodríguez Fernández (born 15 January 1980 in Madrid) is a Spanish singer who became famous in 1996 when she released her debut album, which was certified Platinum. In 1999 she represented Spain at the Eurovision Song Contest in Jerusalem with "No quiero escuchar", included in her sophomore album 'Cien veces al día'.

3) Lydia Lee is a Korean female singer with several single releases on Spotify, YouTube etc., e.g. with a cover of Adele's "Hello".
Genre not found
Artist not found
Album not found
Search results not found
Song not found
... When The Ghosts Make Love Again
Lydia Lyrics
We have lyrics for these tracks by Lydia:



...Ha Yeah It Got Pretty Bad You just complain about today And you always say that the…
08 All I See All I see Scares me No one waits You will never waste my…
A Camera Lens And Careful Days It's always blue and black or breaking skin, well cover…
A Fine Evening For A Rogue It started quite young Yeah, I learned how to To stay quie…
A Fuego Lento A fuego lento tu mirada A fuego lento tú o nada Vamos…
A Place Near The City Hollywood never looked so great, but I will be leaving bef…
A Story For Supper This place is going dead. So snap our picture let's…
All I See All I see Scares me No one waits You will never waste my…
Always Move Fast Can we take the streets? Cause there's a horrible crash We…
Assailants All that I say, you take as holy. Now the…
Best Nights Well I gotta say this one time So she feels it And…
Birds Ell I see your lips start moving Spitting out some kind…
Crazy Well I hope this moment will never be over 'Cause that's…
December It was four or five of everything, as you are…
Devil So if you have to think about it? Just think about…
Dragging Your Feet in the Mud You're dragging your feet in the mud So your shoes are…
Eat Your Heart Out Oh you're back form the city You try to make it…
Empty Out Your Stomach Empty out your stomach So everyone can see That you are as…
Enjoy The Show I can't seem to kill my assailants. They just keep changing…
Fate It's just, it's just I can't seem to fall asleep…
Fools And Luxury I won't wait for anymore I won't wait for words...anymore …
Get It Right Okay, well I know everything you're gonna say It's written …
Ghosts I saw Jesus on your back He's starting to scream He's scre…
Hailey Yeah I got what I wanted They bled out my organs They…
Her And Haley Follow me down to fake streets so far. We were…
Holidays Now she's talking all about holidays and when I'll be out…
Hospital So I've been sleeping with this silence in my mind And…
I Woke Up Near The Sea So it's another night in my bed 'Cause I can't sleep And…
I'll Bite You Well yeah, yeah we should be just fine Yeah, yeah did…
I've Never Seen A Witch You start to scream like we're making a scene. I must…
It's In Your Blood I can't stay over you. It seems we drive forever…
Junto al mar el atardecer llego, nos volvemos a encontrar, una cita ent…
Knee Deep So I'm knee deep in this summer creek Washing everything aw…
Laugh Before You Grin Begging for your hand, Screaming at your face Come with…
Music Makers We are the music makers; A dream inside your dreams. We wi…
Now The One You Once Loved Is Leaving Tell me how I finally figured it out, That now…
One More Day Well I saw you fall back once love But I can't…
Seasons She wants to hear a song A song she can move…
Skin Bones There's a smile on my face again 'Cause I'm laying with…
Skin+Bones There's a smile on my face again 'Cause I'm laying with…
Sleep Well Liar, liar You never called But I'll be just fine, yeah I'…
Smile You Ve Won Once because we always were there. I'm impressed you've nev…
Stay Awake Live it up, live it up Or just come back home Yeah,…
Take Your Time I never want to go, I never want to leave…
The Exit We drove right past the exit, And nobody even said a…
This Is Twice Now Baby just ask once more 'Cause I saw your door wide…
This Is Twice Now Acoustic Baby just ask once more 'Cause I saw your door wide…
tommai mai rub sak tee เธอเป็นอะไร พักนี้ถึงไม่ได้เจอ รู้ไหมคิดถึงเธอ ใครทำให้เธอนั…
Vhs Yeah A couple of pictures of you in the snow No one…
We Clean Up So Well Of course you're all crazy, everyone but me. Because I wat…
Your Taste Is My Attention So I know nothing of your taste And now speak up,…
เพียงสบตา เคยได้ยินได้ฟัง บอกให้ฉันเข้าใจ ยามเมื่อจะรักใคร ให้จ้องตาคู…

The lyrics can frequently be found in the comments below or by filtering for lyric videos.