The Ballad Of Curtis Loew
Lynyrd Skynyrd Lyrics
Jump to: Overall Meaning | Line by Line Meaning
Well, I used to wake the mornin'
Before the rooster crowed
Searchin' for soda bottles
To get myself some dough
Brought 'em down to the corner
Down to the country store
Cash 'em in, and give my money
To a man named Curtis Loew
Old Curt was a black man
With white curly hair
When he had a fifth of wine
He did not have a care
He used to own an old Dobro
Used to play it 'cross his knee
I'd give old Curt my money
He'd play all day for me
Play me a song
Curtis Loew, Curtis Loew
Well, I got your drinkin' money
Tune up your Dobro
People said he was useless
Them people all were fools
'Cause Curtis Loew was the finest picker
To ever play the blues
He looked to be sixty
And maybe I was ten
Mama used to whoop me
But I'd go see him again
I'd clap my hands, stomp my feet
Try to stay in time
He'd play me a song or two
Then take another drink of wine
Play me a song
Curtis Loew, Curtis Loew
Well, I got your drinkin' money
Tune up your Dobro
People said he was useless
Them people all were fools
'Cause Curtis Loew was the finest picker
To ever play the blues
Yes, sir
On the day old Curtis died
Nobody came to pray
Ol' preacher said some words
And they chunked him in the clay
Well, he lived a lifetime
Playin' the black man's blues
And on the day he lost his life
That's all he had to lose
Play me a song
Curtis Loew, hey Curtis Loew
I wish that you was here so
Everyone would know
People said he was useless
Them people all were fools
'Cause Curtis you're the finest picker
To ever play the blues
Overall Meaning
The Ballad of Curtis Loew is a tribute to an old blues musician named Curtis Loew. The protagonist in the song depicts his fond memories of being a child and going to the liquor store to collect discarded soda bottles and trade them in for money. Curtis Loew, an old black man who had a fifth of wine every day, would play his Dobro for the young boy all day long. The song is an ode to the joy of discovering and playing music, but it is also about the sense of loss felt after such a talent passes away. The lyrics show the respect the young boy had for Curtis Loew and his talent, as he reminisces about the times spent with him and how amazing a musician he was.

Line by Line Meaning
Well, I used to wake the mornin'
I used to wake up early in the morning
Before the rooster crowed
before the rooster made a sound
Searchin' for soda bottles
I would look for empty soda bottles
To get myself some dough
so I could make some money
Brought 'em down to the corner
I would take them to the corner store
Down to the country store
to a store in the countryside
Cash 'em in, and give my money
I would exchange the bottles for money
To a man named Curtis Loew
and then give the money to a man named Curtis Loew
Old Curt was a black man
Curtis Loew was an African American
With white curly hair
even though he had white curly hair
When he had a fifth of wine
when he had a bottle of wine
He did not have a care
he didn't worry about anything
He used to own an old Dobro
Curtis Loew owned an old Dobro guitar
Used to play it 'cross his knee
he played it by placing it across his knee
I'd give old Curt my money
I would give Curtis Loew the money I earned from selling the bottles
He'd play all day for me
he would play the guitar all day for me
Play me a song
please play a song for me
Curtis Loew, Curtis Loew
addressing Curtis Loew
Well, I got your drinkin' money
I have money for you to buy drinks
Tune up your Dobro
please tune your Dobro guitar
People said he was useless
some people thought he was worthless
Them people all were fools
those people were foolish
'Cause Curtis Loew was the finest picker
because Curtis Loew was the best guitar player
To ever play the blues
who ever played the blues
He looked to be sixty
he appeared to be 60 years old
And maybe I was ten
and maybe I was only 10 years old
Mama used to whoop me
my mom used to spank me
But I'd go see him again
but I would still go see Curtis Loew
I'd clap my hands, stomp my feet
I would clap my hands and stomp my feet to the music
Try to stay in time
try to keep the rhythm
He'd play me a song or two
Curtis would play one or two songs for me
Then take another drink of wine
and then he would take another sip of wine
On the day old Curtis died
on the day Curtis Loew died
Nobody came to pray
no one came to pray for him
Ol' preacher said some words
the old preacher said some words
And they chunked him in the clay
and they buried him in the dirt
Well, he lived a lifetime
he lived his whole life
Playin' the black man's blues
playing the blues that was born out of the black community
And on the day he lost his life
and on the day he died
That's all he had to lose
that was all he had left to lose
Hey Curtis Loew
addressing Curtis Loew
I wish that you was here so
I wish that you were here
Everyone would know
so that everyone could know
You're the finest picker
that you were the best guitar player
To ever play the blues
who ever played the blues
Lyrics © Universal Music Publishing Group
Written by: Allen Collins, Ronnie Van Zant

Lyrics Licensed & Provided by LyricFind
To comment on or correct specific content,
highlight it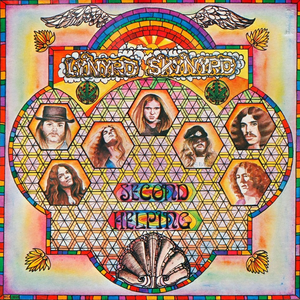 The Ballad Of Curtis Loew
Lynyrd Skynyrd (pronounced /ˌlɛnərd ˈskɪnərd/ LEN-ərd-SKIN-ərd) is an American southern rock band, formed in Jacksonville, Florida in 1964. The band released its first album in 1973, and first broke up in 1977, when three members and one road crew member died in an airplane crash. The band reunited in 1987 with lead singer Ronnie Van Zant's younger brother Johnny. Lynyrd Skynyrd continues to tour and record. Guitarist Gary Rossington, who died in March 2023, was the last surviving original band member.
Read Full Bio
Lynyrd Skynyrd (pronounced /ˌlɛnərd ˈskɪnərd/ LEN-ərd-SKIN-ərd) is an American southern rock band, formed in Jacksonville, Florida in 1964. The band released its first album in 1973, and first broke up in 1977, when three members and one road crew member died in an airplane crash. The band reunited in 1987 with lead singer Ronnie Van Zant's younger brother Johnny. Lynyrd Skynyrd continues to tour and record. Guitarist Gary Rossington, who died in March 2023, was the last surviving original band member. The band was inducted into the Rock and Roll Hall of Fame on March 13, 2006.

In the summer of 1964, teenage friends Ronnie Van Zant, Allen Collins, and Gary Rossington, formed the band "The Noble Five", which then changed in 1965 to "My Backyard", when Larry Junstrom and Bob Burns joined in Jacksonville, Florida. Their early influences included British Invasion bands such as Free, The Yardbirds, The Rolling Stones, and The Beatles, as well as Southern blues and country & western music. In 1968, the group won a local Battle of the Bands contest and the opening slot on several Southeast shows for the California-based psychedelic rock band Strawberry Alarm Clock.

In 1970, Van Zant sought a new name. "One Percent" and "The Noble Five" were each considered before the group settled on Leonard Skinnerd, a mocking tribute to a physical-education teacher at Robert E. Lee High School, Leonard Skinner, who was notorious for strictly enforcing the school's policy against boys having long hair. The more distinctive spelling was adopted before they released their first album. Despite their high school acrimony, the band developed a friendlier relationship with Skinner in later years, and invited him to introduce them at a concert in the Jacksonville Memorial Coliseum.

In 1970, the band auditioned for Alan Walden, who would later become their manager on the newly formed Hustler's Inc. Walden worked with the band until 1974, when management was turned over to Pete Rudge. The band continued to perform throughout the South in the early 1970s, further developing their hard-driving, blues-rock sound and image, and experimenting with making studio recordings.

During this time, they went through a number of member changes, with Van Zant, Collins and Rossington remaining the only constants. Burns and Junstrom left the band, and were briefly replaced by Rickey Medlocke on drums and Greg Walker on bass. In 1971, with this lineup, they made some recordings at the famous Muscle Shoals studio. By the time they made a second round of Muscle Shoals recordings in 1972, Burns had rejoined the band and Leon Wilkeson had become Larry Junstrom's permanent replacement on bass, with Medlocke and Walker having left to play with the southern rock band Blackfoot. Around this time, the band occasionally played shows with both Burns and Medlocke participating, utilizing a dual-drummer approach similar to that of The Allman Brothers. Also in 1972, roadie Billy Powell became the keyboardist for the band.

Peak years (1973–1977)

In 1972 the band was discovered by musician, songwriter, and producer Al Kooper of Blood, Sweat, and Tears, who had attended one of their shows at a club in Atlanta. They changed the spelling of their name to "Lynyrd Skynyrd", (pronounced 'lĕh-'nérd 'skin-'nérd) and Kooper signed them to MCA Records, producing their first album (pronounced 'lĕh-'nérd 'skin-'nérd). Leon Wilkeson left just before the band was to record the album (Wilkeson rejoined the band shortly thereafter at Van Zant's invitation and is pictured on the album cover).[citation needed] Strawberry Alarm Clock guitarist Ed King joined the band and played Wilkeson's parts on the album, along with some guitar. King switched to guitar after the album's release, allowing the band to replicate the three-guitar mix used in the studio. Released January 1, 1973, the album featured the hit song "Free Bird", which received national airplay, eventually reaching #19 on the Billboard Hot 100 charts, and is still considered a rock and roll anthem today.

Lynyrd Skynyrd's fan base continued to grow rapidly throughout 1973, largely due to their opening slot on The Who's Quadrophenia tour in the United States. On their 1974 follow-up, Second Helping, the band successfully avoided sophomore slump, with King, Collins and Rossington all collaborating with Van Zant on the songwriting. The album was the band's breakthrough hit, and featured their most popular single, "Sweet Home Alabama" (#8 on the charts in August 1974), a response to Neil Young's "Alabama" and "Southern Man." (Young and Van Zant were not rivals, but fans of each other's music and good friends; Young even wrote the song "Powderfinger" for the band, but they never recorded it. Van Zant, meanwhile, can be seen on the cover of Street Survivors wearing a Neil Young t-shirt.) The album reached #12 in 1974, eventually going multi-platinum. In July of that year, Lynyrd Skynyrd was one of the headline acts at The Ozark Music Festival at the Missouri State Fairgrounds in Sedalia, Missouri.

In January, 1975, Burns left the band and was replaced by Kentucky native Artimus Pyle on drums. Lynyrd Skynyrd's third album, Nuthin' Fancy, was released the same year. The album had lower sales than its predecessor, and Kooper was eventually fired. Midway through the tour, Ed King left the band, citing tour exhaustion. In January 1976, backup singers Leslie Hawkins, Cassie Gaines and JoJo Billingsley (collectively known as The Honkettes) were added to the band, although they were not considered as official members. Lynyrd Skynyrd's fourth album Gimme Back My Bullets was released in the new year, but did not achieve the same success as the previous two albums. Van Zant and Collins both felt that the band was seriously missing the three-guitar attack that had been one of its early hallmarks. Although Skynyrd auditioned several guitarists, including such high-profile names as Leslie West, the solution was closer than they realized.

Soon after joining Skynyrd, Cassie Gaines began touting the guitar and songwriting prowess of her younger brother, Steve. The junior Gaines, who led his own band, Crawdad (which occasionally would perform Skynyrd's "Saturday Night Special" in their set), was invited to audition onstage with Skynyrd at a concert in Kansas City on May 11, 1976. Liking what they heard, the group also jammed informally with the Oklahoma native several times, then invited him into the group in June. With Gaines on board, the newly-reconstituted band recorded the double-live album One More From the Road at the Fox Theatre (Atlanta, Georgia) in Atlanta, and performed at the Knebworth festival, which also featured The Rolling Stones.

Both Collins and Rossington had serious car accidents over Labor Day weekend in 1976 which slowed the recording of the follow-up album and forced the band to cancel some concert dates. Rossington's accident inspired the ominous "That Smell" - a cautionary tale about drug abuse that was clearly aimed towards him and at least one other band member. Rossington has admitted repeatedly that he's the "Prince Charming" of the song who crashed his car into an oak tree while drunk and stoned on Quaaludes. Van Zant, at least, was making a serious attempt to clean up his act and curtail the cycle of boozed-up brawling that was part of Skynyrd's reputation.

1977's Street Survivors turned out to be a showcase for guitarist/vocalist Steve Gaines, who had joined the band just a year earlier and was making his studio debut with them. Publicly and privately, Ronnie Van Zant marveled at the multiple talents of Skynyrd's newest member, claiming that the band would "all be in his shadow one day." Gaines' contributions included his co-lead vocal with Van Zant on the co-written "You Got That Right" and the rousing guitar boogie "I Know A Little" which he had written before he joined Skynyrd. So confident was Skynyrd's leader of Gaines' abilities that the album (and some concerts) featured Gaines delivering his self-penned bluesy "Ain't No Good Life" - the only song in the pre-crash Skynyrd catalog to feature a lead vocalist other than Ronnie Van Zant. The album also included the hit singles "What's Your Name" and "That Smell". The band was poised for their biggest tour yet, including fulfilling Van Zant's lifelong dream of headlining New York's Madison Square Garden.

Plane crash (1977)

On Thursday, October 20, 1977, just three days after the release of Street Survivors, and five shows into their most successful headlining tour to date, Lynyrd Skynyrd's chartered Convair 240 ran out of fuel near the end of their flight from Greenville, South Carolina, where they had just performed at the Greenville Memorial Auditorium, to LSU in Baton Rouge, Louisiana. Though the pilots attempted an emergency landing on a small airstrip, the plane crashed in a forest in Gillsburg, Mississippi. Ronnie Van Zant, Steve Gaines, Cassie Gaines, assistant road manager Dean Kilpatrick, pilot Walter McCreary and co-pilot William Gray were all killed on impact; the other bandmembers suffered serious injuries.

Following the crash and the ensuing press, Street Survivors became the band's second platinum album and reached #5 on the U.S. album chart. The single "What's Your Name" reached #13 on the single airplay charts in January 1978.

The original cover sleeve for Street Survivors had featured a photograph of the band, particularly Steve Gaines, engulfed in flames. Out of respect for the deceased (and at the request of Teresa Gaines, Steve's widow), MCA Records withdrew the original cover and replaced it with a similar image of the band against a simple black background. Thirty years later, for the deluxe CD version of Street Survivors, the original "flames" cover was restored.

Lynyrd Skynyrd disbanded after the tragedy, reuniting just once to perform an instrumental version of "Free Bird" at Charlie Daniels' Volunteer Jam in January 1979. Collins, Rossington, Powell and Pyle performed the song with Charlie Daniels and members of his band. Leon Wilkeson, who was still undergoing physical therapy for his badly broken left arm, was in attendance, along with Judy Van Zant, Teresa Gaines, JoJo Billingsley and Leslie Hawkins.

Hiatus (1977–1987)

Rossington, Collins, Wilkeson and Powell formed The Rossington-Collins Band, which released two albums between 1980 and 1982. Deliberately avoiding comparisons with Ronnie Van Zant as well as suggestions that this band was Lynyrd Skynyrd reborn, Rossington and Collins chose a woman, Dale Krantz, as lead vocalist. However, as an acknowledgment of their past, the band's concert encore would always be an instrumental version of "Free Bird". Rossington and Collins eventually had a falling out over the affections of Dale Krantz, whom Rossington married and with whom he formed the Rossington Band, which released two albums in the late 1980s and opened for the Lynyrd Skynyrd Tribute Tour in 1987-1988.

The other former members of Lynyrd Skynyrd continued to make music during the hiatus era.Leon Wilkeson on bass and Billy Powellon keyboards played in a Christian Rock band named Vision, touring with established Christian rocker Mylon LeFevre (who, like Skynyrd, had once opened for The Who). During Vision concerts, Powell's trademark keyboard talent was often spotlighted and he spoke about his conversion to Christianity after the near-fatal plane crash. Pyle formed The Artimus Pyle Band in 1982, which occasionally featured former Honkettes JoJo Billingsley and Leslie Hawkins.

In 1980 Allen Collins' wife Kathy died of a massive hemorrhage while miscarrying their third child. He formed the Allen Collins Band in 1983 from the remnants of the Rossington-Collins Band, releasing one tepidly-received album, but many around him believed that the guitarist's heart just wasn't in it anymore. Most point to his wife's death as the moment that Collins' life began to spin out of control; he spent several years bingeing on drugs and alcohol. In 1986 Collins crashed his car while driving drunk near his home in Jacksonville, killing his girlfriend and leaving him permanently paralyzed from the chest down. Collins eventually pled no contest to DUI manslaughter, but was not given a prison sentence since his injuries made it obvious that he would never drive or be a danger to society again.

Return (1987–present)

In 1987, Lynyrd Skynyrd reunited for a full-scale tour with five major members of the post-crash band: crash survivors Gary Rossington, Billy Powell, Leon Wilkeson and Artimus Pyle, along with guitarist Ed King, who had left the band two years before the crash. Ronnie Van Zant's younger brother, Johnny, took over as the new lead singer and primary songwriter. Due to Collins' paralysis from the 1986 car accident, he was only able to participate as the musical director, choosing Randall Hall, his former bandmate in the Allen Collins Band, as his stand-in. As part of his plea deal, Collins would be wheeled out onstage each night to explain to the audience why he could no longer perform (usually before the performance of "That Smell", which had been partially directed at him). Collins was stricken with pneumonia in 1989 and died on January 23, 1990.

The reunited band was meant to be a one-time tribute to the original lineup, captured on the double-live album Southern By The Grace Of God/Lynyrd Skynyrd Tribute Tour - 1987. The fact that the band chose to continue after the 1987 tribute tour caused legal problems for the survivors, as Judy Van Zant Jenness and Teresa Gaines Rapp (widows of Ronnie and Steve, respectively) sued the others for violating an agreement made shortly after the plane crash, stating that they would not "exploit" the Skynyrd name for profit. As part of the settlement, Jenness and Rapp collect nearly 30% of the band's touring revenues (representing the shares their husbands would have earned had they lived), and hold a proviso which forces any band touring as "Lynyrd Skynyrd" to include at least two from among Rossington, Collins, Powell, Pyle, Wilkeson and King. Apparently, that proviso is not being enforced, seeing that Rossington is now the sole member of that group left in Lynyrd Skynyrd, as King was not allowed to remain in the band after missing a tour unable to tour due to heart problems, Pyle is on the outs with Rossington and Johnny Van Zant, and the others are now dead. Pyle has insisted in public appearances that "Ronnie Van Zandt IS Lynyrd Skynyrd", and wishes nothing to do with the current makeup of the band bearing that name. Two other founding members of the band remain alive, original drummer Bob Burns and bassist Larry Junstrom Bob Burns, but they have not participated in the post-crash band.

The reconstituted Lynyrd Skynyrd has gone through a large number of lineup changes and continues to record and tour today. One by one, the members of the pre-crash band have left, been forced out, or have passed away. Artimus Pyle left the band in 1991 and his place has been taken by a variety of drummers since, with Michael Cartellone finally becoming his permanent replacement. Randall Hall was replaced by Mike Estes in 1993. Ed King had to take a break from touring in 1996. In his absence, he was replaced by Hughie Thomasson. King has stated that his break from the band was to be temporary, but the band did not let him rejoin after he recovered. At the same time, Mike Estes was replaced by Rickey Medlocke, who had briefly played drums with the band in the early 1970's. Leon Wilkeson, Skynyrd's bassist since 1972, was found dead in his hotel room on July 27, 2001; his death was found to be due to emphysema and chronic liver disease. He was replaced in 2001 by Ean Evans. The remaining members released a double album called Thyrty which had songs from the original line up to the present. Lynyrd Skynyrd also released a live DVD of their Vicious Cycle Tour and on June 22, 2004, Lynyrd Skynyrd released the album Lyve: The Vicious Cycle Tour. On December 10, 2004, Lynyrd Skynyrd did a show for CMT, Crossroads, a concert featuring country duo Montgomery Gentry and other genres of music. In the beginning of 2005 Hughie Thomasson left the band to reform his disbanded Southern Rock band Outlaws. Thomasson died in his sleep on September 9, 2007 of an apparent heart attack in his home in Brooksville, Florida. He was 55 years old.

On February 5, 2005, Lynyrd Skynyrd did a Super Bowl party back in Jacksonville with special guests 3 Doors Down, Jo Dee Messina, Charlie Daniels and Ronnie and Johnny Van Zant's brother Donnie Van Zant of 38 Special. On February 13 of that year Lynyrd Skynyrd did a tribute to Southern Rock on the Grammy Awards with Gretchen Wilson, Tim McGraw, Keith Urban and Dickey Betts. On May 10, 2005, Johnny and Donnie Van Zant released a country album called Get Right with the Man which featured the hit single "Help Somebody". In the summer of 2005, lead singer Johnny Van Zant had to have surgery on his vocal cord to have a polyp removed. He was told not to sing for three months. On September 10, 2005, Lynyrd Skynyrd performed without Johnny Van Zant at the Music Relief Concert for the victims of Hurricane Katrina, with Kid Rock standing in for Johnny. In December 2005, Johnny Van Zant returned to sing for Lynyrd Skynyrd. The band performed live at Freedom Hall in Louisville, Kentucky, as a part of their 2007 tour. The concert was recorded in high definition for HDNet and premiered on December 1, 2007.
The band in 2008

Mark "Sparky" Matejka, formerly of the country music band Hot Apple Pie, joined Lynyrd Skynyrd in 2006 as Thomasson's replacement. On November 2, 2007, the band performed at Gator Growl, the world's largest student-run pep rally, in Ben Hill Griffin Stadium - also known as "The Swamp." The event's 50,000-person attendance marked the largest crowd that Lynyrd Skynyrd had ever played in front of in the United States, until the July 2008 Bama Jam in Enterprise, Alabama where more than 111,000 people were in attendance.

On January 28, 2009, keyboardist Billy Powell died at age 56 at his home near Jacksonville, Florida. Powell called 911 at 12:55 a.m., complaining of shortness of breath. He had previously missed his doctor's appointment on the day before his death; the appointment was for a checkup on his heart. The EMS responders found Powell unconscious and unresponsive, with the telephone still in his hand. Rescue crews performed CPR, but he was pronounced dead at 1:52 a.m. Although a heart attack was suspected, and it was originally reported that an autopsy was to be performed, none in fact was ever done. Powell's death left Gary Rossington as the sole pre-crash member of the band, unless Rickey Medlocke's brief stint with the band in the early 1970's is counted. On March 17, 2009, it was announced that Skynyrd had signed a worldwide deal with Roadrunner Records, in association with their label, Loud & Proud Records, and released their new album God & Guns on September 29 of that year. They toured Europe and the United States in 2009 with Peter Keys of the 420 Funk Mob on keyboards and Robert Kearns of The Bottle Rockets on bass (in place of Ean Evans, who died of cancer at age 48 on May 6, 2009, at his home in Columbus, Mississippi). Scottish rock band Gun have been confirmed as special guests for the UK leg of Skynyrds tour in 2010.

Leonard Skinner, the physical education teacher who inspired the name Lynyrd Skynyrd passed away on September 21st, 2010
Genre not found
Artist not found
Album not found
Search results not found
Song not found