Un baiser sur une table, et deux-trois grains de sable
Des tartines de miel, aucun nuage au ciel
Des soufflés sur ton dos, des mélodies en do
Suspendu à tes lèvres, petits tours de manège
Une caresse d'hiver là sur ta peau solaire
Et deux-trois coups de vent sur le passé présent
Aimer quand tu fredonnes des mélodies en sol
Suspendu à ta voix, petits tours par toi
Un mot sur des blessures, de l'encre qui rature
Deux-trois mauvais souvenirs qu'on a bien voulu suivre
Infortunée dans tes bras
Des mélodies en la
Suspendu à ton coeur, petits retour au bonheur
Un voilier sur la mer, deux-trois courants contraires
Un bol de chocolat aussi simple que ça
Des projets pour l'été, des mélodies en ré
Suspendu au voyage, petit tournant de page
Un terrain sur une île, la plage
pour reconstruire
Deux-trois granges dans un coin
et nous seul dans ce jardin
Confesser un merci, des mélodies en si
Suspendu à tes mains, jolie tour du destin
Writer(s): Melanie Laurent Copyright: Warner Chappell Music France Sa, Mely Productions

Contributed by Natalie G. Suggest a correction in the comments below.
To comment on specific lyrics,
highlight them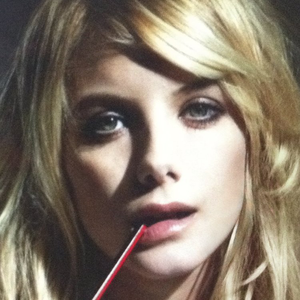 Mélanie Laurent (born 21 February 1983 in Paris, France) is a French actress, director, singer and writer, perhaps best known to international audiences for her role as Shosanna Dreyfus in Quentin Tarantino's 2009 film "Inglourious Basterds".

On May 2, 2011, Laurent released her debut album "En t'attendant" in France on Atmosphériques. She worked with Irish singer-songwriter Damien Rice on the album; he also appears singing on two songs, "Everything You're Not Supposed to Be" and "Uncomfortable".
Read Full Bio
Mélanie Laurent (born 21 February 1983 in Paris, France) is a French actress, director, singer and writer, perhaps best known to international audiences for her role as Shosanna Dreyfus in Quentin Tarantino's 2009 film "Inglourious Basterds".

On May 2, 2011, Laurent released her debut album "En t'attendant" in France on Atmosphériques. She worked with Irish singer-songwriter Damien Rice on the album; he also appears singing on two songs, "Everything You're Not Supposed to Be" and "Uncomfortable". The album also includes the singles "En t'attendant" and "Kiss".

Official site: http://www.melanielaurent-music.com/
Genre not found
Artist not found
Album not found
Search results not found
Song not found